SDSU Commitment to Diversity and Inclusion
San Diego State University is committed to fostering an environment of inclusion that values, honors, and respects all members of our University community. As stated in our University Senate statement on diversity, we are a community diverse in race, ethnicity, language, culture, social class, national origin, religious and political belief, age, ability, gender, gender identity and expression, and sexual orientation.
This fundamental commitment to diversity:
Enriches the institution and provides an atmosphere in which all human potential is valued.
Promotes learning through interactions among people of different backgrounds and many perspectives.
Better enables the university to prepare all members of its community to promote social responsibility, equity, freedom, and productive citizenship in a global society.
We are committed to cultivating a campus climate that promotes human dignity, civility, and mutual appreciation for the uniqueness of each member of our community. Freedom from discrimination, harassment, and violence against persons or property is a basic right and is requisite for learning. SDSU commits to protecting Freedom of speech and encourages all members of the community to promote educational opportunities that appropriately address acts of intolerance around events that have separated us as a people.
We also commit to working together to build a more inclusive environment supportive of the University's educational mission. The full statement on diversity as a part of the SDSU Mission and Goals within the University Senate Policy File.
Want to Know More or Have Questions?
Visit our FAQ page.
Purpose of the Inclusive SDSU Communication System
San Diego State University has established the Inclusive SDSU Communication System to be based in the Division of Diversity and Innovation in collaboration with the Division of Student Affairs. The purpose of the system is to document instances that promote our campus commitment, as well as those that fall short. The Division of Diversity and Innovation will use these submissions to identify patterns, to recognize and celebrate extraordinary acts of inclusion, and to develop strategies for community improvement where needed.
The Inclusive SDSU Communication System does not replace existing policies or normal avenues of reporting.
Graffiti in campus bathrooms or facilities that contains messages that put-down or degrade groups based on their identities.
Fliers posted on campus that contain messages of bias [unapproved fliers will be removed]
Someone proselytizing on campus property and making derogatory comments about groups based on their identities
A person receiving an award or honor for their work in advocating for underserved communities
A department or unit that experiences success in improving outcomes for students from underserved communities
A professor of staff member who has dedicated a significant portion of their time to mentoring, advising, and supporting students from diverse communities
A department bringing together different groups to build a cohesive community of support and affirmation
Racial slurs (verbal and/or written) directed at an individual that unreasonably interfere with the individual's work or education
Denial of access to certain educational programs or activities based on the individual's membership in a protected class
Retaliation by a faculty, staff or student due to the individual's participation in a university investigation into unlawful discrimination, harassment or retaliation
Unwanted sexual advances or requests for sexual favors
Physical sexual acts against a person's will or where they were incapable of providing consent
Intimidation, aggression, or hostility based on sex
Stereotypying based on sex
Consistent with CSU Executive Orders 1096, 1097 and 1098, if you have experienced an incident of discrimination, harassment, retaliation or sexual misconduct (including dating and domestic violence, or stalking), please contact the Title IX Deputy Coordinators for Students, Faculty, Staff, and visitors or the Deputy Coordinator for Athletics.
Hate Crimes (Hate crimes should be formally reported to the University Police by calling 619-594-1991 or emailing [email protected].)
How are Submissions Handled?
Submissions to the system are reviewed by the Inclusive SDSU Communication Team, documented, and monitored over time.
The Inclusive SDSU Communication Team is comprised of trained and caring representatives from:
Associated Students
Center for Student Rights and Responsibilities
Counseling & Psychological Services
Division of Student Affairs
Division of Diversity and Innovation
Office of Employee Relations and Compliance
Title IX Coordinator
Strategic Communications and Public Affairs
Student Ombudsman
University Police
The Team will review communication submissions primarily to assess campus climate issues and patterns of activity. If the Team believes that further action may be needed, it may take additional actions. For example, reports regarding extraordinary acts of diversity and inclusion may be forwarded to Strategic Communications and Public Affairs. Please note that if a submission appears to suggest a violation of one of the CSU Executive Orders, or a violation of the law, then the Team will provide the person(s) filing the submission with information on appropriate offices and existing reporting channels if they would like to submit their concerns for further review and action. To the extent permitted by law and/or policy, the Team will keep submissions to Inclusive SDSU confidential if the reporter so requests. We will always ask permission before using your submission in connection with celebrating acts of diversity and inclusion on campus.
If you are interested in submitting a communication to Inclusive SDSU, please do so through our Inclusive SDSU Form.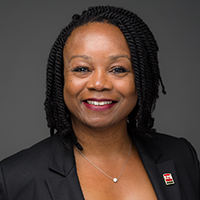 Mary Taylor
Associate Chief Diversity Officer for Outreach and Success
Mary Taylor serves as the Associate Chief Diversity Officer for Outreach and Success. In her role, Mary oversees Educational Opportunity Programs, Outreach and Success; Inclusive SDSU; and the Office for Restorative Practices. Prior to this role she served as the Executive Director of the Center for Educational Partnerships Outreach and Success. Mary has over 18 years of student services experience and a passion for student access and success. She began her career at UCSD where she served as an intake advisor for the Career Services Center, Counselor and later Director of the TRIO Student Support Services Program, and as Assistant Dean of Student Affairs at Eleanor Roosevelt College. In the non-profit sector, Mary has served as the Director of Reality Changers' College Apps Academy Program and as the Interim Executive Director of the Elementary Institute of Science. In 2014, she was the recipient of the San Diego Business Journal's Women Who Mean Business Award for her work in creating and developing the College Apps Academy Program at Reality Changers and was a Janet Chrispeels Doctoral Fellow in Educational Leadership at UCSD in recognition of her work serving low income/underserved students and families. As a scholar, Mary has a research agenda focused on educational equity and access for marginalized and underserved students, Black student success in higher education, college access, success and completion, and non-profit collaboration with educational institutions. Mary earned her Bachelor's degree in Sociology from UCSD, Her Master's degree in Student Affairs from SDSU, her certificate in College Admissions Advising from UCLA, and her Doctorate in Educational Leadership from the UCSD/CSUSM Joint Doctoral Program (research topic: Black Student Success in Higher Education: An Asset-Based Examination of Individual and Institutional Factors).
Follow Us on Social Media