Native & Indigenous Research & arts Symposium
April 14 and April 15, 2023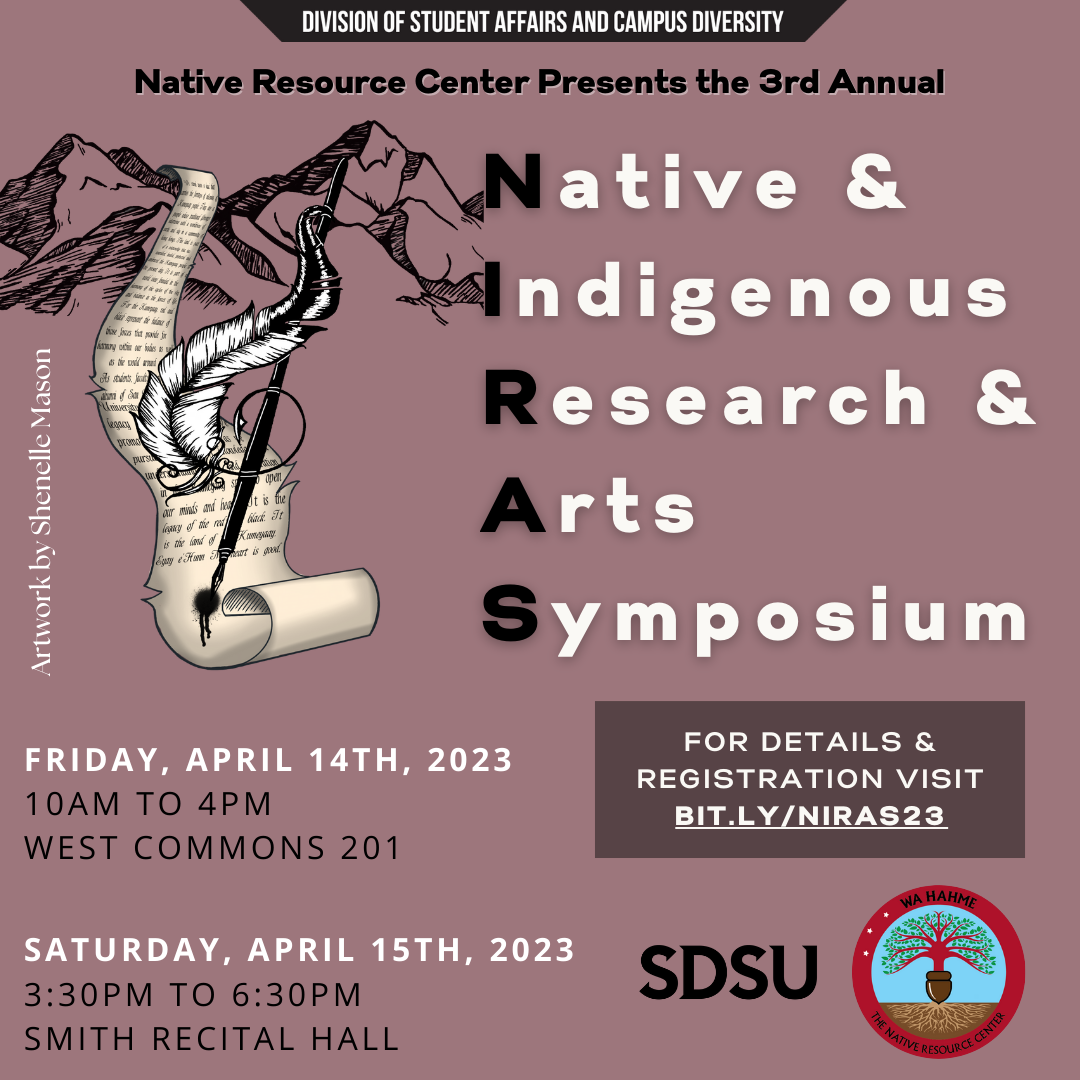 Howka (Kumeyaay greeting)! The Native Resource Center at San Diego State University warmly invites you to participate in our 3rd Annual Native & Indigenous Research & Arts Symposium (NIRAS) on Friday, April 14, and Saturday, April 15, 2023. The Native & Indigenous Research & Arts Symposium (NIRAS) serves as an academic space to uplift diverse Native and Indigenous research, narratives, issues, and knowledges. NIRAS aims to center Native and Indigenous epistemological and methodological frameworks that are otherwise ignored within dominant Western academic settings. We also take a transnational approach to Indigeneity that disrupts settler borders and uplifts Indigenous experiences across the globe. Additionally, in honor of the Native American Music and Dance Conference organized by Dr. Vince Whipple in 2022 - we are excited to integrate the arts as a prominent part of our symposium. NIRAS will include visual performances by local and regional Indigenous artists. NIRAS is an in-person two-day event and is FREE and open to ALL to attend.
We invite students at SDSU committed to the sovereign identity and progress of Indigenous Peoples to submit a proposal. Participants of all disciplines of study are encouraged to center Indigenous constructions of knowledge and the relational and reciprocal aspects of research. Presentation proposals may address but are not limited to one of the NRC's main objectives: Decolonization & Sovereignty; Truth, Education & Growth; Indigenous Philosophies & Identity; and Health & Wellness. Research is not limited to academic papers; we also encourage creative channels such as short documentaries, storytelling, visual arts, dance, music, theatre, and other mediums that transmit diverse Native and Indigenous Peoples epistemologies. The call for presentation proposals closes on March 24. Accepted proposals will be notified on or before April 3.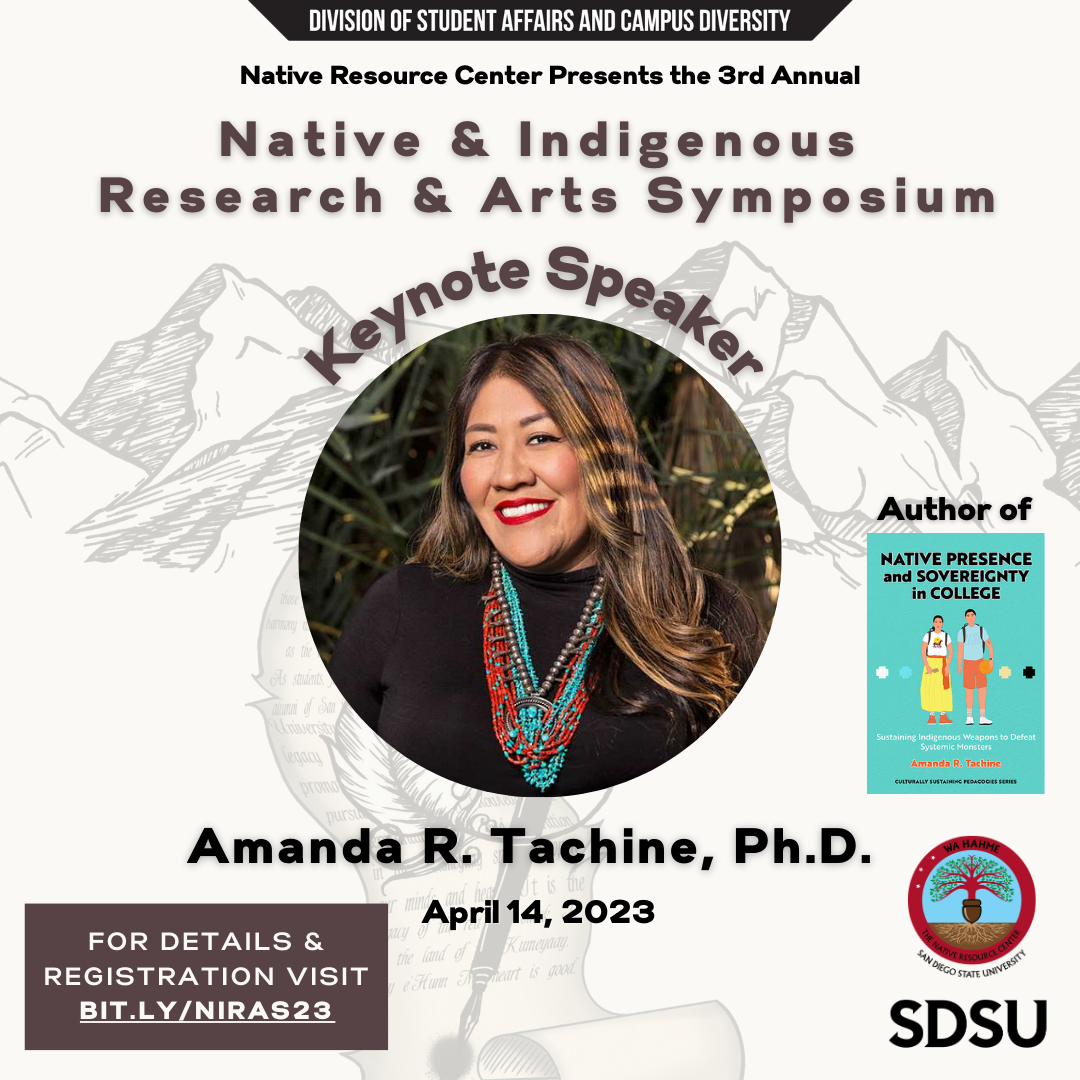 Our keynote speaker for this year is Dr. Amanda Tachine. Dr. Amanda R. Tachine is Navajo from Ganado, Arizona. She is Náneesht'ézhí Táchii'nii (Zuni Red Running into Water) born for Tł'ízí łání (Many Goats). She is an Assistant Professor in Educational Leadership and Innovation at Arizona State University. Amanda's research explores the relationship between systemic and structural histories of settler colonialism and the ongoing erasure of Indigenous presence and belonging in college settings using qualitative Indigenous methodologies. She is the author of Native Presence and Sovereignty in College and co-editor of Weaving an Otherwise: In-relations Methodological Practice. She has published in the Journal of Higher Education, Qualitative Inquiry, International Review of Qualitative Research, International Journal of Qualitative Studies in Education, and other scholarly outlets. She also has published thought pieces in the Huffington Post, Al Jazeera, The Hill, Teen Vogue, Indian Country Today, Inside Higher Ed, and Navajo Times where she advances ideas regarding discriminatory actions, educational policies, and inspirational movements. Dr. Tachine's keynote address will take place on Friday, April 14th, 2023. We look forward to sharing space and research with you all!
View Dr. Tachine's 2023 NIRAS Keynote Speech HERE.
NIRAS Program Day 1 - Friday, April 14, 2023
Time: 10am to 4pm PST
Location: West Commons 201 (use the pedestrian bridge on Level 4 of Parking Structure 12 to access West Commons)
10:00am - 10:25 am: Welcome & Land Acknowledgement
10:25 am - 11 am: Bird Singing with SDSU Tribal Liaison Jacob Alvarado Waipuk
11:00 pm - 11:15 am: Introduction to presentations
11:15 am - 12:00 pm - Student Panel 1: Indigenous Philosophies and Identity

Olivia Newell - Decolonizing Through Visual Arts: Reframing Indigenous Images
Elizabeth Chavez Carrasco - The clothes of the women of the rain/Ja'ma Nya Ñá'á Savi
Mariam Ahmed - The Poetry & Influence of Joy Harjo

12:00 pm - 1:00 pm: Keynote Speaker Dr. Amanda Tachine; Followed by Q&A
1:00 pm - 1:20 pm Break
1:20 pm - 2:05 pm - Student Panel 2: Decolonization and Sovereignty

Madison Cain - A Picture is Worth a Thousand Words: Indigenous Gender Constructs and the Colonial Binary
Tina Moraga - Environmental Justice, Native Land, and Lithium Mining
Analleli Villegas Barrera - Migración Mixteca: Oaxaca to San Diego, CA

2:05 pm - 2:10 pm: Break
2:10 pm - 3:05 pm - Student Panel 3: Truth, Education, and Growth

River Tepetla - Nahua epistemology through language and storytelling
Derrick Herrera - Eugenics to Blood Politics: An Understanding of Racial Paradigm in Native American Communities & its effect(s) in Indian Country
Aly MacLennan - Where Social Change Takes Hold: Two-Spirit Pow Wows

3:05 pm - 4:00 pm: Closing & Community Loom Activity
NIRAS Program Day 2 - saturday, April 15, 2023
Time: 3:30pm to 6:30pm PST
Location: Smith Recital Hall (use the pedestrian bridge on Level 8 of Parking Structure 12 to access Smith Recital Hall)
3:30 pm - 4:10 pm: Welcome, Land Acknowledgment & Community Loom Activity
4:10 pm - 5:10 pm

H. Paul Cuero, Jr.
Pacific Islander Student Association
Soaring Eagles

5:10 pm - 5:20 pm: Intermission
5:20pm - 5:35 pm: Opportunity Drawing
5:35 pm - 6:15 pm:

ValleyOnTheBeatz
Amore Envy

6:15 pm - 6:30 pm: Closing