About the Student Ombudsman's Office
Our Staff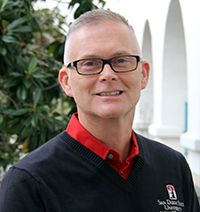 Darrell Hess
Student Ombudsman
[email protected]
Dr. Darrell Hess was appointed Student Ombudsman in San Diego State University's Division of Student Affairs in December 2018. Hess is a seasoned higher education professional with more than 20 years of experience in Student Affairs leadership, management, budgeting and classroom instruction. He believes that Student Affairs is essential in providing the high-impact experiences that help students connect their classroom experiences and theories to the world beyond university life.
Prior to his role as Student Ombudsman, Hess served as SDSU's director of Student Health Services, associate director in the Office of Housing Administration and associate director in the Office of Residential Education. Before joining SDSU, Hess was the assistant director of Residential Education at DePaul University in Chicago. He also had worked at the University of Tennessee in Knoxville.
Hess has a doctorate in Education Leadership from the University of California San Diego and California State University San Marcos. His dissertation topic was "Social Capital and the Learning Experience in Residential Learning Communities." Hess also has a bachelor of science degree in business administration from the University of Alabama, a master of education degree from the University of Georgia and an associate of science degree in liberal arts from Northwest Alabama State Junior College.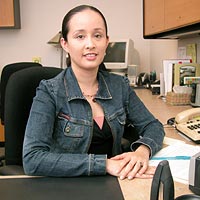 Karla Ramirez
Assistant Student Ombudsman
[email protected]
Karla is the Assistant Student Ombudsman and often, the initial point of contact in the Office of the Student Ombudsman. She started working as a student assistant for the office in 1998 while completing her degree at SDSU and has since continued working as a staff member of the campus community. Karla obtained a Bachelor's degree in Psychology and a Master's of Arts degree in Postsecondary Educational Leadership with a Specialization in Student Affairs from San Diego State University in 2001 and 2009 respectively.

She enjoys working with the students and members of the University community that contact the Office of the Student Ombudsman seeking assistance, directions to the appropriate department on campus, or just need to "vent" away their frustration.
Karla also serves as the Student Grievance Committee Secretary.