Ongoing Health Alerts:
For information on how the University is responding to COVID-19, visit our COVID-19 page.
Announcements
Flu Shots:
Flu shots are available starting October 2. During Boo to the Flu for the month of October, flu shots will be available at no cost.
Flu shots are also available on a walk-in basis at Student Health Services

Monday - Friday, 9a - 3p
Wednesday, 9:30a - 3p

Flu shot events throughout campus will occur on the following dates. All clinics are 10a - 2p unless otherwise indicated.

Tues., Oct. 3 - Calpulli
Thurs., Oct. 5 - South Centennial Walkway
Tues., Oct. 10 - Cuicacalli (11a-3p)
Thurs., Oct. 12 - ARC Outdoor Courtyard
Tues., Oct. 17 - South Centennial
Weds., Oct. 18 - Hepner
Tues., Oct 24 - Huaxyacac / Chapultepec (11a-3p)
Thurs., Oct. 26 - Hepner
Mon. Oct. 30 - Calpulli
Announcements
Essential Information for Accessing SHS Services
Hours:
Hours are Monday - Friday, 8:30am - 4:30pm; Wednesday, 9:30a - 4:30pm.
COVID-19 Testing & Care:
COVID-19 Testing is available Monday - Friday, during business hours with an appointment. For more information about testing and scheduling a test see our COVID-19 Care page.

For students who are experiencing COVID-like symptoms, please call us at 619-594-4325 for an appointment or send a secure message through HealtheConnect.
General Services:
All services must be scheduled via phone call first. Walk-in services have been suspended. Students should call 619-594-4325 to schedule an appointment or send a secure message through HealtheConnect.
Students with questions about medication refills, prescription transfers, or medical records, can contact us via phone or secure message in the HealtheConnect portal.
Students can consult with a triage nurse via the phone at 619-594-4325.
San Diego State University is following the guidelines of county, state and federal public health officials and other authorities as it continues its academic and research mission during the COVID-19 pandemic. Visit the university's COVID-19 site and SDSU Flex site for more information.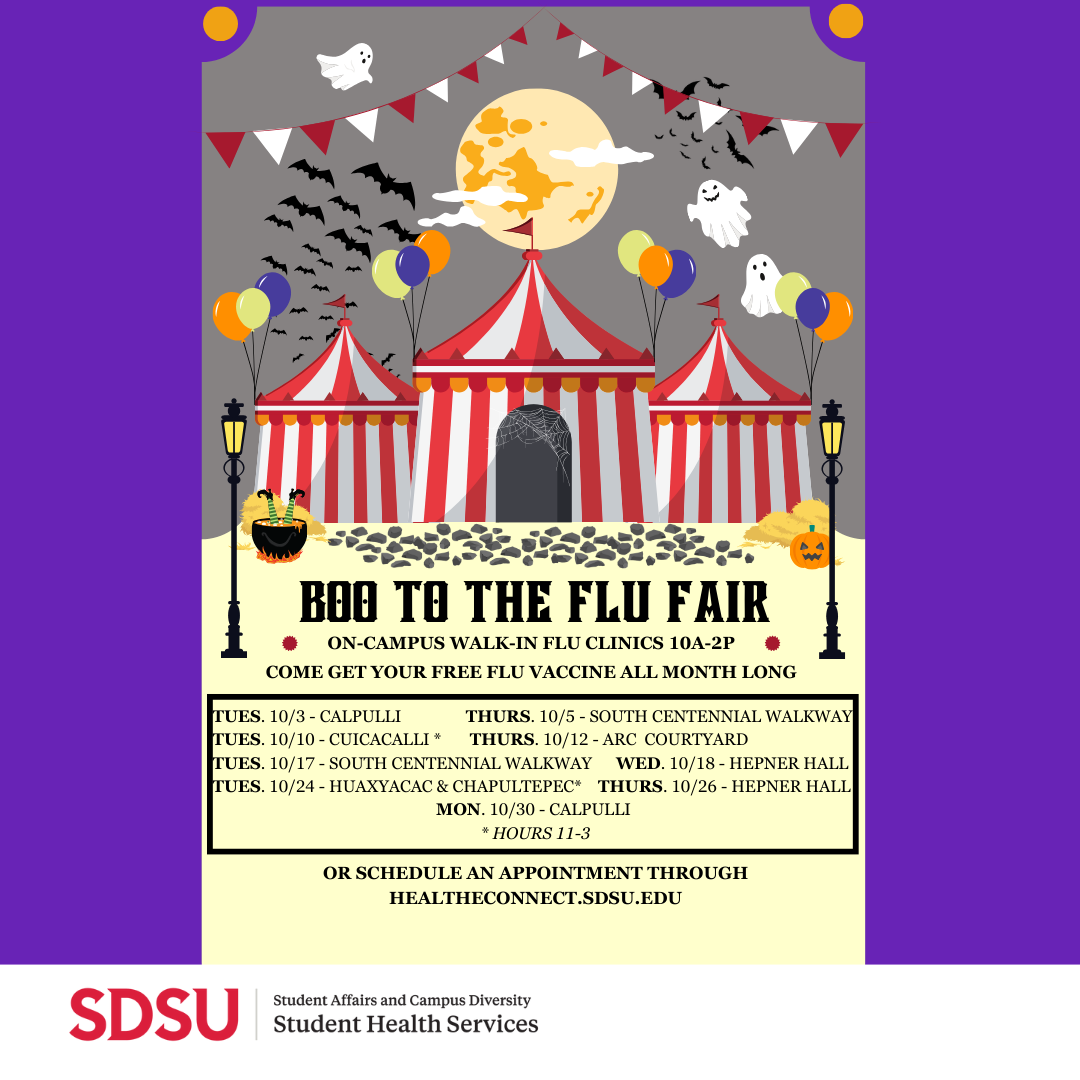 STUDENT HEALTH SERVICES
Student Health Services is staffed by fully licensed and certified health professionals who are dedicated to the university community. No-cost or low-cost medical services include outpatient evaluation and treatment of common medical problems, preventive care, health counseling, immunizations and psychiatric treatment. Specialty care services, including orthopedics and travel medicine, are available for additional fees. All services are provided at our offices in the Calpulli Center [ map ].
Student Health Services is dedicated to providing you with excellent health care through your college years and keeping you on track to graduate!!!
Manage your health care online!
Health
e

Connect

HealtheConnect is a quick and secure way to communicate with SHS medical staff.