SDSU COVID-19 Testing and Vaccine Programs
Student Health Services offers a range of medical services to support SDSU students, including services for COVID-19. In addition to offering COVID-19 testing to students, the university is now offering COVID-19 vaccines. Vaccines are only given to those who are eligible based on the County of San Diego and U.S. Centers for Disease Control and Prevention (CDC) guidelines.
The U.S. The Federal Drug Administration has granted Emergency Use Authorization for COVID-19 vaccines, and health authorities have defined phases for nation-wide vaccination. Distribution of the vaccine at San Diego State University is based on County of San Diego and CDC and state guidelines.
County-Operated Testing Site
The County of San Diego reopened its COVID-19 testing location at San Diego State University on Friday, August 6. The site is open to members of the campus community as well as the general public.
Testing is available at the Parma Payne Goodall Alumni Center, 5250 55th Street, Tuesdays through Saturdays from 10 a.m. to 5:30 p.m. Appointments are not required. Parking for those getting tested, including spaces for individuals with disabilities, is located in a designated area on the second level of Parking Structure 7. Anyone visiting for COVID-19 testing is required to wear a facial covering.
Information is available online about other county-run testing locations.
Those seeking a COVID-19 vaccine should contact their medical provider. SDSU's Student Health Services is also offering each of the three available vaccines — Pfizer, Moderna and Johnson & Johnson — to SDSU students, faculty and staff.
Vending Machines with COVID-19 Test
San Diego State University students, faculty and staff (including auxiliary employees with RedIDs) are able to access self-administered COVID-19 test kits at one of numerous vending machines across campus. Submitted COVID-19 tests will not be analyzed if the individual is not a student or employee in SDSU's database.
COVID-19 self testing vending machine locations for SDSU, SDSU Imperial Valley and SDSU Brawley can be found using our interactive campus map.
In addition to testing offered through Student Health Services and off-campus locations, those who are not vaccinated as well as those who are vaccinated may rely on the kiosks for testing.
Residential
Tenochca
Olmeca
Maya
Zura
Cuicacalli
SCP North
SCP South
Chapultepec
Huaxyacac
University Towers
Non-Residential
Calpulli Center
Chemical Sciences Laboratory
SDSU Bookstore
Conrad Prebys Aztec Student Union
Storm-Nasatir Halls

SDSU Imperial Valley
Calexico Campus - Library
Brawley Campus - In the East Hallway
Self-Administered COVID-19 Test Kit Vending Machine Map. View larger image.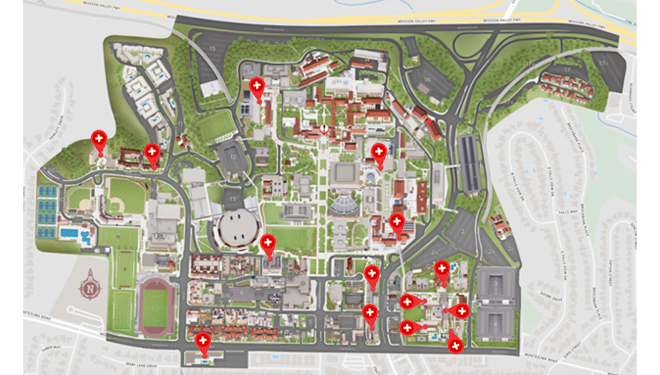 Instructions for Access to Free COVID-19 Tests (first-time users)
Go to the Dr. Wellness website to open the SDSU COVID-19 Testing web page.
Enter your Email and Mobile Number to receive a free credit to be used through the Monyx Wallet App.

Note: New credits can be requested Monday through Sunday — 8 a.m. to 8 p.m. — including holidays and may take up to 24 hours to receive.
COVID-19 tests can also be purchased for $1.

Download the Monyx Wallet app (available via Apple App Store and Google Play) or on the Monyx website.
Register in the Monyx Wallet App with your phone number. (No payment method needs to be included).
Wait for your credit (may take up to 24 hours).
Go to the vending machine you'd like to get a test from. Click on "Search Machines" in the Monyx Wallet App and enter the seven digit Machine ID Code from the front of the vending machine.
Be sure "NAYAX" is selected as payment and press "Pay" on the Monyx Wallet App.
Select the Vending Number on the vending machine pad and retrieve your test!
If you need any assistance with a vending machine, contact customer service by calling 858-252-1551.
You can also seek free testing through Student Health Services or at the Parma Payne Goodall Alumni Center.
Instructions for Administering and Submitting COVID-19 Tests for Analysis
TAKE THE TEST

Sanitize your hands open the swab packaging.
Insert the swab into your nose and rotate the swab around your nostril three times and then hold for 15 seconds against the inside of your nostril.
Repeat on the other nostril with the same swab.
Uncap the tube and place the swab into the vial. Be sure to insert with the swab facing down into the tube.
Recap the tube, ensuring that the lid is fully tightened.
Note: The test must be returned within a 24 hour period.

LOG ON TO HealtheConnect

Use your SDSU ID to log into your account and navigate to the "COVID Self-Test" tab at the top of the page.

3. SCAN YOUR TEST
Scan the barcode on your test tube using your phone.
Once you see the barcode text in the field on HealtheConnect, ensure it matches your barcode, and then hit the "Submit" button.
You will then see that your test has been added with the order status of "Lab Request Made."

4. DEPOSIT THE TEST & RECYCLE YOUR PACKAGE
Deposit your test within 24 hours of collection.
5. CHECK YOUR RESULTS
Monitor your HealtheConnect for messages about your lab results in one to three days.
6. SANITIZE YOUR HANDS
Wash your hands, or use hand sanitizer after depositing your test.
Student COVID-19 Testing
Student Health Services offers a range of medical services to support SDSU students, including testing services for COVID-19.
Location and Hours
Enrolled students can access COVID testing at Student Health Services at the Calpulli Center Information Booth. Testing is available Monday through Friday, during business hours with an appointment. For testing on evenings and weekend, the County of San Diego offers a number of free no appointment necessary testing sites.
Scheduling Appointments
Testing at Student Health Services is available by appointment only. Online scheduling is available through HealtheConnect, our secure online health portal. Students can also schedule appointments by calling Student Health Services at 619-594-4325.
Cost
There is no cost for testing.
Testing Specifics
Students will be asked to self-collect their PCR test specimen with a nasal swab. This will be observed by an SHS team member in order to ensure proper collection. The testing is painless and students can complete the process in just a few minutes.
Results
Results are typically available in two to three days and will be sent via HealtheConnect. If students test positive, they will also receive a follow-up phone call.
Employee COVID-19 Testing
Faculty and staff are encouraged to get COVID-19 tested and can do so at no cost at the county test sites in San Diego and Imperial Valley.
COVID-19 Medical Care
For students who are experiencing COVID-like symptoms or who have been diagnosed with COVID-19 and are having ongoing medical issues, Student Health Services can provide support and care. Please call us at 619-594-4325 for an appointment or telephonic consultation.
Employees should seek care from their medical provider.
CSU Vaccination Requirement
On July 27, 2021, the California State University (CSU) system announced that the COVID-19 vaccine will be required for students, faculty, and staff, including auxiliary employees in order to access campus this fall. As outlined by the CSU, this requirement is not contingent on the full U.S. Food and Drug Administration (FDA) approval, and therefore removes some of the earlier uncertainty regarding the policy's effective date. This is an update to the CSU's April 22 announcement. Additional information and guidance was shared in an all-campus message and can be found here.
COVID-19 Vaccination Program
Faculty, staff and students have choices when getting vaccinated, and are encouraged to reach out to the following to secure an appointment:
About the Current Vaccines, Why Get Vaccinated
Safe and effective vaccines for COVID-19 can help reduce the chances of contracting the disease. Current vaccines can help reduce the number of people infected and reduce the number of people who must seek medical attention. The vaccines may also reduce the long-term effects of COVID-19.
This is what we know:
Currently, the Pfizer/BioNTech, Moderna mRNA and Johnson & Johnson vaccines are the only three COVID-19 vaccines authorized for use in the United States. These vaccines, which are being administered nationally and in other parts of the world, are proven to be 95 percent effective.
The vaccines now on the market and available nationwide are safe and have been proven effective through scientific research and clinical trials
Supporting the County of San Diego's efforts in vaccinating faculty, staff and students, SDSU is following county guidance on vaccine phases, which defines the order in which the population can receive vaccines.
Importantly, medical professionals and health officials, including those within the U.S. Centers for Disease Control and Prevention and other agencies, determine vaccination phases.
Slow the Spread of COVID-19
Not everyone will be able to access vaccines immediately. Distributing the vaccine across the nation and throughout the state of California will take time and patience. It remains important to continue to maintain the everyday practices that help protect yourself, your loved ones and the university and broader communities.
Continue to do the following:
Wear a facial covering when required to protect yourself and others.
Wash your hands frequently.
Monitor your symptoms and get COVID-19 tested