General Prevention
Multi-Level Approach to Preventing the Spread of COVID-19
No single action by an organization or an individual can prevent the spread of COVID-19. Instead, prevention requires a combination of personal actions and other interventions. The best way to prevent the spread of COVID-19 includes getting vaccinated and practicing general prevention. San Diego State University has also implemented a number of interventions to help prevent the spread of COVID-19 and urges all members of the campus community to be consistent in the general guidelines and policies detailed below.
Personal Responsibilities
Get vaccinated and boosted
Regular testing
Wash your hands frequently
Wear a facial covering
Keep your distance when not vaccinated
Avoid school, work when sick
Report positive cases and exposures
Quarantine and isolation
SDSU-Led Interventions
Wastewater testing
Enhanced building ventilation
Enhanced cleaning
Education and awareness activities
Public health policy enforcement
Multi-level approach graphic. View larger image.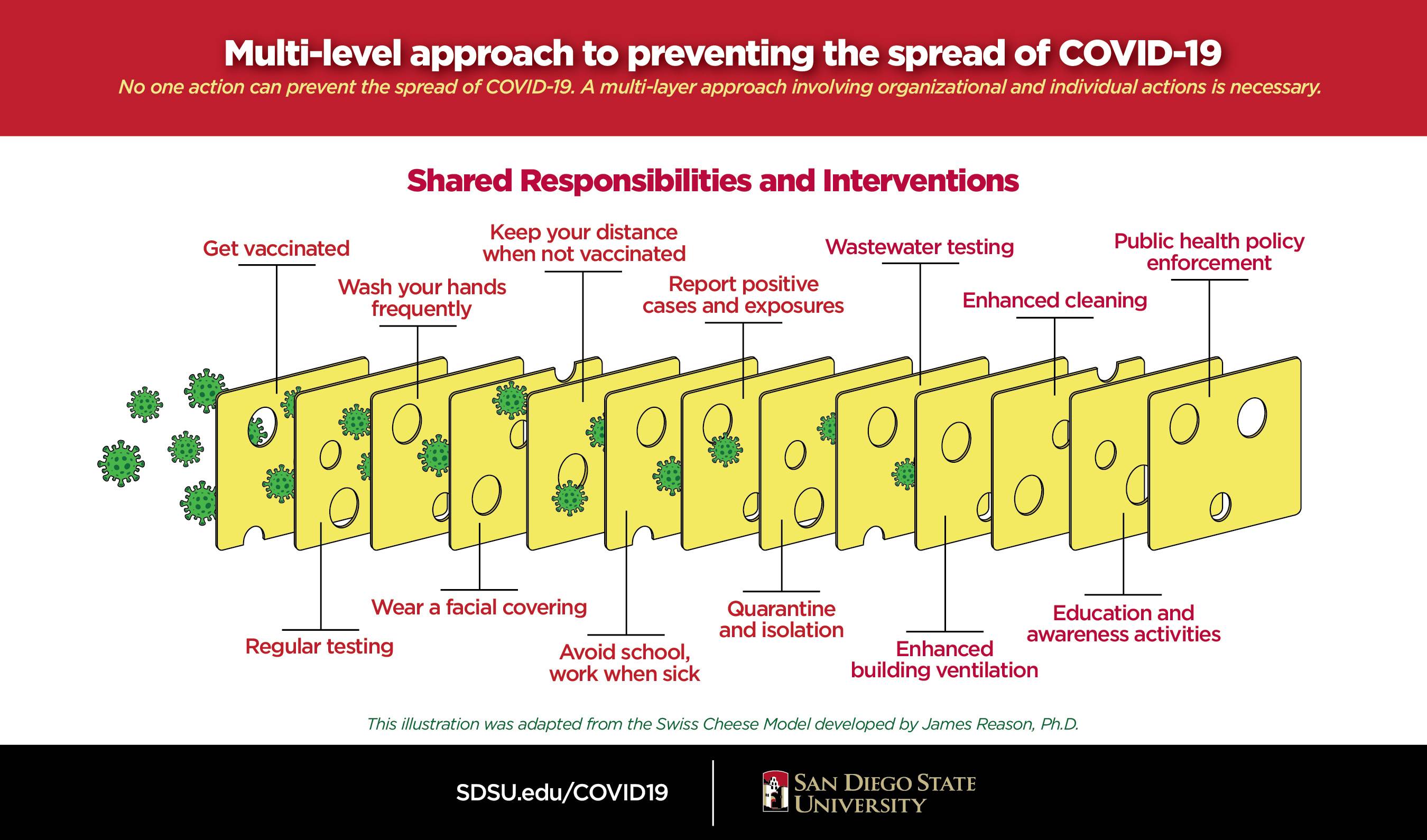 Stay at Home if Sick
Cómo protegerse y proteger a los demás (En Español)
All SDSU students, faculty, staff, independent contractors and vendors must stay home if they are unwell.
Do not come to campus if you do not feel well. Remain home and monitor your symptoms and seek medical attention as needed.
Contact your supervisor or faculty member to notify them of your absence.
COVID-19 can result in mild to severe symptoms, and older adults and people who have severe underlying medical conditions, such as heart or lung disease or diabetes, seem to be at higher risk for developing more serious complications from COVID-19.
If you become sick, you should self-quarantine and monitor your health. If you receive a positive COVID-19 test, complete the COVID-19 Reporting Form.
If a student or employee who is accessing campus has tested positive for COVID-19, the university will provide notifications consistent with SDSU's COVID-19 case communications protocol. Personal information of students and employees will be protected.
Isolation and Quarantine Policy
In accordance with the San Diego County and Imperial County public health orders, San Diego State University updated its isolation and quarantine policy for all university community members.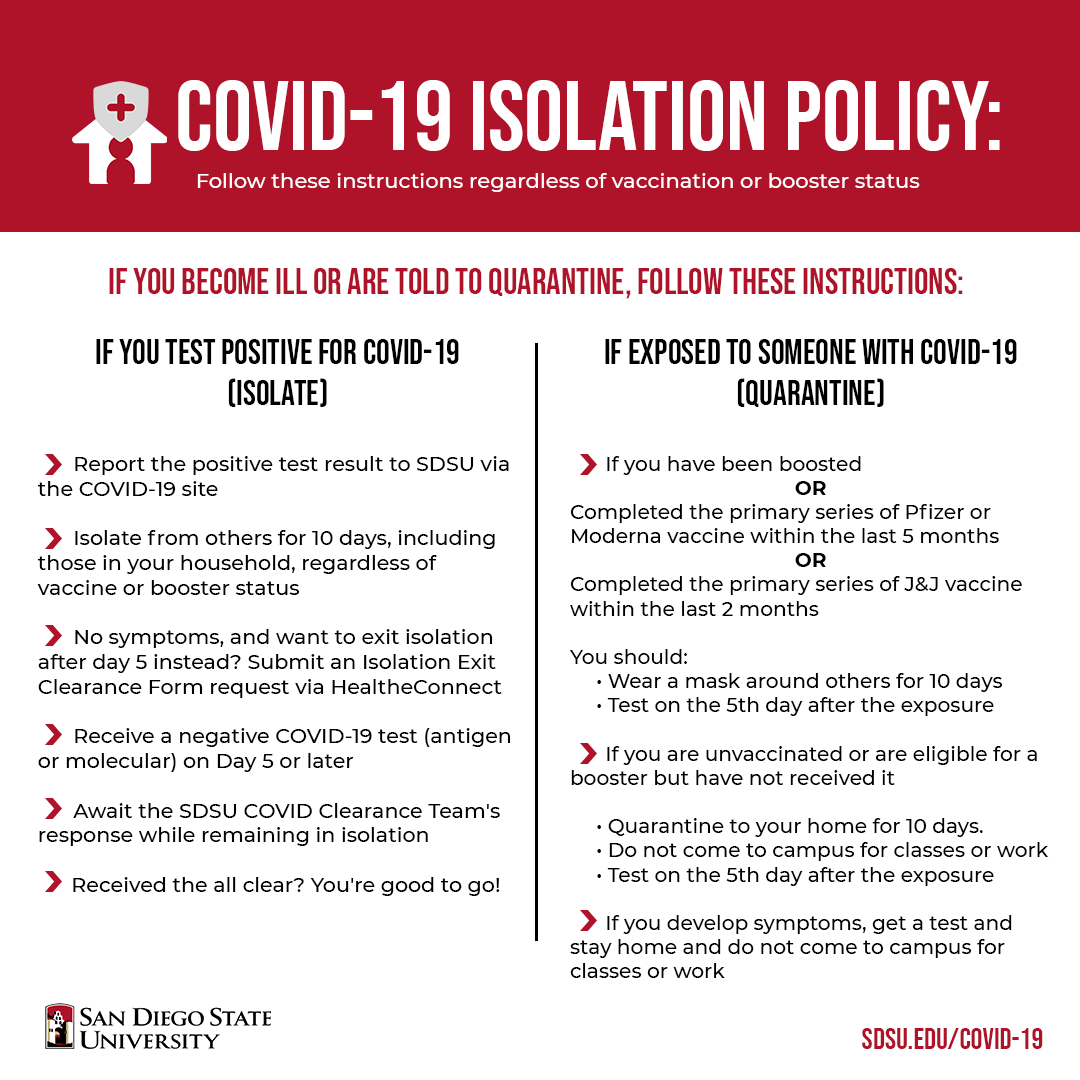 What to Do When Sick
Anyone who is experiencing symptoms must remain home and avoid coming to campus for school, work and activities. Individuals should prioritize getting tested and follow policy and other public health guidelines if they test positive. Speak with your healthcare provider, a county testing site, or other provider to get tested. All students, faculty and staff may also use their RedID to pick up a self-administered COVID-19 test kit from one of these vending machines, 24 hours a day.
If a person tests negative while exhibiting symptoms, they should remain home until they are well.
Use the following to guide your actions when you become sick: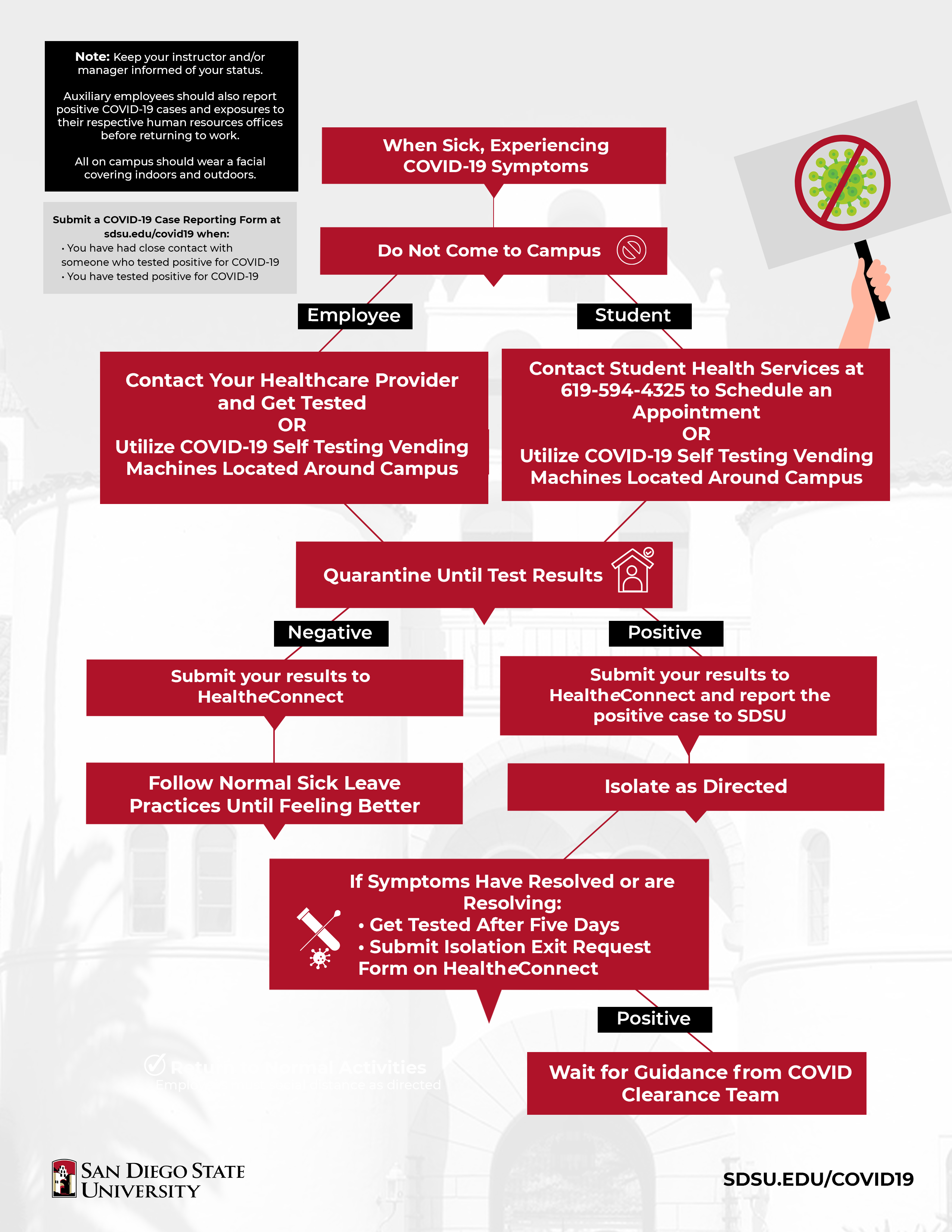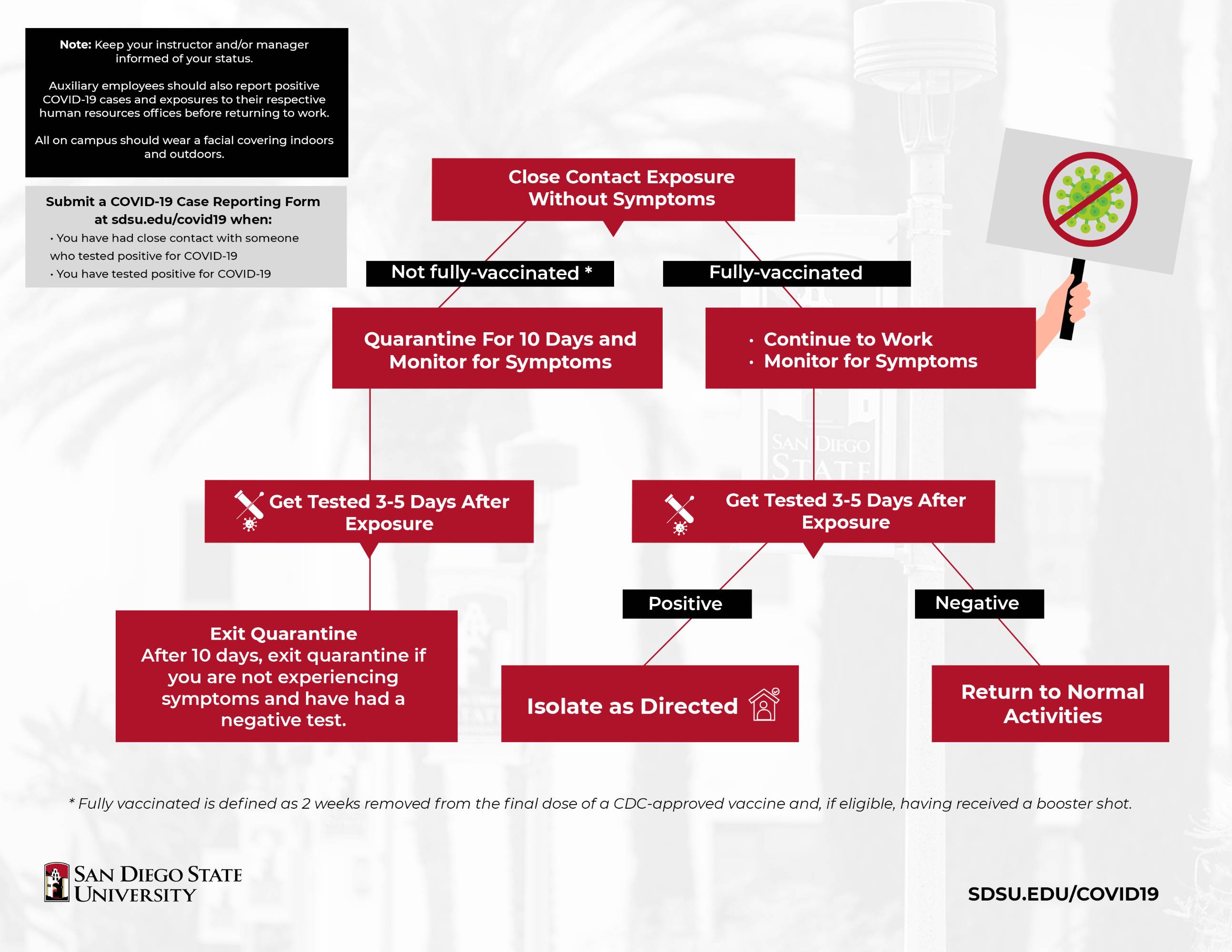 Isolation
Just like in past semesters, SDSU community members who have been diagnosed with COVID-19 must isolate themselves (keep distance from others, including those in their household) for a period of 10 days, regardless of vaccination and booster status.
So what's new? In some cases, individuals may now end their isolation prior to the 10th day, with the approval of the SDSU COVID Clearance team. Individuals who would like early release from isolation must submit an online request to the SDSU COVID Clearance team for review and approval.
To be qualified to exit isolation prior to the 10th day, all individuals must have a negative COVID-19 test and must commit to wearing a facial covering, regardless of whether they had symptoms, and regardless of their vaccination or booster status. Testing results must be laboratory verified, meaning conducted by a laboratory with a written lab result. Individuals may not exit isolation early until they have received approval from the COVID Clearance Team via HealtheConnect.
Quarantine
Just like in past semesters, all SDSU community members who are not fully vaccinated (which now includes a booster) must quarantine for 10 days if they are identified as a close contact to someone who is COVID-positive. A close contact is defined as being within six (6) feet of someone who was COVID-positive for 15 minutes or more over a 24-hour period during the time that person was infectious.
All community members who have been identified as a close contact to someone who was COVID-positive are encouraged to test on the 5th day following exposure using COVID-19 testing options available on campus or in the community. Please note that a negative test does not, automatically, allow community members who are unvaccinated and unboosted to exit their 10 day quarantine.
Physical Distancing, Facial Coverings
Consistent with Cal/OSHA requirements, a facial covering will be defined as tightly woven fabric or non-woven material of at least two layers, a surgical or medical mask, or a respirator (N95). Gaiter coverings are not in compliance per SDSU's facial covering policy, and masks with exhalation valves or vents are not permitted.
All students, faculty, staff and visitors on campus and attending campus events should follow the following guidelines. A facial covering:
Cannot have visible holes or openings.
Should completely cover the nose and mouth and fit snugly against the sides of the face with no gaps.
With a nose wire to prevent air from leaking out of the top is encouraged, but not required (you should ensure there are no gaps or holes in the mask).
Should not be made out of fabrics, such as vinyl, that make it hard to breathe.
As a result of recent California Occupational Safety and Health Administration (Cal/OSHA) updates, the following masking policies are now in place on SDSU campuses and sites:
Facial Covering Policy for those who are fully vaccinated
Individuals are considered fully vaccinated for five months after their final dose of a two-dose COVID-19 vaccine or for two months after receiving the only dose of a single-dose vaccine, and without a booster. However, if you completed your two-dose vaccine more than six months before Jan. 18, 2022, or your single-dose vaccine more than two months before Jan. 18, 2022, you will no longer be considered fully vaccinated, per U.S. Centers for Disease Control and Prevention (CDC) definitions, and will need to get a booster.
As a reminder, per California State University system requirements, students, faculty and staff (including auxiliary employees) are required to have a booster on file with the university by Jan. 18 to access campus facilities and programs in spring 2022.
Between January 19 and February 6, facial coverings are required for all students, faculty and staff on campus and attending university programs and events no matter your vaccination and booster status. That includes times when:
When in public-facing indoor settings and/or when any students or visitors are present
When in instructional settings, whether indoors or outdoors.
Indoors in non-public settings when gathering for events, meetings and other functions with others, even if no members of the public or students are present.
Because of the escalating spread of COVID among the unvaccinated, the CDC is now encouraging that all those who are vaccinated wear a facial covering in public indoor settings in counties across the nation with higher levels of COVID-19 spread.
Any individuals experiencing COVID-like symptoms must wear a facial covering if they are on campus to seek testing or as they exit campus to return home in accordance with expectations for those who are unwell if they have onset of symptoms while on campus.
Students are encouraged to seek assistance from the Student Ability Success Center (SASC) as soon as possible if they believe they cannot comply with any of the COVID-19 related health/safety measures due to a medical condition or disability. Information for contacting SASC during virtual operation can be found on SASC's COVID-19 Information site.
Faculty and staff are encouraged to contact SDSU's Office of Employee Relations and Compliance by calling 619-594-6464 or emailing [email protected] should they have a medical condition or disability and believe they cannot comply.
Additional Guidelines
In addition to the guidelines for vaccinated and unvaccinated individuals, other specific guidelines may be imposed regardless of vaccine status. Those include the following:
Until at least the end of the spring semester, facial coverings are required for all indoor university events that involve the public, students or uncontrolled mixing and during outdoor events of more than 250 people that involve uncontrolled mixing. Facial coverings are also required during attendance at mega events (such as those with more than 1,000 people in attendance during athletic competitions, events or concerts), whether the event occurs indoors or outdoors.
Facial coverings may be required under California Department of Health regulations in specific settings such as healthcare practices and childcare centers.
Practice Cough Etiquette, Good Hygiene and Cleanliness
Each of us has a personal responsibility to help stop the spread of any illness, including COVID-19. Three COVID-19 vaccines have been authorized for use in the United States, Pfizer/BioNTech, Moderna mRNA and Johnson & Johnson. The best way to prevent illness is to avoid being exposed. The following practices will help you avoid contracting the virus.
Wear a facial covering when you are on campus or any other SDSU property.
Monitor your health daily, and take appropriate action (stay home, call your doctor) if you begin to feel sick.
Remember to always cover your mouth and nose with a tissue when you cough or sneeze or use the inside of your elbow.
Throw used tissues in the trash.
Regularly wash your hands with soap and water for at least 20 seconds, especially after blowing noses, coughing, or sneezing.
If soap and water are not readily available, clean your hands with a hand sanitizer that contains at least 60% alcohol.
Avoid touching your eyes, nose and mouth with unwashed hands and avoid personal contact with people who are sick.
Avoid sharing food, cups or utensils.
Avoid touching high-touch surfaces in public places and minimize handling cash, credit cards, and mobile or electronic devices.
Custodial professionals will continue to disinfect high touch surfaces (i.e., door knobs, restroom fixtures, etc.).
COVID-19 Vaccine
Faculty, staff and students have choices when getting vaccinated, and are encouraged to reach out to the following to secure an appointment:
Additional information about SDSU's COVID-19 Vaccination Program can be found here.
Additional Coronavirus Resources
Conozca los datos acerca del coronavirus (En Español)