General Prevention
Multi-Level Approach to Preventing the Spread of COVID-19
No single action by an organization or an individual can prevent the spread of COVID-19. Instead, prevention requires a combination of personal actions and other interventions. The best way to prevent the spread of COVID-19 includes getting vaccinated and practicing general prevention. San Diego State University has also implemented a number of interventions to help prevent the spread of COVID-19 and urges all members of the campus community to be consistent in the general guidelines and policies detailed below.
Personal Responsibilities
Get vaccinated and boosted
Regular testing
Wash your hands frequently
Wear a facial covering
Keep your distance when not vaccinated
Avoid school, work when sick
Report positive cases and exposures
Quarantine and isolation
SDSU-Led Interventions
Wastewater testing
Enhanced building ventilation
Enhanced cleaning
Education and awareness activities
Public health policy enforcement
Multi-level approach graphic. View larger image.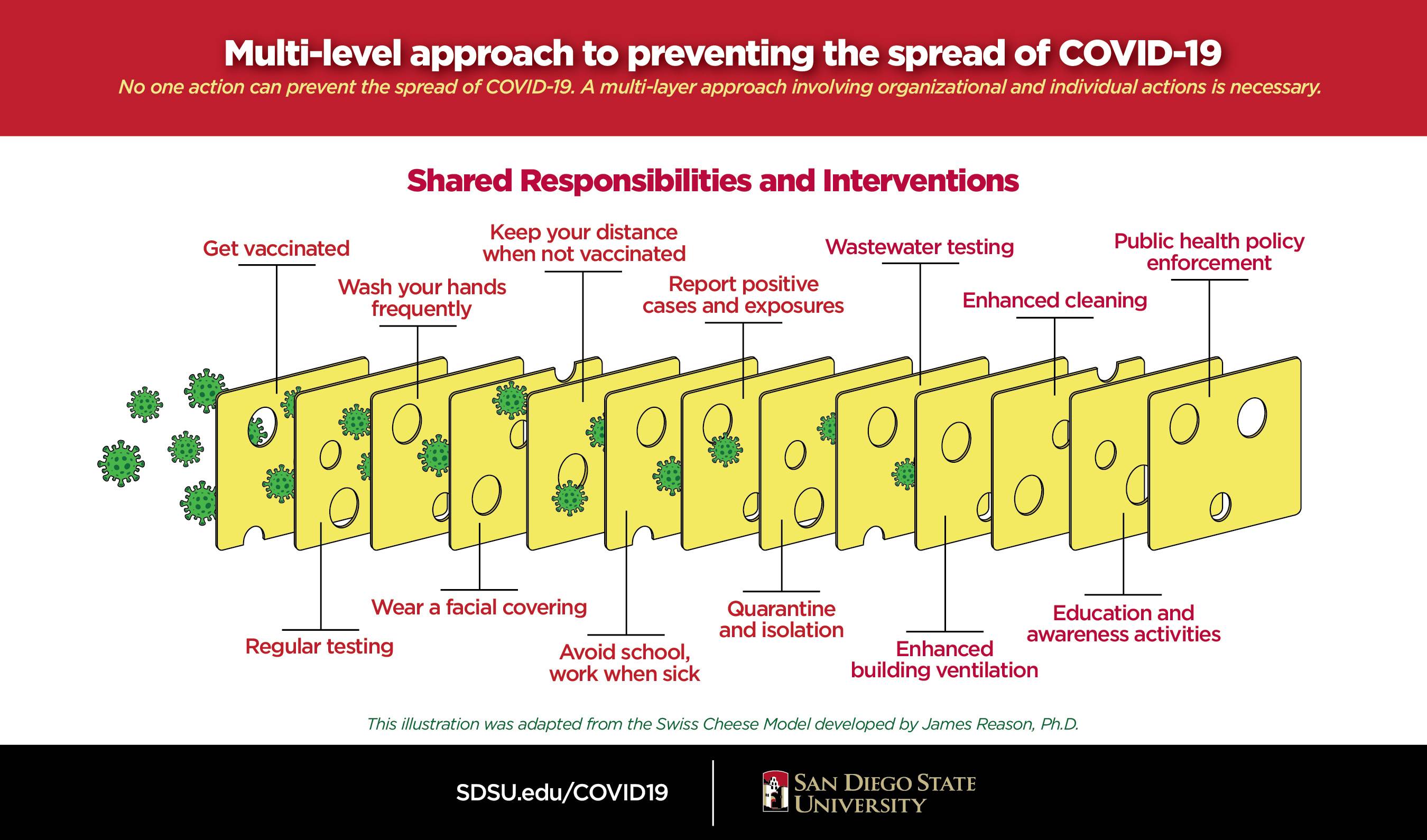 Stay at Home if Sick
Cómo protegerse y proteger a los demás (En Español)
All SDSU students, faculty, staff, independent contractors and vendors must stay home if they are unwell.
Do not come to campus if you do not feel well. Remain home and monitor your symptoms and seek medical attention as needed.
Contact your supervisor or faculty member to notify them of your absence.
COVID-19 can result in mild to severe symptoms, and older adults and people who have severe underlying medical conditions, such as heart or lung disease or diabetes, seem to be at higher risk for developing more serious complications from COVID-19.
If you become sick, you should self-quarantine and monitor your health. If you receive a positive COVID-19 test, complete the COVID-19 Reporting Form.
If a student or employee who is accessing campus has tested positive for COVID-19, the university will provide notifications consistent with SDSU's COVID-19 case communications protocol. Personal information of students and employees will be protected.
Isolation and Quarantine Policy
In accordance with the San Diego County and Imperial County public health orders, San Diego State University updated its isolation and quarantine policy for all university community members.
What to Do When Sick
Anyone who is experiencing symptoms must remain home and avoid coming to campus for school, work and activities. Individuals should prioritize getting tested and follow policy and other public health guidelines if they test positive. Speak with your healthcare provider, a county testing site, or other provider to get tested. All students, faculty and staff may also use their RedID to pick up a self-administered COVID-19 test kit from one of these vending machines, 24 hours a day.
If a person tests negative while exhibiting symptoms, they should remain home until they are well.
En Español
Guides for what to do if you become sick and are experiencing symptoms or become sick and are not experiencing symptoms are available for download in Spanish.
Isolation
SDSU community members who have been diagnosed with COVID-19 must isolate themselves for a period of 10 days, regardless of vaccination and booster status. Individuals may end their isolation prior to the 10th day with a negative COVID test and an online request to exit isolation that will be reviewed by the COVID Clearance Team.
Quarantine
In accordance with recent guidance from CDPH, the university's quarantine policy is being updated. Individuals who have been exposed to someone who is COVID-positive and who are asymptomatic are not required to quarantine, regardless of their vaccination status. Individuals should seek testing, monitor for symptoms, and wear a facial covering. Individuals who have been exposed and are symptomatic are required to quarantine, seek testing, and report this symptomatic exposure to the university.
Facial Coverings
Effective Wednesday, June 1, 2022, the university has updated its policy and facial coverings are no longer required on campus. However, for all, no matter one's vaccination or booster status, any individuals experiencing COVID-19-like symptoms must wear a facial covering if they are on campus to seek testing or as they exit campus to return home if they have onset of symptoms while on campus.
NOTE: Facial coverings will continue to be required for all individuals in limited environments that have licensing or other requirements, such as the Children's Center and Student Health Services.
Additional Guidelines
Individuals are considered fully vaccinated for five months after their final dose of a two-dose COVID-19 vaccine or for two months after receiving the only dose of a single-dose vaccine, and without a booster.
Practice Cough Etiquette, Good Hygiene and Cleanliness
Each of us has a personal responsibility to help stop the spread of any illness, including COVID-19. Three COVID-19 vaccines have been authorized for use in the United States, Pfizer/BioNTech, Moderna mRNA and Johnson & Johnson. The best way to prevent illness is to avoid being exposed. The following practices will help you avoid contracting the virus.
Monitor your health daily, and take appropriate action (stay home, call your doctor) if you begin to feel sick.
Remember to always cover your mouth and nose with a tissue when you cough or sneeze or use the inside of your elbow.
Throw used tissues in the trash.
Regularly wash your hands with soap and water for at least 20 seconds, especially after blowing noses, coughing, or sneezing.
If soap and water are not readily available, clean your hands with a hand sanitizer that contains at least 60% alcohol.
Avoid touching your eyes, nose and mouth with unwashed hands and avoid personal contact with people who are sick.
Avoid sharing food, cups or utensils.
Avoid touching high-touch surfaces in public places and minimize handling cash, credit cards, and mobile or electronic devices.
Custodial professionals will continue to disinfect high touch surfaces (i.e., door knobs, restroom fixtures, etc.).
COVID-19 Vaccine
Faculty, staff and students have choices when getting vaccinated, and are encouraged to reach out to the following to secure an appointment:
Additional information about SDSU's COVID-19 Vaccination Program can be found here.
Additional Coronavirus Resources
Conozca los datos acerca del coronavirus (En Español)