Financial Aid
The Office of Financial Aid is responsible for preparing and communicating information pertaining to financial aid.
We will communicate with you via my.SDSU, so make sure you log-in regularly. If you have questions that pertain to your financial aid, please visit the Cal Coast Student Financial Center Virtual Help Desk. The link is available via our homepage.
(In the right place? For scholarship information, visit our Scholarships section.)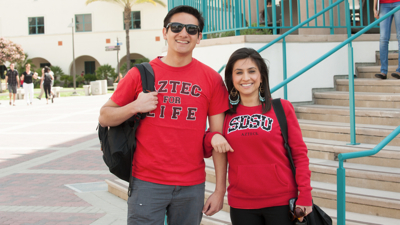 Learn about your financial aid options and get financial aid help by exploring the links below:
My.SDSU is a secure online web-based system that gives you access to your SDSU financial aid record, 24 hours a day, every day.
Learn about grants, loans (subsidized and unsubsidized), Work Study, and other types of financial aid including credential and certificate programs, summer aid, study abroad, financial aid for veterans and foster youth, and more.
Students of all class levels should complete the FAFSA to be considered for all types of state and federal aid and some scholarships. Find out how and when to complete the FAFSA, how to use IRS data retrieval, and how to get a Federal Student Aid (FSA) ID.
AB 540 eligible students may fill out the CA Dream Act application to apply for aid.
Learn about your eligibility for financial aid, how to calculate the amount of aid you are eligible for, how to estimate your cost of attendance (COA), what to do if you have a change in income, and more.
Cost of Attendance (COA) is the estimated cost to attend SDSU during the 9-month academic year. Your financial aid award will be based on the standard COA. Get help estimating your housing and meal costs, how much your family should expect to pay, and more.
Disbursement means the payment of money. Disbursement is how your financial aid or scholarship award (money) is paid to you. Fall and Spring disbursements take place appx. 10 days prior to the semester.
For students in certain categories, some financial aid procedures may vary. For instance, if you plan on attending SDSU summer session or participate in an SDSU approved study abroad program, you may need to follow special instructions to apply for and receive aid.
As a student receiving financial aid at SDSU, your rights include the right to financial information privacy. Responsibilities include making satisfactory academic progress (SAP) and avoiding drug law violations.
---
Your Cost of Attendance (COA)
Accepting/Declining Aid
Grants: All grant awards are assumed accepted.
Loans: Activate only the amount of loan you need to meet your expenses for the academic year.
Note: You have the right to decline any or all of your financial aid award.
Special application procedures for some students
For students in some categories, certain financial aid procedures may vary:
Certificate programs
Credential students (including education)
Concurrent enrollment
Foster youth
Joint doctoral students
Study abroad
Summer study
Veterans
Visitor program