How to Apply for / Renew Cal Grants A and B
Apply for Cal Grants A and B
Who should apply
All undergraduate California residents should apply.
How to apply
By March 2, as a new, first-time Cal Grant applicant you must:
Submit your Free Application for Federal Student Aid (FAFSA) online at the FAFSA website or the California Dream Act Application (for Dream Act-eligible students).
Verify your GPA.
If you are not currently enrolled at SDSU, have your current high school or college verify your GPA with CSAC.
If you are enrolled at SDSU, SDSU will automatically verify your GPA for CSAC, IF you have:

a valid Social Security number on your record with the Office of the Registrar, and
a current academic year FAFSA on file with SDSU
Note: SDSU automatically verifies the GPA of enrolled SDSU students who have a 2019-20 or 2020-21 FAFSA on file with SDSU. Each applicant must still complete the 2020-21 FAFSA by the annual March 2 deadline.
Renewing your Cal Grant
Once you are a Cal Grant recipient, it is renewable each year depending on your continued eligibility. You may receive a Cal Grant up to 8 semesters, whereas the availability of State University Grant (SUG) varies each year.
To renew your Cal Grant: Complete your FAFSA each year and maintain good academic standing with the university.
Note: A GPA Verification form is not required to renew your Cal Grant.
WebGrants for students
The California Student Aid Commission (CSAC) selects undergraduate California residents for the Cal Grant A or Cal Grant B programs.
WebGrants for Students is CSAC's secure website where you can monitor the processing of your Cal Grant application and award information.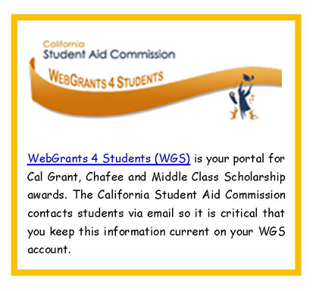 Through WebGrants you can:
Confirm that CSAC received your application
Check your award status and award history
Change your address and other demographic information with CSAC
List SDSU as the first school to receive your Cal Grant award information