Location, Hours and Appointments
Location: Student Services East (SSE) 1200
Hours of Operation:
Quick Questions & Immediate Needs
Contact our Virtual Front Desk via Zoom
Hours of operation: Weekdays 10 am - 2 pm
Scheduled Appointments
Appointment Lengths: 30-minute and 60-minute
Available weekdays from 8:30 am to 4:00 pm
May not be available on

career fair/special event days
Please be sure to provide us with information about the reason for your visit.
Schedule an appointment:
The best way to set up your virtual one-on-one career advising appointment is through Handshake.
You may also call 619-594-6851 or visit our office (SSE 1200).
Appointments usually require 24-hour advance scheduling. Exceptions will be made to this practice. Be sure to let us know if you are facing special circumstances that necessitate a same-day appointment.
Drop-ins for SDSU Students
Drop-in sessions are a max of 20 minute sessions held within the Career Services Office, Student Services East, 1200 with a Career Peer. These drop-in sessions give students the opportunity to quickly review resumes, job search on Handshake, and other general career resources questions. The Career Peer will evaluate your questions and if more time is needed, you will be referred to our appointment scheduling system.
Drop-in Hours to resume as of January 18, 2022.
Monday-Thursday, 1:00 - 3:00 pm
Friday, 10:00 am - 12:00 pm
Campus Location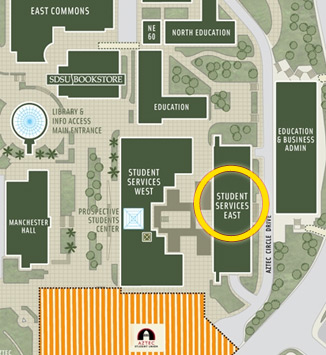 Mailing address
SDSU Career Services
5500 Campanile Drive, MC 8255
San Diego, CA 92182-8255