Location, Hours and Appointments

Location: Student Services East (SSE) 1200
Hours of Operation:
Quick Questions & Immediate Needs
Contact our Virtual Front Desk via Zoom
Hours of operation: Weekdays 9 am - 4 pm
Scheduled Appointments
Appointment Lengths: 30-minute and 60-minute
Available weekdays from 8:30 a.m. to 4:00 p.m.
May not be available on

career fair/special event days
Please be sure to provide us with information about the reason for your visit.
Schedule an appointment:
The best way to set up your virtual one-on-one career advising appointment is through Handshake. You may also call 619-594-6851 or visit our office (SSE 1200).
Appointments usually require 24-hour advance scheduling. Exceptions will be made to this practice. Be sure to let us know if you are facing special circumstances that necessitate a same-day appointment.
Virtual Drop-ins for SDSU Students
Virtual drop-in sessions are a max of 20 minute sessions held on Zoom with a Career Counselor or Career Peer. These drop-in sessions give students the opportunity to quickly review a career related question or to review a resume or cover letter. The counselor or peer will evaluate your questions and if more time is needed, you will be referred to our appointment scheduling system.
Drop-in Hours:
Monday-Thursday, 1:00 - 3:00 p.m.
Fridays, 10:00 a.m. - 12:00 p.m.
How To Join Zoom Drop-In Career Counseling:
When you join virtual Drop-in hours, you are placed in a Zoom virtual waiting room specific to that counselor. Drop-ins are handled on a first-come, first-served basis. You are not guaranteed to see a counselor during Drop-Ins.
Select from the below list of counselors to meet with based on your college - you will be redirected to Zoom. Students are also welcome to join any wait room if your counselor is not available when you want a Drop-in.
Due to upcoming Resumanias and Career Fairs, drop-ins will not be available on 9/14, 9/15, 9/16, 9/28, 9/29, 10/12 & 10/13.
Mondays:

Tuesdays:

Wednesdays:

Thursdays:

Fridays:
Campus Location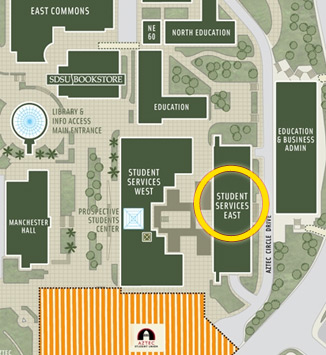 Mailing address
SDSU Career Services
5500 Campanile Drive, MC 8255
San Diego, CA 92182-8255