Location, Hours and Appointments

Location: Student Services East (SSE) 1200
Hours of Operation:
Quick Questions & Immediate Needs
Contact our Virtual Front Desk via Zoom
Hours of operation: Weekdays 9 am - 4 pm
Scheduled Appointments
Appointment Lengths: 15-minute, 30-minute, and 60-minute
Available weekdays from 8:30 a.m. to 4:00 p.m.
May not be available on

career fair/special event days
Please be sure to provide us with information about the reason for your visit.
Schedule an appointment:
The best way to set up your virtual one-on-one career advising appointment is through Handshake. You may also call 619-594-6851 or visit our office (SSE 1200).
Appointments usually require 24-hour advance scheduling. Exceptions will be made to this practice. Be sure to let us know if you are facing special circumstances that necessitate a same-day appointment.
Campus Location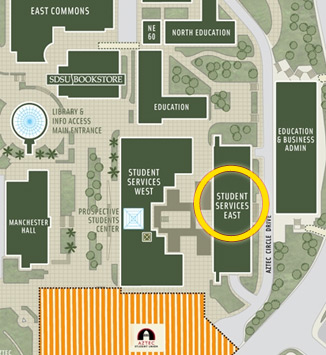 Mailing address
SDSU Career Services
5500 Campanile Drive, MC 8255
San Diego, CA 92182-8255