Career Guide - LAUNCH YOUR CAREER
The Career Guide Handbook is the complete career-readiness tool for undergraduates, graduates, alumni and others. It will equip you with the "soft skills" that employers value and that are instrumental for a sustainable career. Students can schedule appointments with a career counselor via Handshake to receive expert advice regarding: resume preparation, cover letters, internships, interview skills, professional etiquette, tips for building your network and more.
Whether you are a freshman, senior or graduate student, you can master the career strategies that will help you secure your dream job. Launch your career today!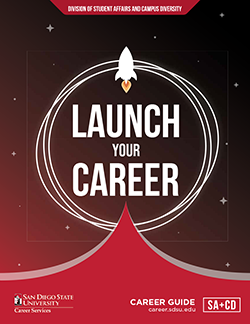 View the entire career guide (pdf, 88 pages) or view and download specific sections listed to the right.