Middle Class Scholarship (MCS)
The Middle Class Scholarship is available to undergraduate California residents who attend a California State University. To be eligible, students must be enrolled at minimum half time, have a family income less than or equal to $184,000 and cannot have household assets over $184,000. Students may not recieve other grants & fee-paying sources.
To apply
Complete the Free Application for Federal Student Aid (FAFSA) or a California Dream Act Application (for Dream Act-eligible students) by March 2 each year.
Amount
Each year's amount will be based on the number of students that are eligible and the amount of funding allocated by the State Budget.
Students are limited in terms of time they can receive the award and it is based on the student's grade level at SDSU.
The award amount is based on a sliding scale according to your family income and is reduced by other publicly funded, need-based financial aid you receive- this includes: Pell Grant, Cal Grant, and Teach Grant.
Outside fee paying resources will impact your award, and can cause it to be cancelled completely.
Availability of funds
If the MCS is part of your financial aid award, disbursement of the funds will not occur until after census each semester. Census occurs after the add/drop deadline. Funds may be delayed or reduced depending on action of the Governor and the California State Legislature.
Ten things you need to know about California's Middle Class Scholarship
Visit the California Student Aid Commission website to learn more.

WebGrants for students
The California Student Aid Commission (CSAC) selects undergraduate California residents for the Cal Grant A or Cal Grant B programs.
WebGrants for Students is CSAC's secure website where you can monitor the processing of your Cal Grant application and award information.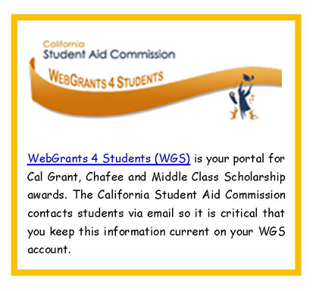 Through WebGrants you can:
Confirm that CSAC received your application
Check your award status and award history
Change your address and other demographic information with CSAC
List SDSU as the first school to receive your Cal Grant award information