PROGRAM OVErVIEW
The Early Assessment Program (EAP) helps students measure their readiness for college-level English and mathematics in their junior year of high school, and helps them improve skills during their senior year. View the EAP flier (PDF; download Adobe Acrobat Reader, if needed.)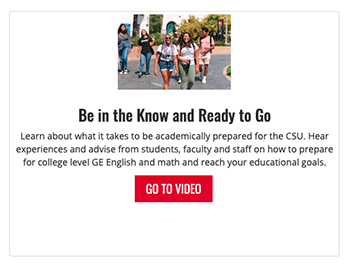 Learn about what it takes to be academically prepared for the CSU. Hear experiences and advice from students, faculty and staff on how to prepare for college level GE English and math and reach your educational goals. Click image above to view video.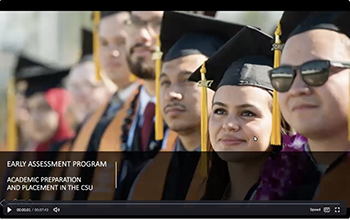 To view the Spring 2021 EAP presentation please click on the image above to view the zoom recording.
High school 9th-11th graders:
Sign up for your custom roadmap at www.csustudentsuccess.org.
High school seniors:
If you are applying to SDSU and didn't release yor scores, you should submit a copy of your CAASPP report to Admissions by November.
If you have an EAP Conditional Status and choose to validate status, you can do this by taking a 1-year approved math course of Integrated Math 3 or Algebra 2 or above. You must earn a letter grade of C or better in both semesters.