Congratulations EOP Graduates!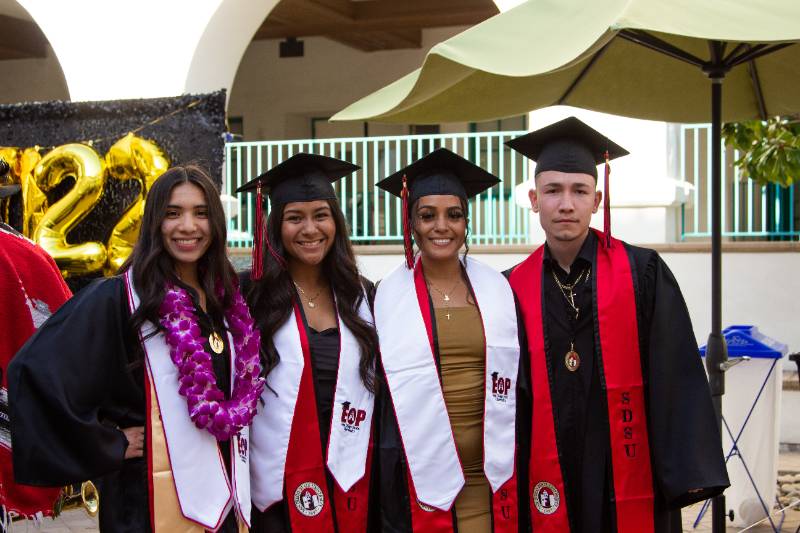 The EOP, Outreach & Success (EOPOS) team celebrates the success of our scholars alongside their families, friends, and supporters! Our ceremony is a wonderful occasion to spend with our graduate's family and loved ones where we can honor this important milestone.
We understand many of the challenges and barriers our graduates have overcame to get to this point. Please allow us this opportunity to revel in your educational and personal success! We cannot wait to see you commemorate your accomplishments, and encourage you to nominate yourself or one of your peers for our annual Recognition Awards. Please note that our ceremony does not take the place of SDSU's Commencement Ceremony.
The decision to attend the main campus ceremony, your departmental ceremony, and/or the EOPOS graduation celebration ceremony is at your discretion. We encourage you to attend all three if possible! Additionally, EOPOS will not be providing official university degree certificates. The University will mail these after the degree is conferred.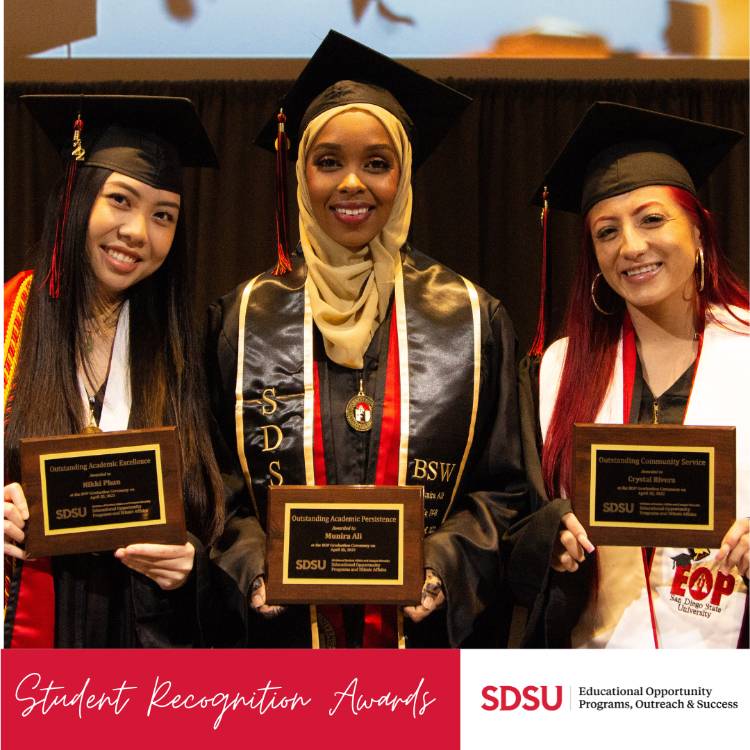 1. EOPOS Outstanding Academic Excellence Award:
Students must have a minimum overall GPA of 3.0 or higher and be in good academic standing. Students must be involved in research, professional and academic societies, and/or participate or lead departmental activities, etc.
2. EOPOS Outstanding Community Service Award:
Students should have community service within EOP, SDSU, and/or the San Diego community. This volunteer work may include but is not limited to ESAB, CSSA, GSSAB, SPAA, student organizations, fraternity/sorority life, medical, social service, cultural, etc.
3. EOPOS Outstanding Persistence Award:
Students who have overcome adversities during their time at SDSU and have persevered through graduation. Students have shown resilience and have transformed their challenge(s) into strengths.
Nominate a Student for an EOPOS Recognition Award!