EOP BEST (Building Essential Skills and Talents) Summer Bridge
The EOP BEST Summer Bridge Program is an intensive 5-week academic preparation program designed to enhance student educational achievement, timely progress towards degree and successful transition to the university. This is achieved by working collaboratively with faculty and staff in providing students with the fundamental academic skills, social networks, and personal development essential to their success at SDSU.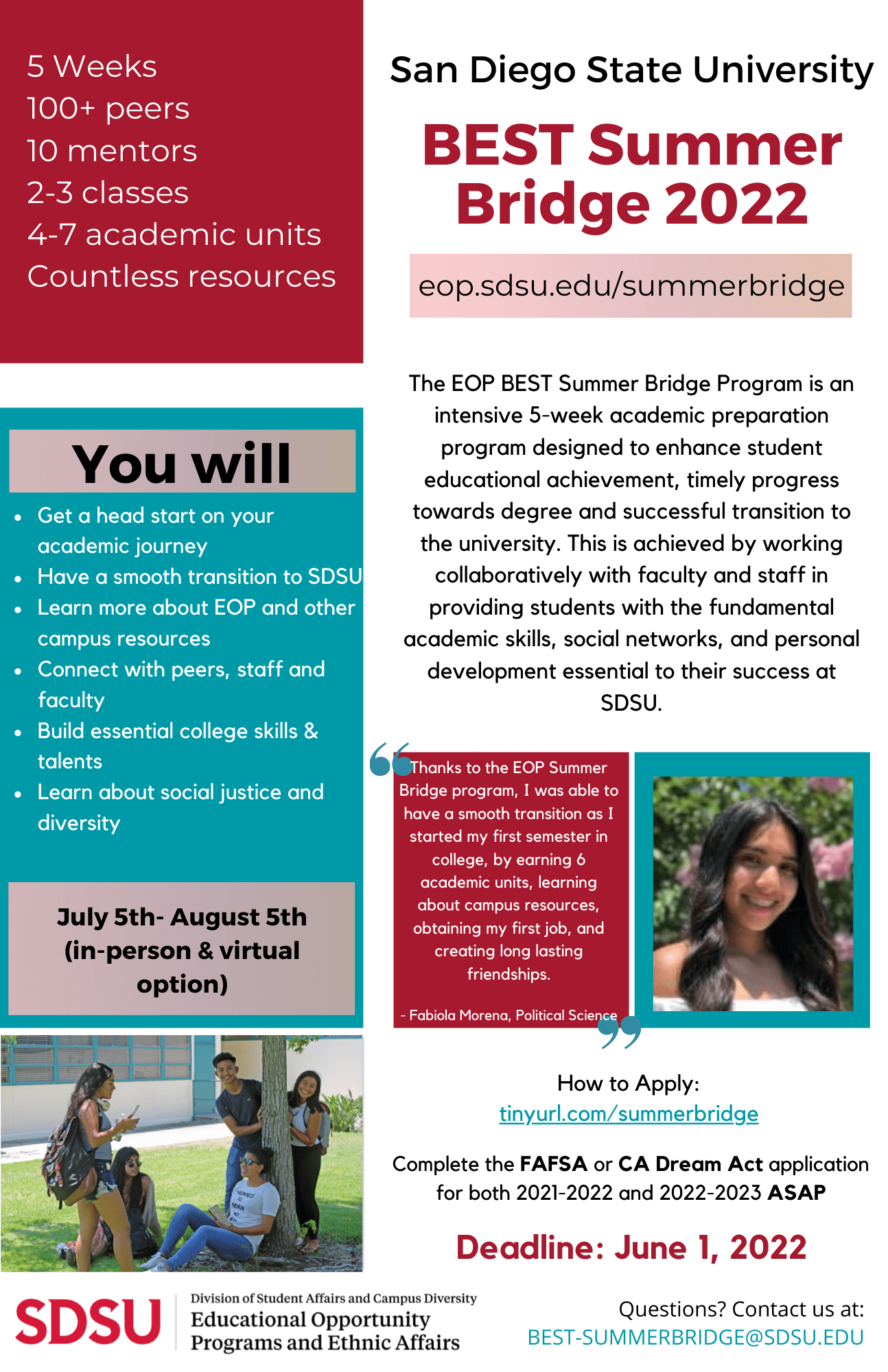 Each summer, a select group of new EOP freshmen students are given an opportunity to get a head start on their college education and experience life at SDSU. Students participate in five weeks of intensive academic studies allowing students to earn up to seven academic units. Students also enhance writing, math, and study skills focused toward meeting SDSU's writing and math competency requirements.
All students familiarize themselves with the university and explore the city of San Diego. This is a great way to begin at SDSU. You will meet students like yourself from throughout California, develop essential educational skills, and participate in social and recreational activities. With your enthusiasm and a five-week commitment, you can become one of EOP's BEST students at SDSU.
EOP's BEST Summer Bridge Program at San Diego State University is regarded as one of the nation's finest summer transitional programs. BEST students generally have higher grade-point averages and lower academic probation rates than other SDSU students. BEST alumni have gone on to graduate school or are successfully employed as professionals in a range of fields.
Feel free to view our EOP Summer Bridge Informational video here.
EOP Summer Bridge Criteria
EOP BEST Summer Bridge accepts a select number of students from those who have academic need and have:
Been admitted to SDSU and EOP
Complete an additional FAFSA or Dream Act application for the 2021-2022 academic year
Submitted their Intent to Enroll packet by May 1st
Submit their completed Summer Bridge application by June 1st
Register for EOP First Contact
How to Apply: If admitted to SDSU and EOP, you can complete the online Summer Bridge Application here. Please be sure to also submit another financial aid application for the 2021-2022 school year in order to be eligible for the program this summer.
We will contact students once final decisions have been made to let you know the status of your application. Selected participants are required to attend the Summer Bridge orientation at the end of EOP First Contact. More information about this will be forthcoming.
Dates for 2022 Summer Bridge:
Between July 5 - August 5, 2022
Summer Bridge Program for First Time Freshman
Contact: 619-594-6298
Email: [email protected]
For more information, see the FAQ section on Summer Bridge. Join us virtually for our Information Sessions to get a more detailed picture of 2022 Hybrid Summer Bridge.