Transfer Bridge Program
What is EOP Transfer Bridge Program?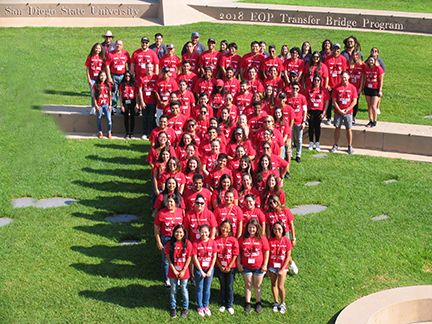 The EOP Transfer Bridge Program (TBP) is an intensive transitional program offered during the summer prior to the beginning of the fall semester to newly admitted EOP students transferring into San Diego State University from community colleges.
The purpose of the program is for students to effectively utilize and be aware of the SDSU resources which supports their academic advising/counseling during TBP. At the conclusion of the program students should be able to identify graduation requirements for their major, effectively identify and use library support services, demonstrate financial literacy in areas of financial aid and scholarship searches as well as demonstrate the value of peer relations to support their university transition.
Why Should I Attend
The transition from community college to SDSU can be overwhelming. Students who participate in the EOP Transfer Bridge Program are able to get head start from other incoming transfer students. The program provides students with a better understanding of EOP, university requirements, resources and networking opportunities - so that students know exactly what is expected of them as they establish contacts early on in their university experience. Listed below are some of the benefits in participating in the program:
Understanding SDSU EOP and the services provided
Workshops that focus on academic and social issues
The opportunity to become familiar with the SDSU campus, its resources and support programs
Learn how to utilize library resources
Explore the SDSU campus community
Network with other EOP transfer students with similar goals
Receive support from a mentor during the program
Join us this summer in the EOP Transfer Bridge Program and get a jump start on your SDSU journey!
Check out the Transfer Bridge Info Session Presentation for more information about the program.
When
The 2023 EOP Transfer Bridge Program will be in the latter half of July 2022. Dates:
Monday July 31st - Thursday, August 3rd
Time: TBD (~9-2:30 pm)
New Student Orientation (NSO) for first 100 students to confirm participation:

Friday, August 4, 2023
Checklist
Admission into SDSU
Admission into EOP
Complete Intent to Enroll to SDSU
Register and attend EOP First Contact
Complete the TBP application & Agreement Form
Attend TBP Orientation the same day you attend EOP First Contact
How Do I Participate in the Transfer Bridge Program?
Apply to TBP
(please make sure you're logged in with your SDSU ID Information)
More Questions?
Email one of our TBP Coordinators at [email protected].

Contact:
EOP Program Graduate Assistant
[email protected]