RISE Volunteer Program
Resiliency and Inspiration for Success in Education (RISE)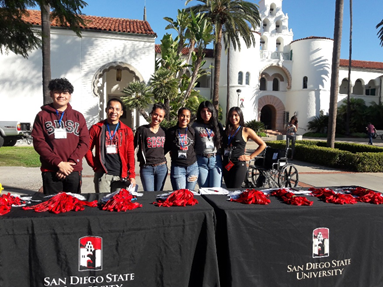 RISE is an EOP volunteer program where EOP students can support prospective students from underrepresented backgrounds in their path to education. Our RISE volunteers are able to participate in the following activities:
Alternative Campus Tours – Highlighting the transformations underrepresented students have made to the university and the safe spaces we have on campus for our diverse communities
Student Panels – Inspire prospective students by sharing your experience
Presentations about EOP
Freshman for a Day (an opportunity to connect with over 200 prospective students for a full day of being a freshman on campus which includes tours, panels and eating at The Garden)
Middle school visits
EOP Graduation (spring Semester)
EOP Student Advisory Board (ESAB)
Explore SDSU 2018 (spring semester)
Other Programs as needed
Benefits of being an EOP RISE Volunteer
Attend bimonthly lunch workshops with free meals and activities/presentations that support their leadership, cultural humility and professional development.
Receive points for every activity you volunteer to assist with. These points can earn you prizes such as water bottles, t-shirts, graduation cords, and more.

Point System:

Tabling: 2 points
Phone Banking: 2 points
Student Panel: 3 points
Co-Presentations: 3 points
Campus Tours: 5 points

Prizes:

Water Bottle: 10 points
RISE T-Shirt: 20 points
Graduation Cord: 60 points
**For every 5 points, you get a raffle ticket for a chance to win a prize during the RISE End of the Year Appreciation Luncheon in May.
How to become an EOP RISE Volunteer
In order to be a RISE volunteer, students must attend an info session to learn more about EOP and the EOP RISE Program. Once you have attended an information system and would like to move forward in the process, you will attend a training at the beginning of the academic year. Times and dates are to be determined (TBD) each year and will be updated via email notification.
Goals of the EOP RISE Volunteer Program
Goal #1 Increase access to higher education for underserved populations via student leadership
Goal #2 Develop leadership, cultural humility, and professionalism among EOP students
Goal #3 Build community and sense of belonging among underrepresented students with shared identities including but not limited to first generation, low-income, or student of color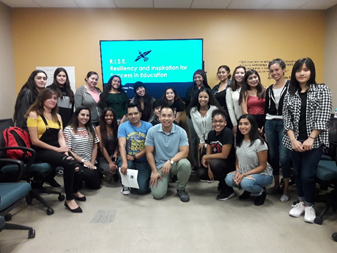 RISE Training Group Picture, Fall 2018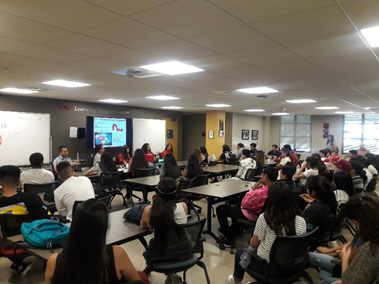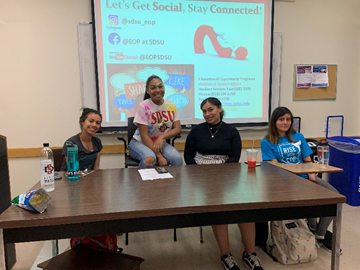 RISE Student Panel for a middle school group, fall 2018