Prospective EOP High School Applicants:
Freshman General Updates
The CalState Apply application for admission into California State University (CSU) campuses are from October 1 to November 30, 2022 for Fall 2023. Click here for CSU application deadlines.
Site: www2.calstate.edu/apply
The Undergraduate Application for Admission into a CSU

Application Period: October 1 to November 30
Individual applications to each CSU campus can be submitted simultaneously
To file additional applications within the established deadine, the applicant may log back into Cal State Apply.
Fee Waiver: If approved, still covers application fees for up to four campuses

If using the fee waiver, apply for the first campus of choice first.
Applicants cannot go back to make changes to the fee waiver

Undergraduate Application fee: $70

Payment is due upon submitting the application
Currently, only Visa, Master Card, Discover and American Express are accepted. Check for updates.
Fees are nonrefundable.

No changes are permissible after submission. Contact each campus for corrections or updates.

EOP Application

The EOP application is available via Cal State Apply and must be submitted concurrently with your undergraduate admission application for priority consideration. Final deadline to apply for EOP at SDSU is January 15.
This guide can help you learn more and prepare for the EOP portion of the application.
The recommender questions are the same as in previous years.
The recommender must first create an account via a special link emailed on behalf of the applicant.
EOP Fall 2022 Programming:
We will be conducting EOP Presentations and EOP Application workshops throughout the semester to help students with navigating the EOP application process for Fall 2023 admission. Below you will find the dates, times and zoom information to these workshops:
EOP Overview and Benefits (English) - Tuesday, Oct. 18, 6:00-7:00pm, Watch Recording
Parent Workshop/Academic Preparation (English & Spanish) - Tuesday, Oct. 25, 6:00-6:30pm, Watch Recording
Paying for College (English) - Tuesday, Nov. 15, 6:00-6:30pm, Zoom Meeting
Paying for College (Spanish) - Tuesday, Nov. 15, 6:30-7:00pm, Zoom Meeting
How to Apply to EOP (English) - Tuesday, Nov. 1, 6:00-6:30pm, Watch Recording
How to Apply to EOP (Spanish) - Tuesday, Nov. 1, 6:30-7:00pm, Watch Recording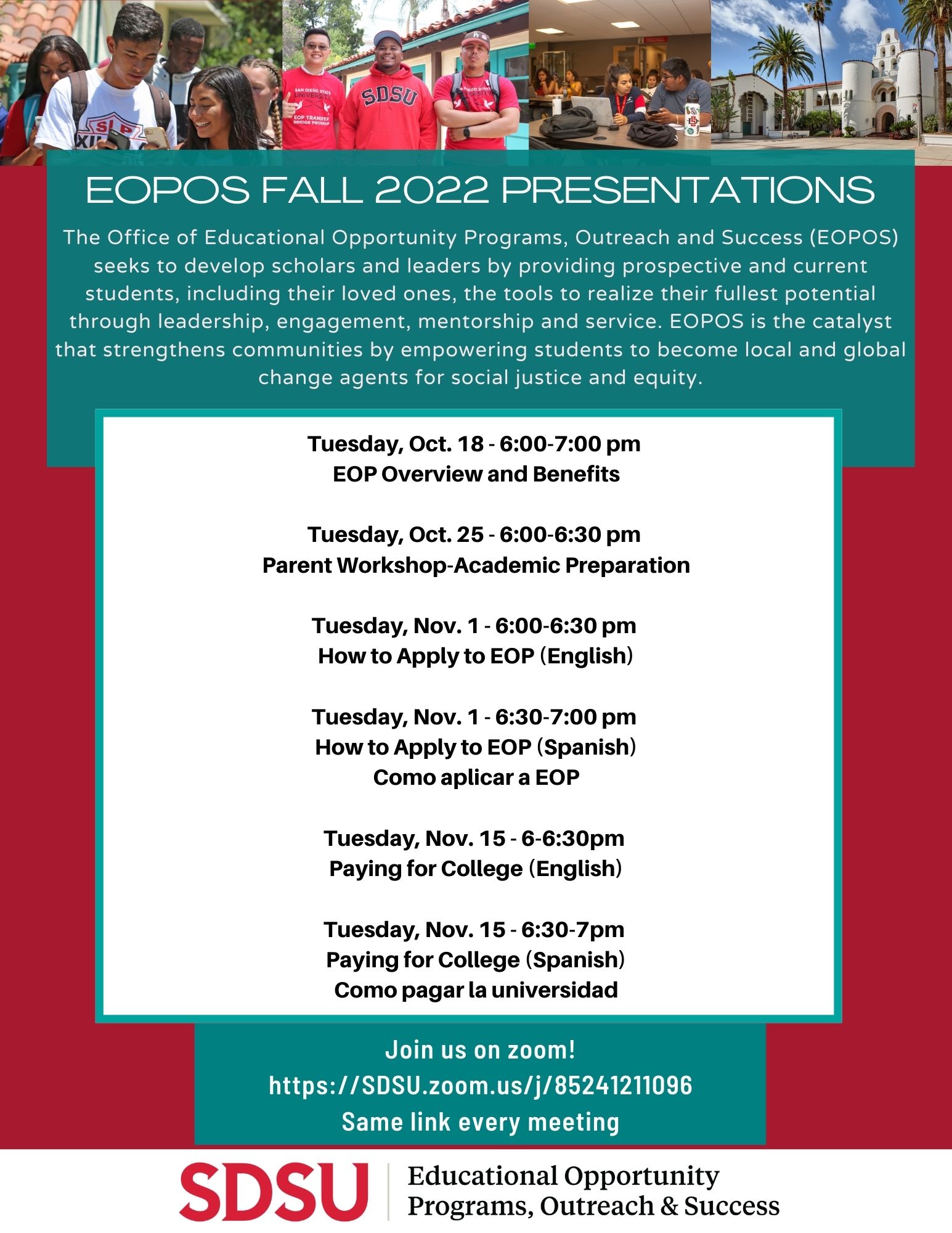 Important Dates for Prospective EOP Freshman
Admission Timeline for Fall 2023 Applicants
Cal State Undergraduate Application and EOP Priority Application
October 1st to November 30
Set Up Your SDSU Webportal Account
After Applying for Admissions

File the FAFSA (Free Application for Federal Student Aid) or (if eligible) dream.csac.ca.gov

**Students applying to EOP must file the FAFSA by January 5th in order to receive program consideration**

October 1 to January 5

SDSU Federal School Code: 001151

Set up your my.sdsu account
After applying for admission
Final deadline for recommenders to submit the EOP letter of recommendation
January 31
SDSU EOP Admission Notices
March-April
Explore SDSU
March/April
Deadline to Submit Intent to Enroll /$400 deposit and official transcripts from all schools attended (including fall grades and spring in-progress coursework)
May 1
Sign Up for the New Student Orientation (NSO) (sdsu.edu/orientation)
Sign-up begins in May
EOP First Contact Orientations (Mandatory/Free)
June

Final transcripts due with graduation date and spring grades posted **Students applying for EOP Summer Bridge must submit final transcripts by July 1

July 15
EOP Summer Bridge Program for selected incoming freshman
July-August
New Student Orientation (last two weeks in July)
July
Need Help Applying?
A member of our Outreach team would be happy to help you with any questions you may have about your EOP application. Please email [email protected] with your name, high school or community college, what you need help with, and a few times that would work for you.
We will reply with the answer to your question or a virtual meeting time to support you.