Outreach & Recruitment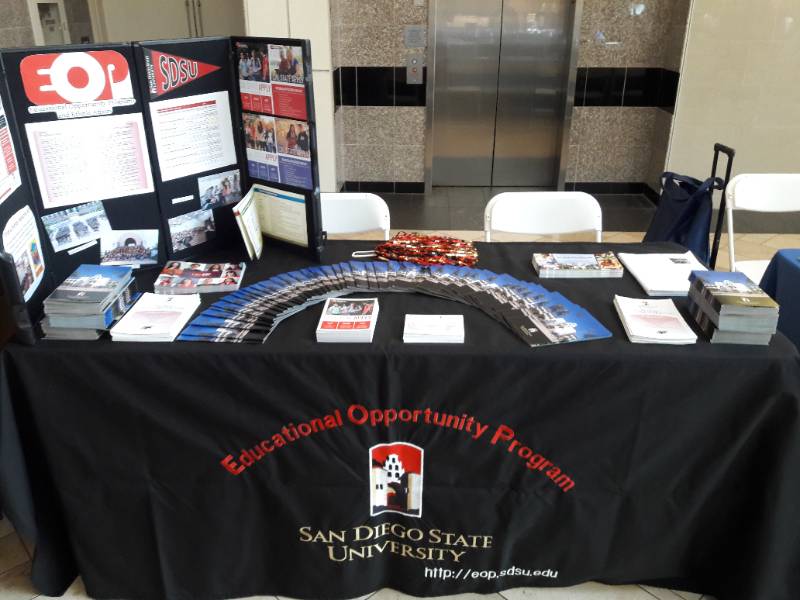 Thank you for your interest in learning more about the Office of Educational Opportunity Programs, Outreach & Success (EOPOS) services at SDSU. EOPOS's Outreach, Recruitment, and Admission team strives to provide prospective students with information and resources about EOPOS admission policies, benefits and services.
All outreach requests for EOPOS services are processed on a first-come, first served basis.
EOP Group Tour Presentation Request Policy
For high school and community college students, we require a minimum of one chaperone per 20 students. For younger groups (elementary and middle school), we will require one chaperone per 10-12 students. No exceptions will be made.
All requests for presentations are processed on a first-come, first-serve basis.
The form below must be submitted at least 3 weeks in advance for all group presentation and student panels.

You will receive an email reply regarding your request within 2-5 working days of submission to notify you that it has been received and we are working on filling the request.
If your request is approved, you will receive specific instructions pertaining to your event.
If your request is denied, we may be able to provide you with a video presentation.

Please fill out this EOPOS Request Form below to submit your request for EOPOS services.
Please note that due to our transitional programs during the summer, we accept requests from September to May 5 (the end of our academic year).
If you have any additional questions, comments, or concerns, please feel free to contact our EOPOS Outreach, Recruitment, and Admission Graduate Program Assistant at [email protected].
Thank you for your cooperation and we look forward to working with you!
EOPOS Outreach & Recruitment Team
San Diego State University
Office Location: SSE-2109
5500 Campanile Drive
San Diego, CA 92182-8222