EOP TRANSFER STUDENT RESOURCES
The CalState Apply application period for admission into some California State University (CSU) campuses are from October 1 to November 30, 2022 for fall 2023. Click here for CSU application deadlines.
Here are some resources to help you navigate the application process.
Cal State Apply Resources:
EOP Student Resources:
Transfer GPA Calculation Resources
EOP Spring 2023 Programming:
EOP Transfers Next Steps Workshops:
Wednesday, April 19 - 2:00-3:15pm https://SDSU.zoom.us/j/81132087229
Friday, April 28 - 12:00-1:15pm https://SDSU.zoom.us/j/81132087229

EOP Fall 2022 Programming:
We will be conducting EOP presentations and workshops from March through May to help students with navigating the EOP Application process for fall 2023 admission. Below you will find the dates and times for these workshops. Please contact your EOPS counselor for details regarding zoom link information and to register.
List of EOP SDSU Transfer Workshops for Fall 2023 Admissions:
All sessions will be conducted via Zoom and will close five minutes after the scheduled start time. Please arrive on time.
For local service area transfers, please contact your campus EOPS office for access information.
You can also make an appointment to meet with our EOP Transfer Outreach Specialist, Lorena Malo at calendly.com/malo-3 or [email protected].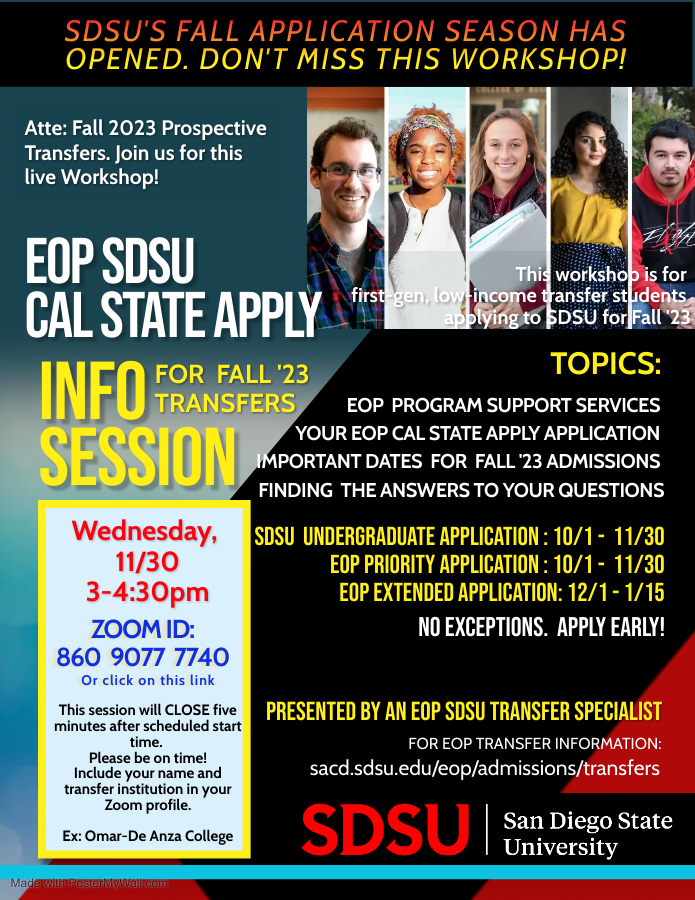 IMPORTANT DATES FOR EOP TRANSFERS
FALL 2023 ADMISSIONS TIMELINE
Cal State Undergraduate Application and EOP Priority Application
October 1 to November 30
Set up your SDSU WebPortal account https://sdsu.edu/portal
After applying for admission

File the FAFSA (Free Application Federal Student Aid) or (if eligible) dream.csac.ca.gov

**Students applying to EOP must file the FAFSA by January 5 in order to receive program consideration.

October 1 to January 5
SDSU Fed School Code: 001151

Set up your my.sdsu account

After completing the FAFSA*
EOP extended application deadline
January 15
Transfer Academic History Update (formerly Supplemental Application)
By January 31
Final deadline for recommenders to submit the EOP recommendation (No exceptions)
January 31
Apply for SDSU Scholarships http://sdsu.edu/scholarships
March - August
SDSU Admissions notices
March-April
EOP admissions notices follow SDSU admissions notices
March-May
Gal Grant GPA Verification
March 2
AA-T/AS-T degree verification from community colleges due
March 15
Explore SDSU
April 15
Deadline to Submit Intent to Enroll /$400 deposit and official transcripts from all
colleges/universities attended (including fall 2022 grades and "in Progress spring 2023)
May 1
Sign up for the New Transfer Student Orientation (NSO)
RSVP Opens in May
Final transcripts due/Final ADT verification due
June 30
EOP First Contact Orientations (Mandatory/Free)
TBA
EOP Transfer Bridge program for selected incoming transfers. Must attend all days
TBA
New Transfer Student Orientations (first two weeks in August)
August
Need Help Applying?
A member of our Outreach team would be happy to help you with any questions you may have about your EOP application. Please email [email protected] with your name, high school or community college, what you need help with, and a few times that would work for you.
We will reply with the answer to your question or a virtual meeting time to support you.