Learning Support Center (LSC)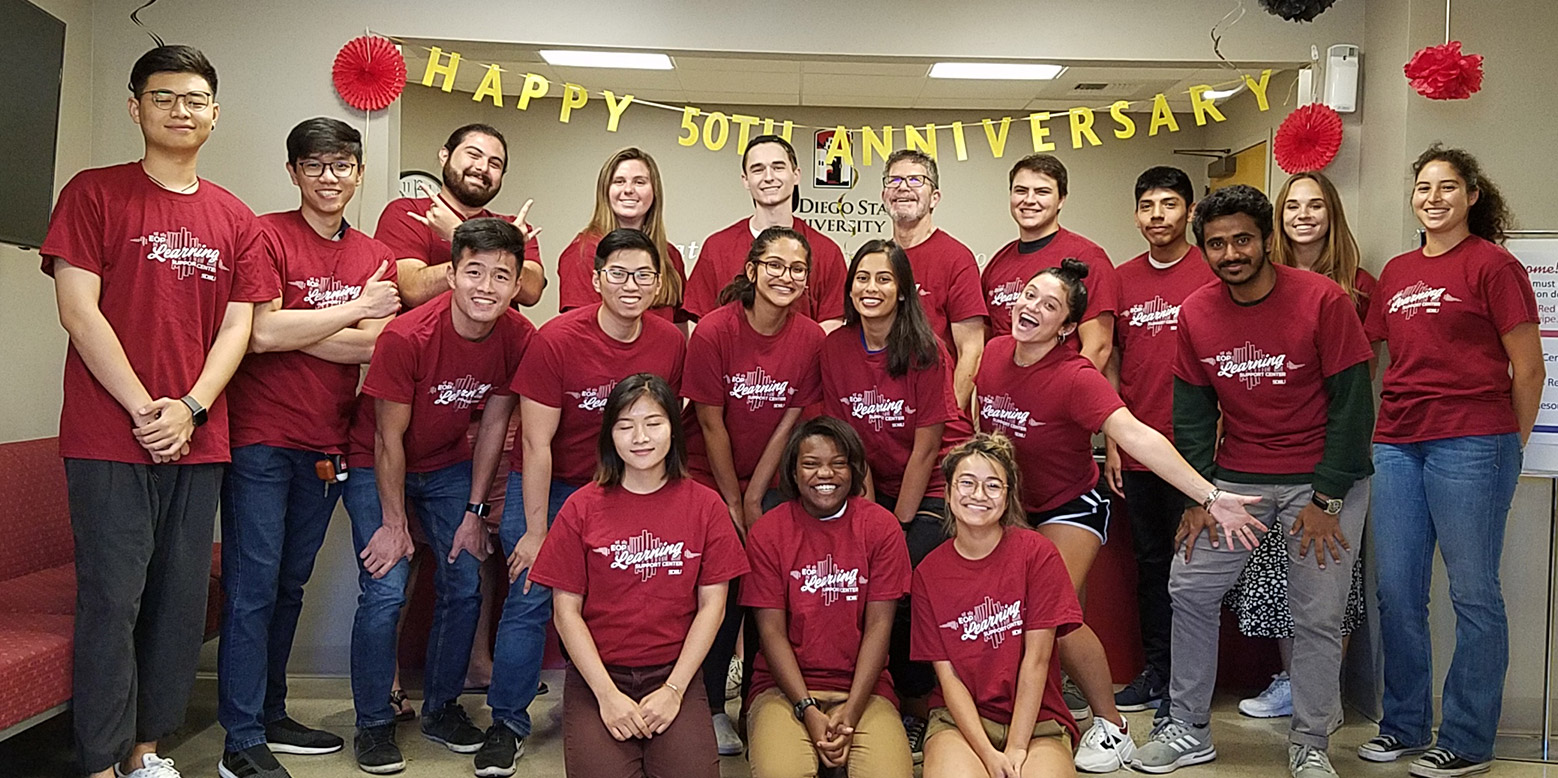 We welcome all EOP students who wish to use our tutorial services, which are offered at no charge to them throughout their undergraduate tenure at SDSU.

EOP's Learning Support Center (LSC) offers one-on-one tutoring in virtually 114 academic courses.
The Learning Support Center also offers workshops.
EOP students who utilize the LSC improve their chances of achieving the highest possible outcome in their goal to graduate.
EOP is proud to provide a warm, safe and collegial learning environment for you. We hope you will come and take advantage of our services.
Learn about the LSC
Watch the Introduction to Services video.
The Learning Support Center has been an integral part of The Office of Educational Opportunity Programs and Ethnic Affairs (EOP). The LSC's major purpose is to support EOP students' ability to persist and succeed at San Diego State University within the academic rigor of university coursework.
_________________________________________________________
All workshops are delivered virtually on Wednesdays from 12:00 PM - 1:00 PM.
NAVFAC: Federal Career Resumes April 7, 2021
NAVFAC: Federal Career Interviews April 14, 2021
ESAB: Understanding your Love Language April 21, 2021
Career Series IV: Graduating, now what? April 28, 2021 3:00 PM - 4:15 PM
Additional workshops dates and topics coming soon!
Please RSVP using the link below and we will email you with a confirmation code and a zoom link.
RSVP for Workshops:
https://tinyurl.com/EOPLSCworkshops
Spring Hours
Virtual Front Desk Hours
Monday - Thursday: 9:00 AM - 3:00 PM
Friday: 9:00 AM - 12:00 PM
Zoom Link:
Email:
_________________________________________________________
Tutoring Hours
| | | | |
| --- | --- | --- | --- |
| Monday- Thursday | Friday | Saturday | Sunday |
| 9:00 AM - 9:00 PM | 9:00 AM - 12:00 PM | Closed - No Tutoring | 5:00 PM - 9:00 PM |
Virtual Front Desk:
Monday-Thursday 9:00 AM - 3:00 PM & Fridays 9:00 AM - 12:00 PM
_________________________________________________________
How to Set Up Tutoring
One-on-one tutoring appointments can now be scheduled for courses in which you need help. We encourage you to book your appointments early, particularly if you believe the subject is challenging.
You have three options for scheduling your appointment:
We also encourage you to check the EOP LSC Canvas site for tutorial videos. Remember It is your responsibility to reschedule your tutor appointment if you cannot keep your appointment. Now more than ever our LSC tutors are in high demand, you need to make your appointments and set a reminder for yourself.
Please click on the link below:
How To Create Your Own Tutoring Appointment
Rules for Tutoring
Be respectful to your tutor and the LSC staff

Make Appointments – Minimum 24 hours in advance
Make Cancellation – 24 hours in advance
No Same Day Appointments
If you need assistance, please contact the EOP LSC Virtual front desk or email us at [email protected]. Please include a screenshot of your issue to facilitate assitance.
Our hours of operation are Monday-Thursday 9:00 AM - 3:00 PM & Fridays 9:00 AM - 12:00 PM.
EOP LSC Office at San Diego State University
5500 Campanile Drive, SSE 2109
San Diego, CA 92182-8222
[email protected]
Virtual Front Desk:
Monday-Thursday 9:00 AM - 3:00 PM & Fridays 9:00 AM - 12:00 PM
Front Desk Zoom Link Meeting ID: