Professional Dressing for Success
Present yourself in a professional manner when interviewing. Your appearance affects how others evaluate you, your work style, attitude, and level of interest in a particular position. Additionally, professional dress helps build confidence and self-esteem, increasing the likelihood of interviewing success. Appearance matters!
The following instructions depict some guidelines for dressing appropriately in most interview settings. For more information, consult the 'interviewing' section of the Career Resources library or speak with a career counselor.
Both men and women:
Bring a folder/ portfolio with extra copies of your resumé, list of resources, paper, and a pen
No facial piercings or jewelry
No food or gum
Women:
Minimal make-up and jewelry, no perfume
Solid-colored suit with knee-length skirt or tailored pants, and conservative blouse
Basic leather shoes in good condition, with low heels and closed toes
Men:
Clean-shaven, neat, trimmed hair
No cologne
Conservative tie with a simple pattern
Clean, pressed 2-piece suit in a dark solid color (gray, navy)
Leather belt to match shoe color
Dark socks to match suit color
Black or brown leather, polished shoes
Articles of Interest
Career Closet Basics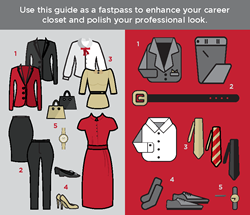 Download this flyer as a PDF