Get Involved:
Become a Peer Health Educator (PHE)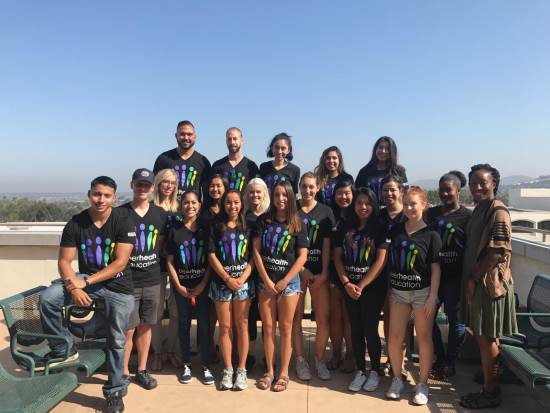 SDSU Peer Health Educators (PHEs) actively promote health and wellness on campus. PHEs gain training and education about health issues relevant to the SDSU population and effective methods to communicate health information to their peers.
PHEs assist the Well-being & Health Promotion Department with outreach events and present dynamic workshops to students and the campus community on a variety of topics that affect the everyday lives of our students.
Health topics include:
Alcohol and other drugs
Nutrition and healthy eating on campus
Sexual health
Dating violence
Violence prevention (FratMANers)
Qualifications for involvement:
Have completed 60 units or working toward 60 units during your first semester as a PHE
Ability to commit to a minimum of 2 consecutive semesters to the PHE Program before graduating (one semester for training and at least one for active participation in the program)
Completion of a successful PHE interview
Earned a passing grade in the PHE program training course
Interested in becoming a Peer Health Educator?
Here is what our Peer Health Educators have to say:
I love being in the PHE program because it helps me step out of my comfort zone to discuss health matters in front of an audience, and it gives me the confidence and satisfaction that I am educating my fellow peers to make wise decisions regarding their health, while also having fun doing so. I can't wait to be an active this semester and get started on changing the lives of other students on campus! —Lani Morales (Senior, Public Health)
I enjoy serving as a health educator for my peers -- understanding firsthand the challenges of maintaining a healthy and balanced lifestyle while also juggling school, work, and social life. —Daniel Manzo (Senior, Public Health, Psychology, & Spanish)
I love being a PHE because it gives me an opportunity to communicate health issues with fellow students in a fun and interactive way, while also studying biology in a broader view. —Julia Platter (Senior, Biology)
Being an active [second semester Peer Health Educator] really allows me the opportunity to share my passions with my peers, and make a meaningful difference in the life of students. —Ever Yael Gonzalez (Senior, Interdisciplinary Studies (Public Health, International Security and Conflict Resolution, Religious Studies)
I have had nothing but a positive experience participating in this program. This program will help develop your skills as public health professionals in many ways, and is a great way to get a foot in the door for many internships. —Hunter Fournier (Senior, Public Health)
The PHE program has been such a beneficial and rewarding experience that has opened the door to many other opportunities. —Jessica Houser (Junior, Public Health, Business Administration (minor)
I have met some great people in this class who all share the same passion in teaching and promoting healthy behaviors across campus. Being a PHE is really important to me because this experience will build the foundation I need for the next two years after graduation when I become a Community Health Educator serving for the Peace Corps! —Nicole Arenz (Senior, Public Health)
I am glad to work towards helping educate everyone on how to lead a healthy lifestyle and have fun on the way! —Grecia Nolasco, (Senior, Psychology)
Engaging myself in the health field is what interested me in becoming a Peer Health Educator here at SDSU. —Emily Krasovich (Senior, Public Health)
It's been a great way to get involved on campus and connect with other people who are just as interested in health education as I am. —Alexus Jackson (Senior, Management)
I enjoyed working with my fellow PHEs to create outreach initiatives and lead health education workshops! —Aliyah Moradi (Senior, Foods and Nutrition, Spanish Minor)