Insurance Help and referrals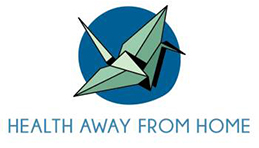 If you are a student currently enrolled at SDSU, a variety of services are available to you at Student Health Services.
Basic medical services are provided at Student Health Services under the Health and Wellness Fee, paid with each semester's tuition. Specialty or Augmented Services (vaccinations, medications, and lab tests) and Specialty Care (orthopedic clinic) may have additional out-of-pocket charges.
To make an appointment at SDSU Student Health Services or to understand out-of-pocket pricing for Specialty or Augmented Services offered to students on campus, call 619-594-4325.
Though Student Health Services is an excellent resource, you may have to use your health insurance to access off-campus services. To understand if your health insurance will cover you, or reimburse you for out-of-pocket charges, please contact your insurance company using following the steps:
Using Your Health Care Coverage Off Campus
How Do I Use My Health Insurance? How to Get Health-Related Services.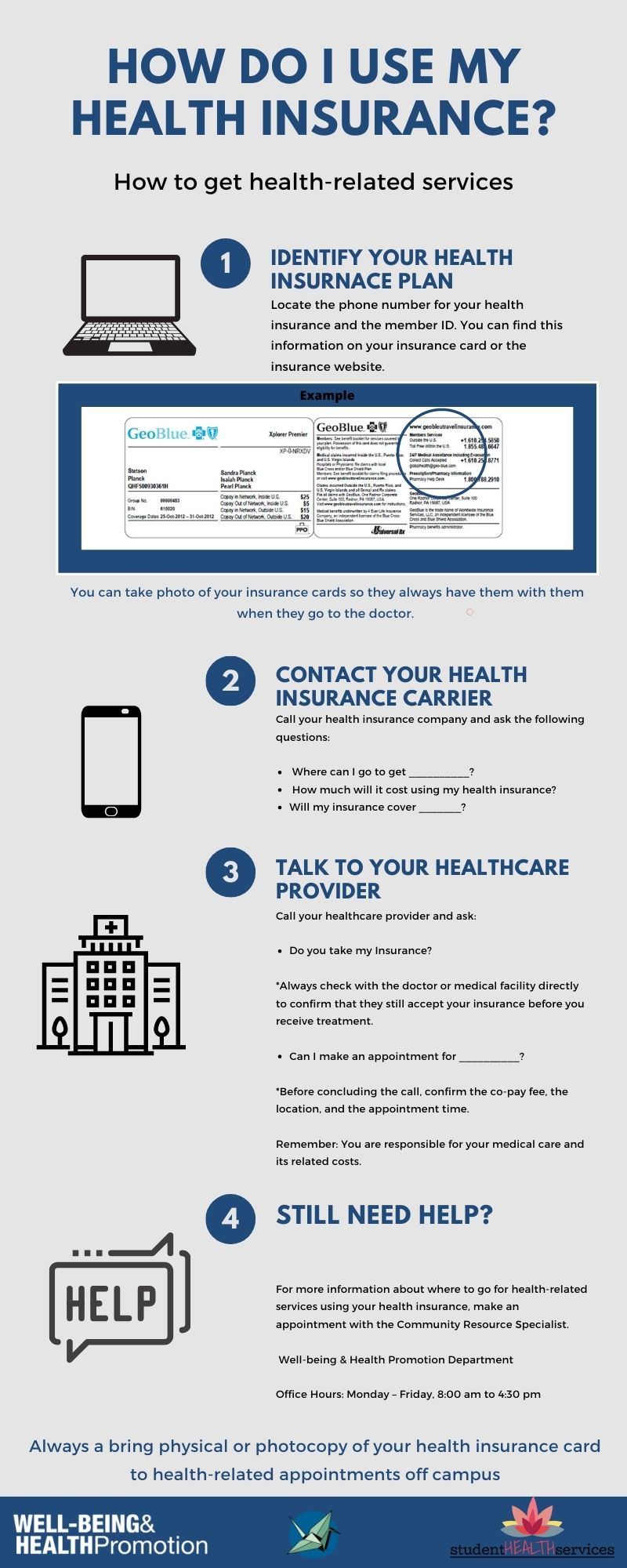 Step 1: Identify Your Health Insurance Plan
Locate the phone number for your health insurance as well as your member ID number. You can find this information on the back your insurance card. Some insurance cards provide a website where you can create an account, look for healthcare providers, and find your specific healthcare costs and benefits.
Step 2: Contact Your Health Insurance Carrier
Call your health insurance company and ask the following questions:
Where can I go to get __________ services?
How much will this service cost using my health insurance? Is there a co-pay or a deductible associated with my _______ services?
What are my health insurance benefits? Will my insurance cover _______?
Do I need to make an appointment to get these services?
Step 3: Talk to Your Healthcare Provider
Once you have a specific healthcare provider/facility you would like to go to, call them and ask the following questions:
Do you take ________ insurance? (Always check with the doctor or medical facility directly to confirm that they still accept your insurance before you receive treatment)
May I make an appointment or can I walk-in for _______ services?
How much will I end up paying for these services?
Where is your office located?
Is the check-in time different from the actual appointment time?
Remember, you are responsible for your medical care and its related costs. Before concluding the call, confirm the co-pay/deductible, the location, and the appointment time.

Step 4: Still Need Help?
Always bring your health insurance and/or Medi-cal card to your off-campus health-related appointments. If you don't have the physical card, a photocopy or a picture of the front and back of the card will work as well.
For more information about where to go for health-related services using your health insurance, make an appointment with the Community Resource Specialist.
Health Insurance Frequently Asked Questions
Frequently Asked Questions