A Healthier Community
The Well-being & Health Promotion Department collaborates with and reaches out to students, the SDSU community, and the larger community to promote healthy behaviors and lifestyle.
Campus partner resources
Well-being & Health Promotion's goal is to create partnerships with all of the departments on the SDSU campus. By working together, we can promote healthier behaviors. Current partnerships include: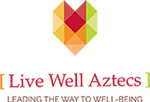 Live Well Aztecs: A collaborative effort of campus departments working to coordinate programs and services to support healthy, balanced lifestyles at SDSU.
Community partners
The Well-being & Health Promotion Department also collaborates with the off-campus community to provide healthier options for all SDSU students: