New Suspected Case of Meningococcal Meningitis
April 17 statement from Cynthia Cornelius, M.D., M.P.H.
Medical Director, SDSU Student Health Services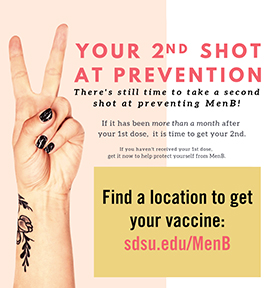 San Diego State University has received notification that a current student has a probable case of meningococcal meningitis. We do not yet know the strain and, for privacy reasons, no additional information about the student is being provided.
At SDSU, we take the safety and well-being of all campus community members seriously and are taking preventive measures. We are hosting two opportunities for all students who are members of Delta Zeta Sorority and Delta Sigma Phi Fraternity and all students who attended one or both of the events indicated below. These students may have been exposed to the student with the infection and are strongly urged to receive preventive treatment, regardless of their vaccination status. The treatment most commonly comes in the form of an antibiotic pill, which can provide short-term protection.
How to determine if you may have been exposed?
If you are a member of Delta Zeta Sorority, Delta Sigma Phi Fraternity or attended either of the events below, we urge you to attend one of the two post-exposure prophylaxis (PEP) clinics being offered for free at SDSU. The events were:
The Delta Sigma Phi Formal, which was held Friday, April 12, from 5 to 11 p.m., at the Spark Encore Event Center.
The Delta Sigma Phi Social Event, which was held Saturday, April 13, from 9:30 p.m. to midnight, at the organization's chapter facility.
When will the PEP clinics be held?
The clinics are specifically offered for all students who are members of Delta Zeta Sorority and Delta Sigma Phi Fraternity and any student who attended one or both of the two events indicated above.
Students are urged to receive preventive treatment regardless of vaccination status, including whether or not you received any meningitis vaccine.
Students should come to the Student Health Center located at the Calpulli Center during one of the opportunities provided below:
Today, Wednesday, April 17, until 7 p.m.
Tomorrow, Thursday, April 18, 9 a.m. to noon
I am a student. What should I do?
The preventive treatment is offered to students who may have participated in an activity that placed them at risk of contracting the infection from the individual identified as the probable case of meningococcal meningitis. Additional efforts are being made to directly contact students who the university understands to have been at the events mentioned above, as well as students who are members of Delta Zeta Sorority and Delta Sigma Phi Fraternity.
Officials have and continue to urge all undergraduate SDSU students 23 years of age or younger who have not yet been vaccinated for serogroup B meningococcal disease to receive either Bexsero or Trumenba vaccines.
As officials are still encouraging vaccinations, where should I get vaccinated?
Students can obtain the vaccine at Student Health Services with a scheduled appointment or during the standing walk-in MenB clinics, held Tuesdays and Wednesdays from 2 to 4 p.m. Students can also contact their primary care provider or local pharmacy. Moreover, SDSU plans to hold additional large vaccination clinics. Additional information is forthcoming.
I am a faculty or staff member. What should I do?
Faculty and staff are encouraged to continue sharing information with their students. As students may have questions, additional information about prevention and vaccines is available online, via the Student Health Services site: sdsu.edu/MenB
What are the symptoms associated with meningococcal disease?
Meningococcal disease symptoms may include fever, intense headache, lethargy, stiff neck and/or a rash that does not blanch under pressure. Anyone with potential exposure who develops any of these symptoms should immediately contact a health-care provider or emergency room for an evaluation for possible meningococcal disease.
The bacteria can be spread through close contact, such as sharing drinking glasses, eating utensils, cigarettes or pipes or water bottles; kissing; and living in close quarters. The time between exposure to the disease and the onset of symptoms can be between two to 10 days. Individuals who have had close contact with the infected person should receive antibiotics to prevent possible infection.
What if I have more questions?
Call Student Health Services at 619-594-4325 if you have questions.