HEALTH EDUCATION GROUP WORKSHOPS
Nutrition Presentations

Note that healthy eating presentations are also available for student groups. You can request a presentation on subjects including:

Nutrition basics
Healthy eating using your meal plan
Cooking healthy in the kitchen
Eating Healthy on Campus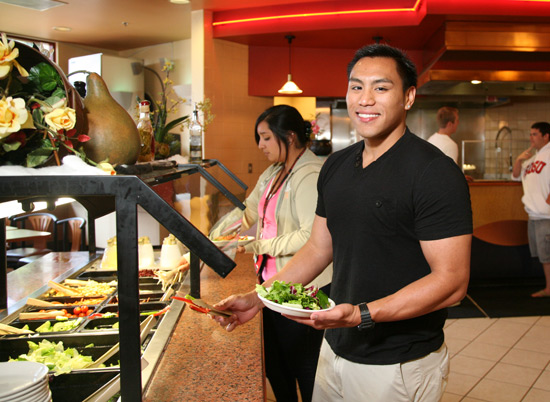 How to attend

Workshops are generally 1 hour long and are offered on a drop-in basis. See the Well-being & Health Promotion events calendar for specific times and locations of workshops.
Live Well Aztecs: Leading the Way to Well-Being
Here at SDSU, leading an active, engaged and balanced life is not only fun, it's rewarding! The Live Well Aztecs initiative is a campus wide collaboration that combines many resources in order to promote health, wellness and well-being for students, faculty and staff.
To further promote health and wellness, Live Well Aztecs has teamed up with SDSU Dining to allow making healthier choices easy! Food items labeled, "Live Well Aztecs Approved", allow you to identify healthier choices such as foods that contain 100% whole grain, have lean protein (including seafood), as well as foods that are a good source of fruits and veggies and low in sodium, added sugars and saturated and trans fats.
The "Live Well Aztecs Approved" label can be found at various places on campus including, Starbucks and the Aztec Markets.
It can be easy to overlook your nutrition with the many other priorities and responsibilities you have as a college student. But nutrition impacts many parts of your life, including mental alertness, brain functioning, and physical well being and stamina. Attend a workshop to learn how to fit healthy eating habits into your daily routine!
Healthy eating workshop options:
Mobile Demonstration Kitchen (Mobi)
Well-being & Health Promotion's Mobile Demonstration Kitchen, better known as Mobi! Mobi provides nutrition education coupled with a cooking demonstration to teach students essential cooking techniques.
Healthy Eating on Campus Walking Tour
Whether you bring your own lunch or eat on campus, this workshop is for you! Learn how easy it is to make healthy choices on campus, how to save money by meal planning, and ways you can be more in tune with your body. Use our presentation request form to request a walking tour for your group.