Nutrition Presentations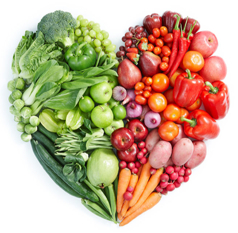 Nutrition matters! For instance, eating a good breakfast affects how you feel, and can make your day energetic or sluggish depending on what you choose to eat (or not eat).
If you skip breakfast, you are more likely to be overly hungry later. And then, you're more likely to overeat at lunch and/or dinner. No calories saved!
Do yourself a favor, and learn more about healthy eating habits!
Nutrition presentation options:

How to schedule a presentation

Click here to request a presentation for your student group, class, or student org.
Nutrition Basics:
This presentation gives an overview of the essentials of healthy eating. It covers the basics of calories, how to read a food label, what an actual serving size is, how to make your own healthy plate, skills and tips to incorporate healthy eating into your busy life and how to set achievable goals.
Healthy Eating on Campus Walking Tours:
Whether you bring your own lunch or eat on campus, this walking tour is for you! Learn how easy it is to make healthy choices on campus, how to save money by meal planning, and ways you can be more in tune with your body.
Trader Joe's Grocery Store Tour*

Join Well-being & Health Promotion for an interactive grocery store tour led by a Registered Dietitian! In addition, participants will receive a FREE Trader Joe's Grocery Store Guide (*Please note, these tours are for groups of less than 10 people at a time)

During the tour, you will learn how to:

Best navigate the grocery store layout

Read and interpret the nutrition label and ingredient list

Shop for sales and local produce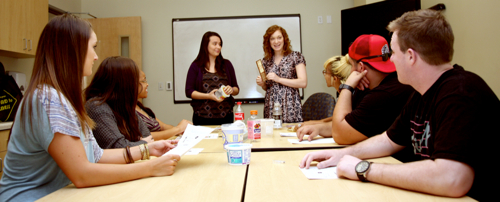 More Nutrition for Your Buck
Learn how to make healthy choices while sticking to your budget! During this interactive presentation we will discuss:
Common challenges to eating healthy on a budget.
How to "shop smarter" and save money at the grocery store.
Tips and resources for eating healthy on campus and at home.
Healthy Eating Using Your Meal Plan:
You can't change the options available on campus, but you can learn how to make healthy choices using their meal plan. This interactive presentation gives students the chance to brainstorm healthy choices together and develop strategies to help them stay healthy during stressful times.
Cooking Healthy in the Kitchen:
With some key ingredients and the essential kitchen tools, students can prepare healthy, fast and budget friendly meals in their own kitchen. This presentation is specifically geared towards students that are new to cooking and interested in making nutritious, homemade food.
"After attending a Health Nutrition workshop, I was amazed at all the choices and requests that I could make when ordering my food. Also, I discovered that eating healthy is cheap and that it only takes simple planning and reading the label.
— Comment from a Delta Sigma student who attended a "Healthy Eating on Campus" Workshop
"After attending a Health Nutrition workshop, I was amazed at all the choices and requests that I could make when ordering my food. Also, I discovered that eating healthy is cheap and that it only takes simple planning and reading the label." — Comment from a Delta Sigma student who attended a "Healthy Eating on Campus" Workshop