Graduate training opportunities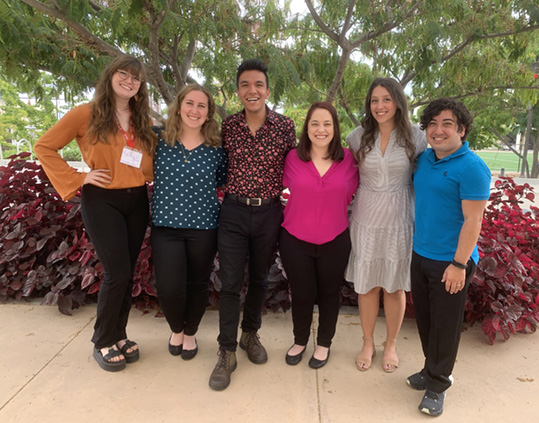 From left to right: Kelly Finney, Natalie Hilts, Jeremy Garcia, Samantha DiMeglio, Alexis Chirban, Bartell Rivera.
Social Work/MFT/LPCC Traineeship
Counseling & Psychological Services at San Diego State University serves as a training site for graduate students who are working toward master's degrees in Social Work, Marriage & Family Therapy, or as Licensed Professional Clinical Counselors (LPCCs). Licensed professionals provide quality supervision and training, including individual and group supervision, live supervision from behind a one-way mirror, and review of recorded sessions. Additional consultations are provided for ASPIRE (our short-term AOD intervention), biofeedback, and teaching, and two hours of didactic training are provided each week. Learning opportunities focus on the provision of multiculturally-competent short-term individual, couples, and group therapy, assessment and triage, crisis intervention, prevention/psycho-educational presentations, and teaching.
For more information about our training program, please read our brochure (MS Word file). All candidates must submit unofficial transcripts as an application requirement. Questions regarding the traineeship should be directed to Manuel Rivera, MFT at 619-594-5220 or [email protected]
Doctoral Internship in Health Service Psychology
Counseling & Psychological Services is a member of the Association of Psychology Post-Doctoral and Internship Centers (APPIC). Our internship brochure is available for review here, and we will be participating in the upcoming APPIC internship match cycle as program #2524. If you have any questions, please feel free to contact Dr. Doug Thomson at 619-594-5220 or [email protected] This internship site agrees to abide by the APPIC policy that no person at this training facility will solicit, accept, or use any ranking-related information from any intern applicant. Please note that SDSU requires all employees to be vaccinated for Covid, or to provide a medical or religious exemption. Unvaccinated employees must submit to weekly Covid testing.