GROUPS & WORKSHOPS - FALL 2021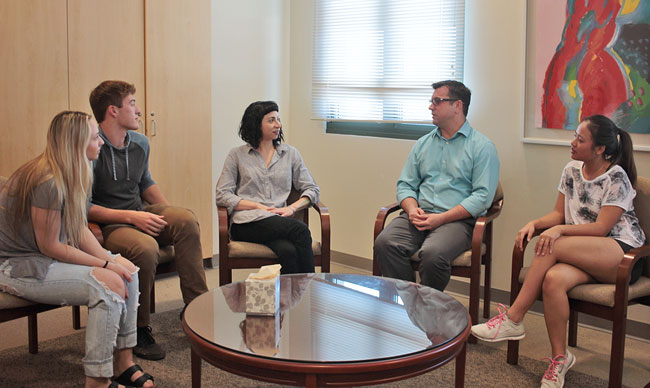 Groups and workshops address issues common to most university students and are designed to help students learn new ways to deal with challenging issues. These interactive and dynamic groups cover topics such as: creating satisfying relationships, mindfulness meditation, and dealing with stress and improving mood.

Groups
All of our groups are virtual and hosted over HIPAA-compliant Zoom. To learn more about joining our groups, contact us at 619-594-5220 to schedule a phone consultation. All listed times are Pacific Time (PT). Please note that these groups are not available for course credit or observation.
Workshops
All workshops are virtual and hosted over HIPAA-compliant Zoom. There is no need to call ahead about these workshops -- students can simply drop into them! All listed times are Pacific Time (PT). Please note these workshops are not available for course credit or observation.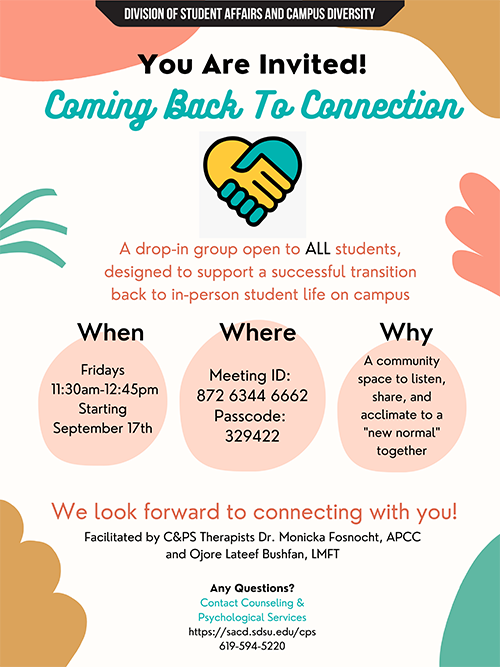 Fridays 11:30 - 12:45 pm PT
Facilitators: Monicka Fosnocht, NMD, APCC, & Ojore Lateef Bushfan, LMFT
To join: Drop in via Zoom (Meeting ID: 872 6344 6662 / Passcode: 329422) - see Fall 2021 flyer for details
A drop-in group open to all students to support a successful transition back to in-person college life on campus. Bring your lunch and drop-in to listen and share your experience, anticipations, fears, and excitement about coming back to being in-person at SDSU with your fellow classmates. Learn tools to make your transition back to campus as smooth as possible. Be a part of building community and connection with your fellow classmates.
Cycle 1: Thursdays 10:00 - 11:30am, biweekly, starting September 23
Cycle 2: Tuesdays 5:00 - 6:30pm, biweekly, starting October 26
To join: Drop in via Zoom (Meeting ID: 864 2642 6134)
It's hard to understand how difficult graduate school is until you are in the thick of it. And it can be hard in ways you couldn't have imagined. While meeting the demands of academia, you are also managing your personal and professional relationships, caring for your mental health – and all while encountering often daily reminders that grad school was not designed for everyone.

In collaboration with the Center for Graduate Life and Diversity, this four-part workshop series explores the intrapersonal, interpersonal, and systemic factors that can get in the way of graduate student success and mental well-being:
The 24/7 of Grad School (Next: October 26)
As a graduate student, there is always more to do, from studying to writing to publishing to teaching and everything in between. It can be hard to realize that you are more than a graduate student. Where does the rest of life fit? From family roles to sleep to burnout, join us as we dissect grad student stressors, recognize our own warning signs of stress, and learn practical steps for how to approach it all.
Understanding and Overcoming Impostor Syndrome (Next: November 9)
Self-doubt. Feeling like a fraud. It is not uncommon to question your abilities and talents with the pressures and demands of graduate school. Furthermore, isolation fuels this type of thinking. In this workshop, together we unpack the concept of 'impostor syndrome' and how to break through the cycle and own that you belong in the room.

Tell Your Story (Next: RESCHEDULED - November 30)
As a graduate student, worlds collide. You have many roles that compete for your time and mental energy. You are not only an academic, but you may also be the first in your family to pursue 'higher higher ed' and one of too few in your community to be in graduate school. The resulting acculturative stress can be exhausting, especially if unnamed and underacknowledged. In this workshop, find the thread that ties these identities together and explore ways to live them all authentically.

Who's Got My (Post) Bacc? (Next: December 7)
They say "it takes a village," and nothing rings more true than for graduate school. Developing social support and cultivating a sense of belonging are central to well-being and success in graduate school. This workshop explores the importance of the various relationships we have in grad school life and centers finding resiliency within the communities we build.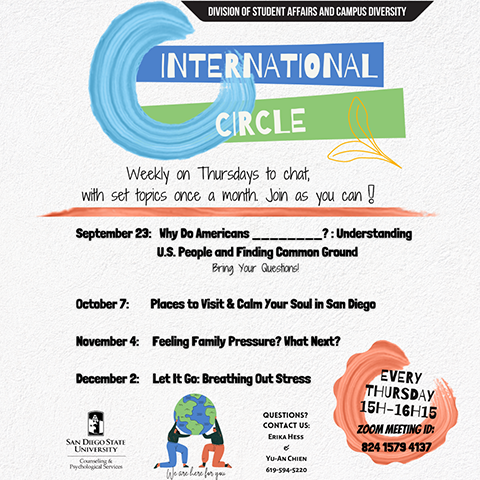 Thursdays 3:00 - 4:15pm PT
Facilitators: Erika Hess, LMFT, & Yu-An Chien, LCSW
To join: Drop in via Zoom (Meeting ID 824 1579 4137)
Are you an international student looking to connect with other students? Seeking support for stress or creating balance? Join us for International Circle every Thursday from 3-4:15 PM (15h-16h15 Pacific Time). Drop in each week to chat or check out our set discussion topics once a month (see flyer for topics).
Student Groups & Meetings Outside of C&PS
Thursdays 1:00 - 2:00 pm PT
Active Minds is a student organization that is "changing the conversation about mental health." To join the organization, you just have to show up to the meeting! Stop by, help reduce the stigma surrounding mental health and learn about current trends in the mental health field.
Temporarily inactive due to COVID-19 (Visit aasandiego.org for most up-to-date information)
Alcoholics Anonymous (AA) is a self-help organization that utilizes the 12-step program for recovering alcoholics. This is an open meeting to all, run by peers, who wish to discuss issues with substance abuse. C&PS therapists do not facilitate this space.