GROUPS & WORKSHOPS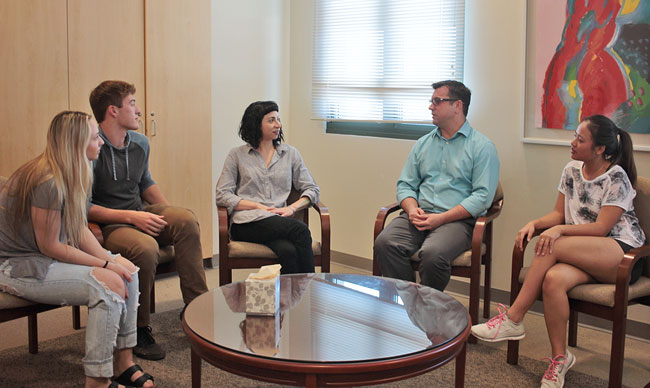 Groups and workshops address issues common to most university students and are designed to help students learn new ways to deal with challenging issues. These interactive and dynamic groups cover topics such as: creating satisfying relationships, mindfulness meditation, dealing with stress and improving mood.
Virtual Groups and Workshops for Fall Semester 2020
All groups are hosted over HIPAA-compliant Zoom. To learn more about joining our groups, contact us at 619-594-5220 to schedule a phone consultation.
Please note these groups and workshops are not available for course credit or observation.
Womxn of Color Empowerment Group
Thursdays 5:30 - 7:00pm PST
Facilitator: Zemed Berhe, Ph.D.
The Womxn of Color Empowerment Group is designed to be a confidential, safe space for womxn of color to receive and provide support in the promotion of: understanding and exploring intersecting racial, gender and cultural identities, navigating issues related to academics, processing experiences related to racism and discrimination, empowering self-expression, development of healthy relationships, and addressing mental health concerns.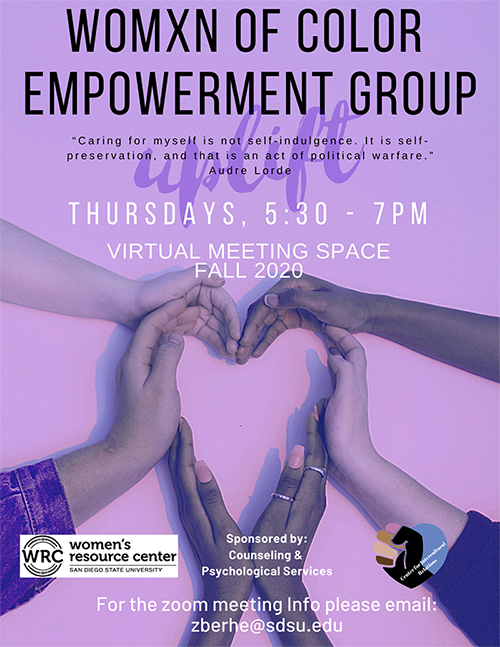 Talk It Out
Tuesdays & Wednesdays (see below)


See flyer for Fall 2020 information
Feeling stressed? Worried about COVID-19? Just needing to talk with someone? Talk It Out is a drop-in service that provides students with easy access to informal and confidential consultation with our C&PS counselors. Although Talk It Out counselors are professionals, it is not a substitute for therapy and does not constitute mental health treatment. The purpose of Talk It Out is to speak with counselors about your concerns, get help with problem-solving, and ask any questions you may have about therapy or C&PS. Talk It Out counselors can also guide you through the process of setting up an appointment at C&PS or discuss potential resources both on and off campus. No appointment necessary! Just drop in via Zoom during designated hours. Please note that we request you keep your video on during these check-ins.
Tuesdays
1:30 - 3:20pm PST via Zoom
Additional spaces in collaboration with:

Pride Center
Tuesdays 1:00 - 2:50pm PST via Zoom

Center for Intercultural Relations
Wednesdays 9:00 - 10:50am PST
via Zoom
International Student Center
Wednesdays 2:00 - 3:50pm PST via
Zoom
Everyday Mindfulness & Meditation
Tuesdays or Wednesdays 4:00 - 5:30 pm PST
Facilitator: Manuel Rivera, LMFT
This workshop is designed to help students develop a foundation in mindfulness and meditation skills. It is intended for students who are seeking to improve their ability to "live in the now" rather than worrying about the future, regretting the past, or getting stuck in unhelpful thinking patterns. If you are interested in learning skills to help you stress less, focus better, and be more present for your life, give us a call.
Living with Loss


Wednesdays 3:00 - 4:15 pm PST
Facilitator: Maria Elena Garibay, LMFT

Get support after the death of a loved one in a nurturing and safe place at the Living with Loss Grief Support Group. In this process group, you will have an opportunity to work through your healing while building connections with other students who can relate to your experience.
Healthy Emotional Living

Mondays 1:30 - 3:00 pm PST
Facilitators: Mary Joyce Juan, Ph.D., & Michael Juan, Ph.D.
Do you often feel like you are on an emotional roller coaster? Are you tired of being called "dramatic," "sensitive," or "reactive"? Based on Dialectical Behavior Therapy, this group is designed to explore and build an understanding of our intense emotional experiences. Through the lens of living effectively, participants can learn to better identify and understand our complex emotional states, learn specific coping strategies to deal with distress, and increase awareness and self-reflection. To learn more or to join, call in and schedule an appointment.
Students in the Helping Professions*
Fridays 9:00 - 10:15 am PST
Facilitator: Erika Hess, LMFT
This group is tailored to the unique needs of SDSU undergraduate and graduate students training to become helping professionals and gaining experience as helpers (through an internship, job, volunteer, or another space). Careers in the Helping Professions offer great rewards, while also presenting unique demands. Through guided discussions and activities, this group focuses on topics such as self and community care, balancing roles, compassion fatigue and burnout, vicarious resilience, and development of one's professional identity.
* Closed for Fall 2020 semester.
Rise


Thursdays 1:00 - 2:15 pm PST
Facilitator: Mary Joyce Juan, Ph.D.
See flyer for the Fall 2020 schedule.
Rise is a weekly supportive space for survivors of sexual assault and relationship violence. This group is open to students of all genders who are currently enrolled at SDSU. Each group provides space for survivors to check-in with one other, and to learn and practice skills to further the healing process. After registering for the group, students are welcome to drop-in as desired, and encouraged to attend as many sessions as possible. Due to the nature of the group, we ask all attendees to arrive on time (Zoom session will close to late arrivals at 1:10pm).
(AAPI)phany

Thursdays 4:00 - 5:45 pm PST
Facilitator: Koko Nishi, Psy.D.
See flyer for the Fall 2020 schedule.
This workshop series is designed to address and discuss the intersection of Asian American Pacific Islander (AAPI) identity and mental health.
Check out @aapiphanysdsu on Instagram for the most up-to-date information on workshops and events!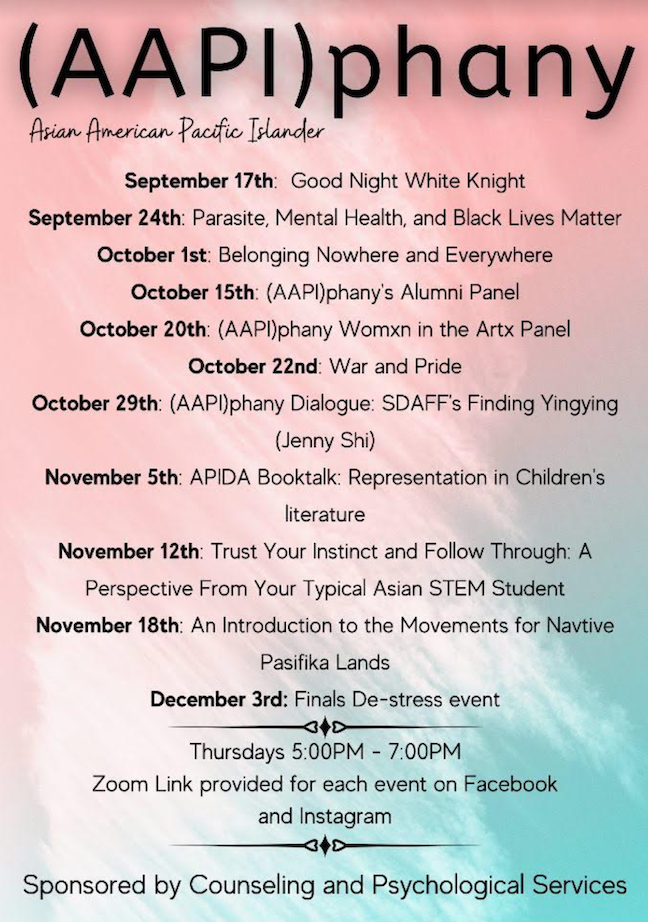 En Confianza @ SDSU
Thursdays 3:00 - 4:15 pm PST
Facilitator: Maria Elena Garibay, LMFT
See flyer for Fall 2020 information
¿Te gustaría conectarte con más estudiantes que se identifican como Latina/o/e/x, Chicanx, o Hispanos en SDSU? O ¿has tenido dificultad en identificarte como parte de la comunidad de SDSU? En Confianza @ SDSU es un grupo en donde encontrarás apoyo y juntos aprenderemos a enfrentar los desafíos del choque cultural, retos generacionales y retos de pertenecer a dos o más culturas. En confianza aprenderemos cómo tener éxito en el ámbito emocional, estudiantil, y profesional. Ven y pasa un tiempo agradable en compañía de otros en el primer grupo en Español, Spanglish y en Inglés.
Would you like to connect with other students who identify as Latina/o/e/x, Chicanx, or Hispanic? Or, are you having difficulties with identifying yourself as a part of the SDSU community? En Confianza @ SDSU is a group where you will find support and together we will learn how to face the challenges of culture shock, generational differences, and the challenge of belonging to two or more cultures. At En Confianza, we will learn how to be successful in our lives emotionally, academically and professionally. We welcome you to spend some time with us at the first group held in Spanish, Spanglish and English.
Single Servings
Drop in for quick tips and skills on how to manage COVID-19 and other stressors this semester:
* All workshops via this Zoom link!
Stress Management
A space to discuss tips for managing stress and navigating uncertain times.
Fri, Sept 25
2:30-3pm PST
Staying Motivated
Come together to talk about getting back on track and staying on your game.
Wed, Oct 21
9:30-10am
Difficult But Necessary Conversations
Learn skills and techniques for having challenging (and often necessary) conversations.
Fri, Nov 20
11:30am-12pm
Alcoholics Anonymous, SDSU Student Meeting
Tuesdays and Thursdays 12:00 - 1:00 pm PST
Alcoholics Anonymous (AA) is a self-help organization that utilizes the 12-step program for recovering alcoholics. This is an open meeting to all, run by peers, who wish to discuss issues with substance abuse. C&PS therapists do not facilitate this space.
Active Minds


Thursdays 1:00 - 2:00 pm PST
Active Minds is a student organization that is "changing the conversation about mental health." To join the organization, you just have to show up to the meeting! Stop by, help reduce the stigma surrounding mental health and learn about current trends in the mental health field.