BIOFEEDBACK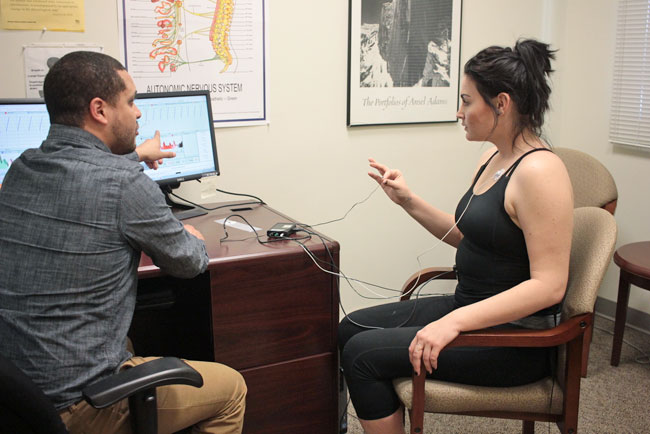 What is Biofeedback?
Biofeedback is a non-invasive computer-based training system used to teach you how to gain better control over your body's responses to stress. The program is currently being offered via telehealth using apps available to download on a smartphone, tablet, or smartwatch.
Intro to Biofeedback
Benefits of Biofeedback
Research studies have shown that Biofeedback can help improve:
Concentration and focus
Mood
Sleep
Immune system and health
Performance (academic and athletic)
And can help decrease:
Stress
General anxiety which includes test anxiety, fear of public speaking or speaking in class, social anxiety, and panic attacks
How is the Biofeedback Program set up and what do sessions involve?
Typically students will meet one-on-one with a biofeedback counselor for four sessions. Sessions last between 45-60 minutes. During the sessions you will be connected to a computer to learn breathing techniques to improve control over how you react to stress. Eventually you will learn to apply these skills on your own without the use of a computer.
How do I know if the Biofeedback program is right for me?
For more detailed information about biofeedback please watch the instructional video below.
Weekly Practice Record
Click here to print a practice record to help you keep track of your weekly practice sessions.
Breathing rate audio samples
7 breaths per minute audio samples
6.5 breaths per minute audio samples
6 breaths per minute audio samples
5.5 breaths per minute audio samples
5 breaths per minute audio samples
---
Biofeedback References
Applehans, B. M. & Lueken, L. J. (2006). Heart rate variability as an index of regulated emotional responding. Review of General Psychology, 10(3), 229-240.
Blumenstein, B., Bar-Eli, M., & Collins, D. (2002). Biofeedback training in sport. In B. Blumenstein, M. Bar-Eli, & G. Tenenbaum (Eds.), Brain and body in sport and exercise: Biofeedback applications in performanceenhancement, (pp.55-76). Chichester, UK: Wiley.
DeWitt, D. J. (1980). Cognitive and biofeedback training for stress reduction with university athletes. Journal of Sport Psychology, 2, 288-294.
Dupee, M. & Werthner, P. (2011). Managing the Stress Response: The Use of Biofeedback and Neurofeedback with Olympic Athletes. Biofeedback, 39(3), 92-94.
Gevirtz, R. (2013). The promise of heart rate variability biofeedback: evidence-based applications. Biofeedback,41, 110–120.
Henriques G., Keffer S., Abrahamson C., & Horst, S. J. (2011). Exploring the effectiveness of a computer-based heart rate variability biofeedback program in reducing anxiety in college students. Applied Psychophysiology and Biofeedback, 36(2), 101–112.
Kadison, R. & DiGeronimo, T.F. (2004). College of the overwhelmed: The campus mental health crisis and what to do about it. San Francisco: Jossey-Bass.
Siepmann, M., Aykac, V., Unterdörfer, J., Petrowski, K., & Mueck-Weymann, M.(2008). A Pilot Study on the Effects of Heart Rate Variability Biofeedback in Patients with Depression and in Healthy Subjects. Applied Psychophysiology & Biofeedback, 33(4), 195-201.
Tarrant, J. M., Mueller, H., & Raynes, D. (2011, June). The Effects of Heart Rate Variability Biofeedback on College Student Anxiety, Stress and Coping: A Preliminary Examination. Poster presented at the annual meeting of the American College Health Association, Phoenix, AZ.