What Are Commuter Success Pathways?
San Diego State University offers a variety of Student Success Pathways for incoming freshmen. This is a campus-wide initiative in which multiple offices and colleges work in collaboration.
The goals of the various pathways are that incoming students will:
Build relationships with peers, faculty, and staff.
Feel a sense of belonging on campus.
Become part of a small community of students with common academic or social interests.
Receive academic support from one course and apply it more deeply in another.
Students who enroll in a Student Success Pathway in their first semester tend to:
Achieve a deeper understanding of course material.
Have confidence in their academic work.
Have higher GPAs and lower instances of academic probation.
Have higher satisfaction with campus life.
Incoming commuter students are placed into one of the Commuter Success Pathways, and in most cases, they have the ability to choose the pathway that fits their needs and interests. Placement will be determined during a First-Year Commuter Success Reception.
Visit Commuter Land!
We are located on the 2nd floor of the Conrad Prebys Aztec Student Union, in the Student Life & Leadership Office.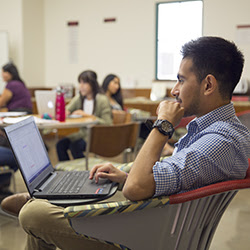 The Two Main Commuter Success Pathways:

1. First-Year Interest Group (1 unit): A university seminar course (GEN S 100) taken by a small cohort of incoming first-time freshmen. In many cases, the seminar is focused on a specific topic or theme like Leadership, Women's & Gender Equity, LGBTQ+ Pride or Poetry. For example:
General Studies 100A (1 unit)
2. Commuter Learning Community (5-6 units): Blend of a FIG and Commuter Scholar Seminar. A group of students who attend a set of courses and/or experiences together. For example:
General Studies 100B (1 unit) + Psychology 101 (3 units) + Psychology 296 Discussion/Analysis (1 unit)