Event Planning On-Campus

APPLY TO HOST ONE IN-PERSON, ON CAMPUS EVENT DURING SPRING 2021

The application form will be open on Monday, March 1, 2021 and will close on Monday, April 12, 2021 for events taking place through May 6, 2021. You can access the COVID-19 RSO In-Person Event Application form here, on Presence, or by visiting bit.ly/eventoncampus.

EVENT/ACTIVITY GUIDELINES AND EXPECTATIONS
Event applications must be submitted at least 2 weeks prior to the event date. Student organizations must be Recognized or Conditionally Recognized in order to be eligible. Events may be held Monday through Friday for a maximum of 4 hours (including load in/load out) between the following hours (all times Pacific):
Monday and Wednesday: 10:00 AM - 4:00 PM
Tuesday, Thursday, and Friday: 12:00 PM - 8:00 PM
RSO officers understand that it is their responsibility to ensure that the Recognized Student Organization adheres to all expectations outlined below:

Public Health Orders, Guidance, and Policy
The event may have no more than 100 people and must be held outdoors
All RSO members/participants must wear facial coverings and physical distance during the event
The event/activity organizer is responsible for ensuring all members/participants adhere to public health orders and guidance, and all university policies
Registration/Participation
Only current SDSU students are eligible to attend the event/activity
Student registrants must have a COVID-19 PCR test administered 3-7 days before the event
If the student is not tested at Student Health Services, they must upload their results into HealtheConnect

If a student has tested positive for COVID-19 in the last 90 days and is not currently isolating, they must ensure that their test results were documented with SHS and uploaded into HealtheConnect

The event/activity organizer must submit a participant registration list to the Office of Student Life & Leadership at least 72 hours in advance of the event/activity by email to your assigned Student Life Advisor

The format of the registration list must be a Microsoft Excel or Google Sheets document and include the following in separate columns: "first name, last name, Red ID, SDSU ID Email address"

Only SDSU students who are identified as eligible to access campus may participate in the event/activity (the RSO will receive a list with eligible participants (based on the registration list) in advance of the event)
Students must register for the event and be tested, regardless of whether or not they are part of a surveillance testing program
The RSO may not admit anyone who did not pre-register for the event/activity
The RSO may not admit anyone who was not identified as being eligible to the event/activity
The RSO must include the testing requirement in promotional materials and/or communication about the event/activity
Event/Activity Elements
The RSO must ensure that all participants wear facial coverings and physically distance
The event/activity must take place outdoors and in the assigned space
The event/activity must follow the assigned capacity
The event/activity may not include physical activity with contact
The event/activity may not include food or beverages
The event/activity may not include any materials that are placed upon the body (i.e. henna, cosmetics, etc)
The event/activity may not include hazardous materials (i.e. chemicals, etc)
The event/activity may not include the use of any physical structures (i.e. table, canopy, chairs, etc)
Presence
Students will need to have an active Presence account to apply for their organization

To claim your Presence account, visit sdsu.presence.io, click "Login" from the dropdown menu at the top right, then click on "Create Account"
You must use your SDSU ID Email address and then create a password

The RSO must enter the activity as an "Event" in Presence that is hosted by the organization
The RSO must upload all attendees Red IDs into Presence within 24 hours of the event/activity

Event Application System (EAS)
Please be aware, as of August 1, 2019, the Event Application System (EAS) request form submission timeline has changed. Event requests will no longer be submitted three weeks (21 days) in advance. The timeline for event requests and permits varies based on the elements of the specific event. To address necessitated structure and complexity of events, the University has implemented a tiered programming model for campus activities. The elements of the activity determine the tier, and therefore, the timeline for the EAS submission, review, and University permitting. The details inputted into an EAS form will determine the tier classification and subsequent submission timeline.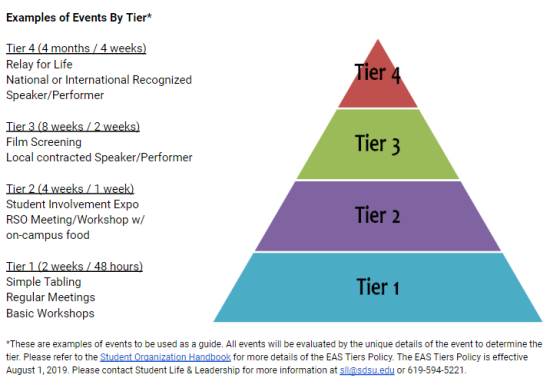 Find a full description of this new policy in the Student Organization Handbook.
Why the need for a new process?
Individuals and organizations are planning more events, and there is increased demand for space on campus. Additionally, most events require additional logistic permits from campus partners due to various campus policies. Logistics that require additional permitting include, but are not limited to, serving food, bringing animals to campus, body art activites, serving alcohol, liability and risk assessment, events with minors present or reserving space in the student union. The previous one size fits all approach (three week submission for all events) does not meet the needs for these events to be requested, permitted, and assigned in a timely manner.
What space is reservable on campus?
Browse our available space here.
Which events get submitted through the EAS?
If you are a Recognized Student Organization, ALL on-campus events MUST be entered into the EAS.
If you are an SDSU affliate (department, staff, faculty, etc.) only requests for Outdoor Space, such as tabling or other Outdoor Activities, must be submitted online through the EAS.
If you are not affiliated with SDSU, only requests for Outdoor Space, such as tabling or other Outdoor Activities, must be submitted online through the EAS.
What is the process to complete an EAS request?
Start the online Event Application System (EAS) request form.
Answer all logistical questions related to the event.
Receive your event tier classification and choose a date within that timeline.
Submit the EAS request form.
Complete any supplemental forms for permitting.
A Student Life Advisor will review your event details.
An email will be sent to the event planner when the EAS has been completed and permitted.
Event Planning 101
Off-Campus Events
Transportation Links
Food and Beverages at Off-Campus Events
The University does not issue food permits or conduct food service inspections for off-campus events; however; student organizations are encouraged to follow the Food Handling Guidelines listed on the Event Permitting Forms page (adapted from materials produced by the federal Food and Drug Administration).
Having food at your next event?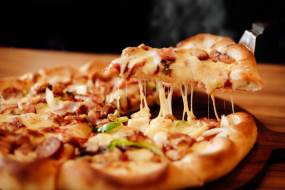 Make sure it is approved!
Submit an EAS request for your event and submit the appropriate food forms.
For any and all food at your events, complete the Temporary Food Facility Operator Permit Application and email to [email protected].
If you are bringing food from an off-campus vendor, complete the SDSU General Catering Waiver Form and email to [email protected].
If you are bringing food from an on campus vendor, complete the On Campus Vendor Form and email to [email protected].
Advertise Events on the Campus Life @ State App with Presence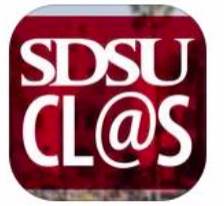 Learn more about how your organization can utilize the Presence platform to market events, track attendance, recruit members, and more! Download our Presence Student Organization Guide here.