Student Organization Conflict & Identity Awareness Training (SOCIA)
SDSU SOCIA Training is offered in collaboration with the National Conflict Resolution Center, an organization that promotes collaborative dispute resolution and conflict management to individuals, organizations, and society.
There are two SOCIA Training sessions (A&B) that are required for Presidents and Treasurers in order for your organization to be recognized.
Student leaders on campus are highly encouraged to register as sessions provide conflict awareness and student identity development components. These attributes are essential qualities for any leader to possess.
Session A must be completed before Session B. Both can be done on the same day. A certificate of completion will be awarded at the successful completion of your training. Both sessions are highly participatory and engaging. Each session is approximately two hours long.
Session A
This course will reinforce positive communication skills to student leaders so that they can more effectively manage the inevitable conflicts that arise in their roles as campus leaders. A strategic approach to navigating tense situations and respectfully working through differences is taught.
Session B
Building on the learning from Session A, students will explore how identity impacts communication, and how to reach common ground in an intercultural world. A look at how effective leaders respect and engage students from a variety of cultural backgrounds and experiences is highlighted.
Registration
Students can sign up by visiting the University Events Calendar and clicking on the weekend dates when SOCIA is made available. Please ensure to select the email reminder button for 1 day prior to the training, this will provide additional notice for you.
University Events Calendar: events.sdsu.edu
You are responsible for attending any session you miss. Given the limited sessions available each semester, students are not automatically added to another session if they missed their training date.
Sessions will fill up quickly and seats are available on a first-come, first served basis. A minimum of 10 people are needed to fill each section.
Due to the high demand for this course, your seat will be given away if you are not present at the scheduled training start time. Late participants will not be granted admittance. Thanks in advance for your understanding and cooperation.
Upcoming dates:
Register for both session A and B at events.sdsu.edu. Session A must be completed before Session B.
April 2021

SOCIA Session A

Friday, April 9th @ 9:30 am
Saturday, April 10th @ 9:30 am
Friday, April 23rd @ 9:30 am
Saturday, April 24th @ 9:30 am

SOCIA Session B

Friday, April 9th @ 12:00 pm
Saturday, April 10th @ 12:00 pm
Friday, April 23rd @ 12:00 pm
Saturday, April 24th @ 12:00 pm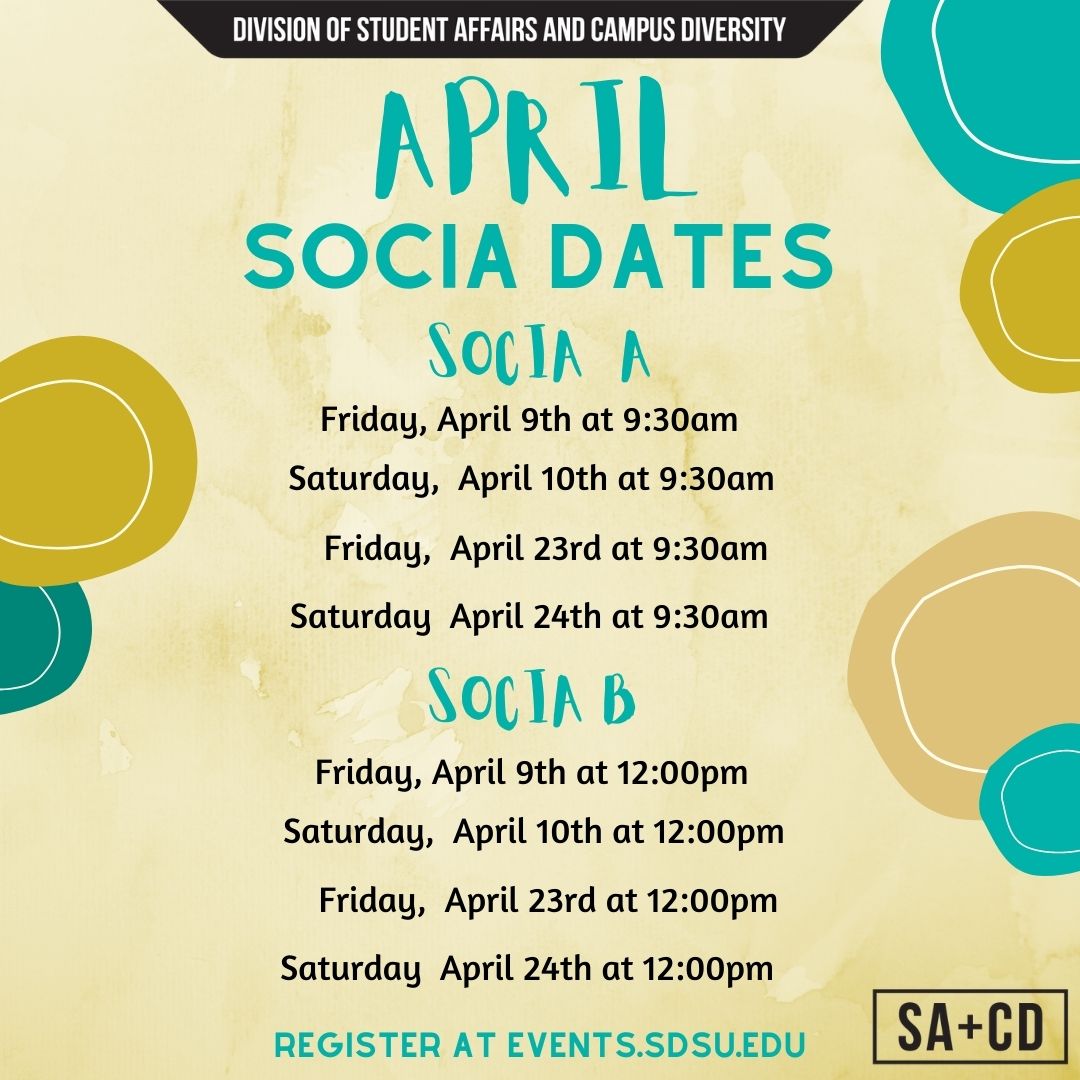 May 2021

SOCIA Session A

Friday, May 21st @ 9:30 am
Saturday, May 22nd @ 9:30 am
Friday, May 28th @ 9:30 am
Saturday, May 29th @ 9:30 am

SOCIA Session B

Friday, May 21st @ 12:00 pm
Saturday, May 22nd @ 12:00 pm
Friday, May 28th @ 12:00 pm
Saturday, May 29th @ 12:00 pm