Information for Recognized Student Organizations
Student Organization Involvement Expos
Every semeter Student Life hosts an Involvement Expo to highlight some of our recognized student organizations. To stay up to date on our next expo, follow us on instagram @sllsdsu!
Presence
Presence is the primary platform for all Recognized Student Organizations to showcase their group, advertise upcoming events, and recruit new members. For information on how to use Presence for maxium benefit, review the resources below.
Visit Presence at sdsu.presence.io
RSO Presidents received an email to their SDSU ID email address giving them access to their RSO Presence profile.
Visit the links below for Presence instructional videos and documents on how to access and update your RSO profile.
Presence now allows you to upload a welcome message and promotional video to your RSO profile. Here are some tutorials to help you make a video
Reservable Space in Student Life!
As a recognized student organization, student orgs can apply for basement storage space, office space, and a mailbox in Student Life. The application for the 2022-2023 academic year is open from 8/26-9/9. Please note, space is limited and only student organizations that are recognized may be awarded space. *An application submission does not guarantee an awarded space*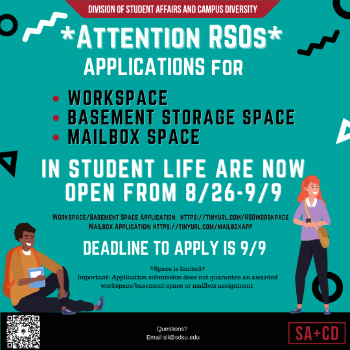 For more information, please contact [email protected] or (619) 594-5221
---