Information for Recognized Student Organizations
Student Organization Involvement Expos
Student Life & Leadership is offering three different involvement expos for student organizations that will occur within the first five weeks of the semester. The Involvement Expo that best fits your organization will be based on the organization type, as listed on the Recognized Student Organization (RSO) Application.
Attend the Spring 2021 Student Org Expo on February 4th from 4-6pm and February 5th from 12-2pm. Click on the images below to join.

Presence
Presence is the primary platform for all Recognized Student Organizations to showcase their group, advertise upcoming events, and recruit new members. For information on how to use Presence for maxium benefit, review the resources below.
Visit Presence at sdsu.presence.io
RSO Presidents received an email to their SDSU ID email address giving them access to their RSO Presence profile.
Visit the links below for Presence instructional videos and documents on how to access and update your RSO profile.
Presence now allows you to upload a welcome message and promotional video to your RSO profile. Here are some tutorials to help you make a video
Student Organization Work Space and Basement Storage Space Application
Due to current circumstances, the Student Organization Work Space and Basement Storage Space program is paused. An announcement will be made once these services are available again.
---
Here is a quick video about our process:
Success Inspirational Quote (copy) on Biteable.
---
In-Person Workshops
The Student Life & Leadership Office offers a variety of developmental and leadership workshops for recognized student organizations and campus groups. Request a workshop for your organization by emailing [email protected].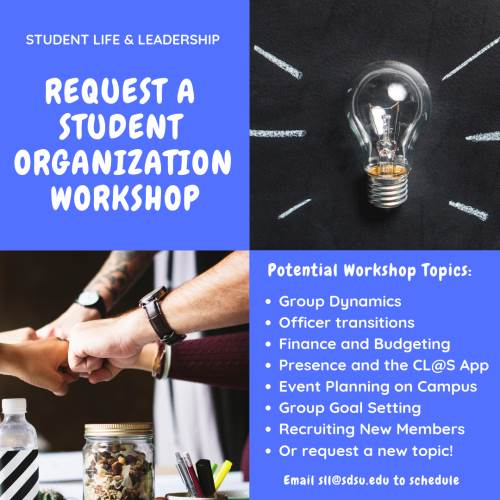 Request a Student Organization Workshop
Potential workshop topics:
Group Dynamics
Officer Transitions
Finance and Budgeting
Presence and the [email protected] App
Event Planning on Campus
Group Goal Setting
Recruiting New members
Or request a new topic!
Email [email protected] to schedule.
Student organizations are expected to reserve a space for any presentations requested. Space requests outside of general business meetings need to be approved through the Event Approval System. Workshop requests made outside of regular business hours will be subject to staff availability.
Video Workshops
Gain valuable information from the convenience of your computer or smart phone with our video workshops.