Information for Recognized Student Organizations
SDSU COVID-19 Campus Activities Policy Fall 2021
As San Diego County and the State of California have permitted gatherings and events, San Diego State University has implemented the health and safety protocols outlined for all events and activities held on campus between August 16, 2021 and September 30, 2021.
Please note that the university may revise this policy at any point during the fall 2021 semester, based on current public health recommendations.
SDSU COVID-19 Campus Activities Policy Fall 2021
Student Organization Involvement Expos
Student Life & Leadership is offering three different involvement expos for student organizations that will occur within the first five weeks of the semester. The Involvement Expo that best fits your organization will be based on the organization type, as listed on the Recognized Student Organization (RSO) Application.
Attend the Fall 2021 Student Org Expo on Tuesday, August 24, 2021!
Presence
Presence is the primary platform for all Recognized Student Organizations to showcase their group, advertise upcoming events, and recruit new members. For information on how to use Presence for maxium benefit, review the resources below.
Visit Presence at sdsu.presence.io
RSO Presidents received an email to their SDSU ID email address giving them access to their RSO Presence profile.
Visit the links below for Presence instructional videos and documents on how to access and update your RSO profile.
Presence now allows you to upload a welcome message and promotional video to your RSO profile. Here are some tutorials to help you make a video
Student Organization Work Space and Basement Storage Space Application
Student Organization Work Space and Basement Storage Space applications are now available! Please submit all applications by Thursday Septmeber 16 by 4:30pm. Click Here to Apply!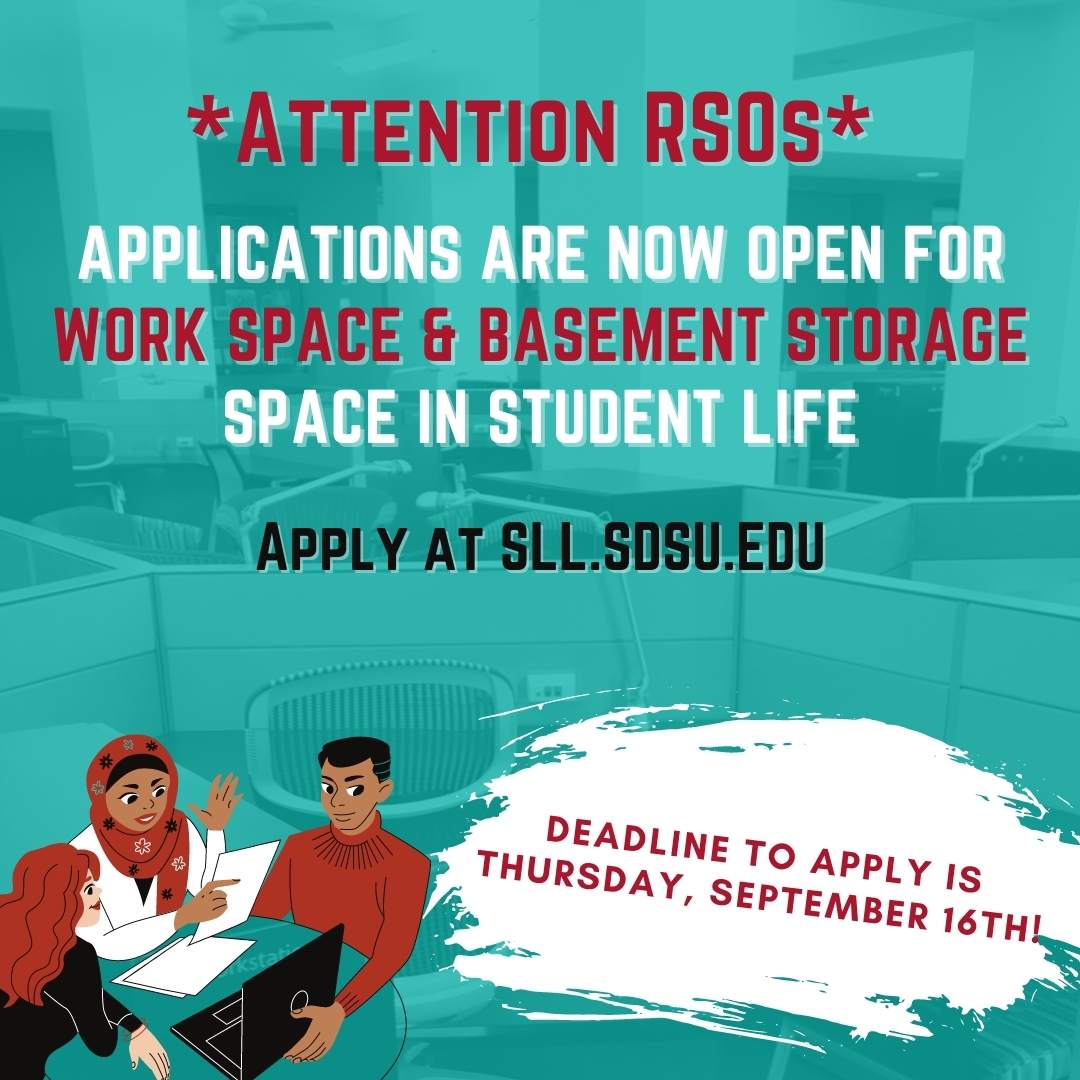 ---
Here is a quick video about our process: