Student Officer Orientation
RSO Leadership Training
The RSO Leadership Training is the title of the student officer orientation. This training session provides officers necessary information on resources, policies and procedures, and event planning processes on campus.
Both New Presidents & Treasurers from each organization must complete the RSO Leadership Training in order for your organization to be fully Recognized each academic year. The Officer RSO Leadership Training will be offered throughout the summer, fall and spring semesters.
Continuing Presidents & Treasurers who have completed the RSO Leadership Training or Officer Orientation do not need to attend these trainings again. Student Life & Leadership will send updates to returning officers as needed.
Please note, the RSO Leadership Training is one of two trainings required for the president and treasurer. The Student Organization Conflict & Identity Awareness Training (SOCIA) is a second, separate, required training.
Upcoming Dates (all times Pacific):
Friday, January 15, 2:30-4:30 pm
Friday, January 22, 2:30-4:30 pm
Wednesday, February 3, 2:00-4:00 pm
Friday, February 19, 2:30-4:30 pm
Friday, March 5, 2:30-4:30 pm
Thursday, March 25, 1:00-3:00 pm
Friday, Aprl 30, 2:30-4:30 pm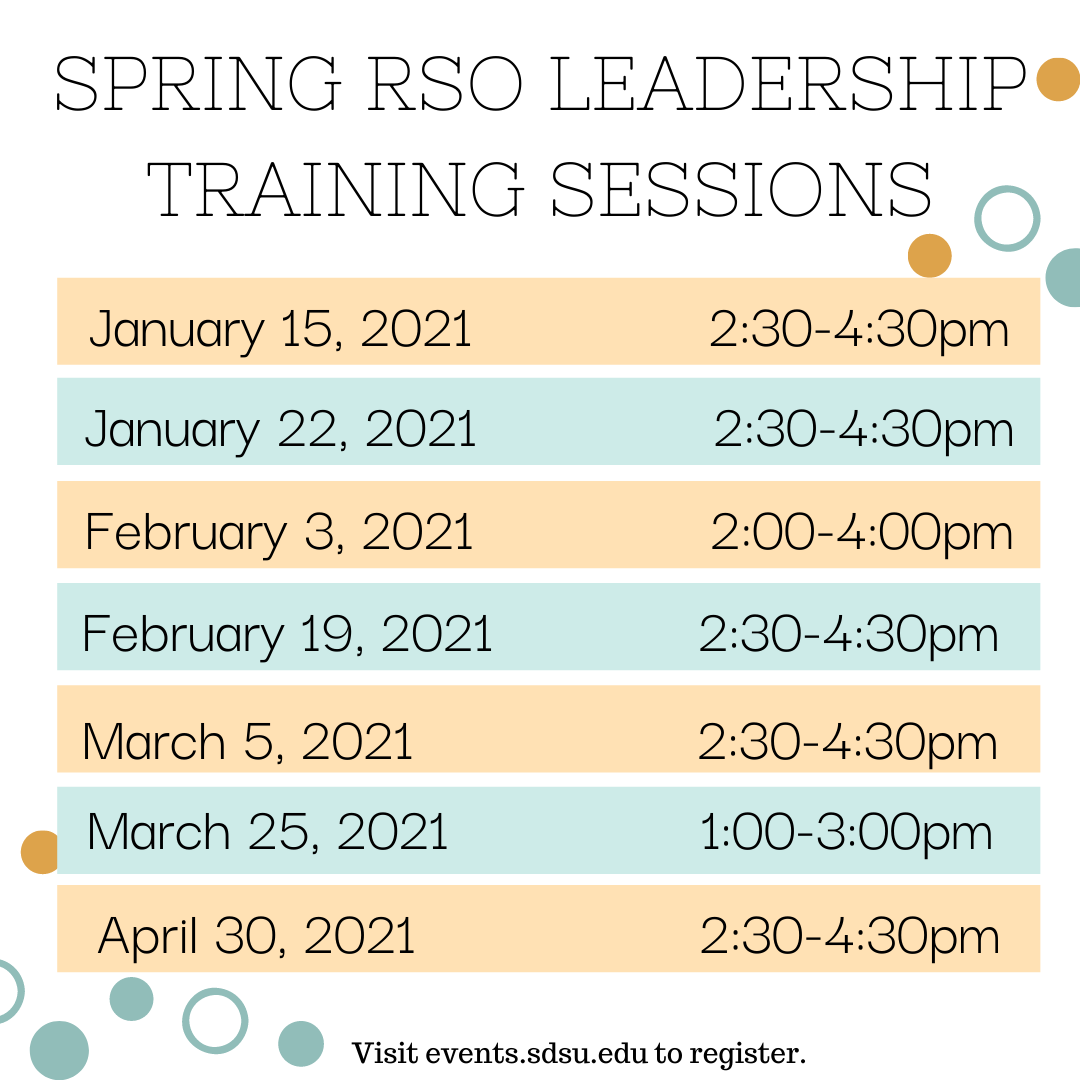 Registration
Please register for the RSO Leadership Training on the University Events Calendar at events.sdsu.edu
Directions to complete a required training can be found on the flyer below: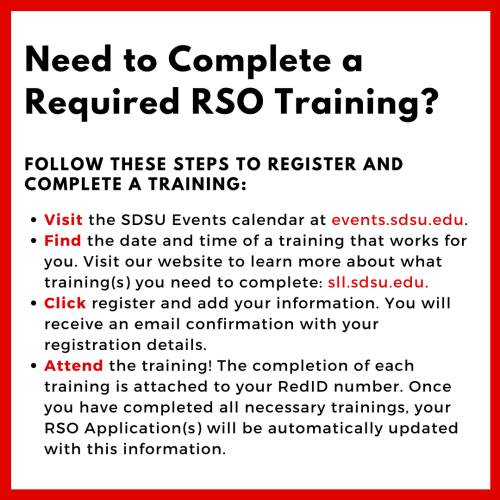 Follow these steps to register and complete a training:
Visit the SDSU Events calendar at events.sdsu.edu
Find a date and time of a training that works for you. visit our website to learn more about what training(s) you need to complete: sll.sdsu.edu
Click register and add your information. You will receive an email confirmation with your registration details.
Attend the Training! The completion of each training is attached to your RedID number. Once you have completed all necessary trainings, your RSO Application(s) will be automatically updated with this information.
Other Required Training