Welcome to Commuter Life
Finding your place, making friends, and connecting academically and socially to campus are keys to your success at SDSU. Through websites, certificate programs and other active programming, we aim to provide students living at home and commuting to campus with important tools to help you make a positive connection to campus.
It can be very easy to fall into a routine of traveling to campus, going to class, and traveling back home. Challenge yourself to find an activity or organization on campus. Doing so will provide you an on-campus support network, and a sense of a "home away from home." Students who become involved on campus are more satisfied with their college experience, and do better academically.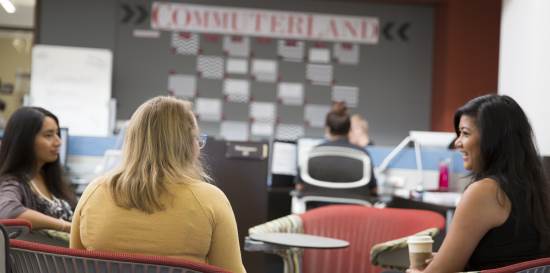 The Challenges Faced By Commuter Students
Many students may be managing households, taking care of children, siblings, or older relatives, or have full time jobs in one or more areas, and this makes them selective with their time and campus involvement, as well as having an impact on studying at home.
As a commuter, the time it takes to get from home to campus in an added obstacle that may impact accessibility, and may make it seem that getting involved is impossible to do. Commuter Life wants to be the space where students realize new and realistic ways of staying involved. We hope to encourage commuters to take steps to develop a sense of belonging to the SDSU campus. We want you to find a group of friends, a student organization, a research project, a community service event, or a mentor, that will help you to make SDSU your home away from home.
Commuter Life is Hiring!
Are you interested in being a mentor to our commuter students?
We are looking for academically driven, positive role models to guide, motivate, and engage our commuter students in their academic success and campus connection.
---
Purpose
Commuter Life aims to support and engage students living at home and commuting to campus through workshops, peer mentoring programs, and other support services to foster student success and a positive connection to the San Diego State University community.
You Are Not Alone!
Think you are the only person commuting from home to SDSU? You're not alone.
Some interesting statistics about commuter student:
Over 85% of today's college students live off-campus.
Over 80% of undergraduates work, with 46% of full time students working 25 hours or more a week.
Resource Center Location & Hours
Location: in Student Life & Leadership, 2nd floor of Aztec Student Union, room 210P and open seating area outside of room 210P
General Hours:
Monday–Thursday, 8:00am-8:00pm
Friday, 8:00am-4:30pm
Saturday-Sunday, CLOSED
Summer Hours:
Monday–Friday, 8:00am-4:30pm
Saturday-Sunday, CLOSED
Helpful Links
We currently have two types of mentor positions available:
Commuter Freshmen Academic Mentor:
Commuter Freshmen Academic Mentors are sophomore, junior, or senior students who provide mentoring for freshmen commuter students who are enrolled in the Casa Azteca and Aztec Freshman Connection learning communities. Academic mentors will also provide general guidance and assistance to freshmen mentees as they experience the transition from high school to university life.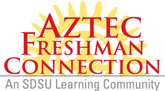 Sophomore Surge Mentor:


Sophomore Surge Mentors are junior, senior, or graduate students who are paired with sophomore commuter students based on college, major or interests. Surge mentors will provide career and major exploration, refer mentees to various campus resources, provide opportunities for self-reflection/improvement, and introduce or reinforce the importance of campus involvement and leadership.
"Engage with an Aztec... Succeed with an Aztec"
To apply for one or both of our Commuter Life mentor positions, please visit SDSU Handshake
Attention Sophomore Commuter Students: Sign Up To Be Paired With A Sophomore Surge Mentor!
SDSU Sophomore Surge 2020-21 Participation Form

Please fill out this form if you are interested in being paired with a mentor, who is an upperclassman SDSU student.
Are you a second year sophomore student who commutes to campus? Looking for an upperclassman mentor to steer you in the right direction as you head towards upper division status? Sign up now to be paired with a mentor!
You and your mentor will meet 8 times a semester, during both fall and spring. The mentor will be a resource for you as you navigate your sophomore year at SDSU.
Topics that sophomores will learn more about include getting involved on campus, preparation for upper division courses, professional career and leadership advice/tips/resources, and many more items to help you succeed during your sophomore year and get you in the right direction for your junior year.
This program is open, and free, to SDSU commuter students who will be starting their second year on the SDSU campus.
Sign up now while spots are still available!
Introducing... The Alliance 4 Commuter Involvement (A4CI)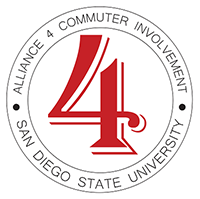 Participate in the Alliance 4 Commuter Involvement to make the most out of your four years at SDSU! Through A4CI, a 4-year extracurricular model, you will get involved in programs focused on leadership, service-learning, and mentoring. Each year, A4CI will guide you through deeper levels of involvement and leadership opportunities. Commuter students will graduate with a rich and meaningful experience that will encourage their academic success and connection to the SDSU campus and community. Moreover, these experiences will help you become a more competitive candidate while you apply for jobs or graduate schools.
Each year, A4CI members will:
Attend an "Aztec Nights" or "One SDSU" event
Participate in one community service or service-learning event
Attend at least three Commuter Resource Center events and activities
As you advance through your four years, there will be various activities you can choose to complete, such as the following:
Enroll in the Sophomore Surge Mentoring Program
Attend a Study Abroad Workshop
Attend a Student Conference
Commit to a leadership position within a Student Organization
A4CI participants will be rewarded with an official Alliance 4 Commuter Involvement graduate stole to wear proudly at Commencement!