WELCOME TO THE STUDENT FINANCIAL CENTER
The center gives students and parents a chance to ask questions via Zoom regarding student accounts, financial aid and scholarships. The center's mission is to assist our students and parents by providing a single point of contact to resolve questions regarding financial aid, scholarships, and student billing issues. Check out our video regarding our services.
To connect with a counselor click here.
Webinar: Preparing for the Spring 2023 term: Financial Aid & Disbursements
The Student Financial Center held webinars on January 5th and 9th about financial aid, disbursements, paying tuition and fees, scholarships, and more. Watch session recording here.
2022-23 Financial Aid Awarding, Student Financials and my.SDSU
All SDSU students who filed the 2022-23 FAFSA and do not have pending items on their To-Do list can view their aid eligibility via my.SDSU.
my.SDSU is a singular portal that streamlines the enrollment, registration, financial aid and student accounts processes. Via my.SDSU students are able to view Financial Aid tasks (To-Do Lists), if applicable, and take action for the Fall 2022 - Spring 2023 aid year. Students are also able to sign up for Direct Deposit via the my.SDSU Student Financials tile. Students who were previously signed up for Direct Deposit through Cashnet will need to reestablish Direct Deposit in my.SDSU.
Effective Fall 2022, SDSU is also a "post-pay" campus. Students pay tuition & fees in my.SDSU after they have enrolled in classes.
Financial Aid Disbursement and Aid Adjustments
Processing of spring financial aid disbursements will start on January 9th. The bill due date for spring charges is January 11th. Financial aid will be applied to students accounts to cover university charges. Any overage will be directly deposited to the student's bank account. Sign up for direct deposit ASAP. Any remaining balance owed will have to be paid by the student. Be aware that a student's aid is tied to enrollment. Adding or dropping courses may lead to aid fluctuation.
The deadline for Spring 2023 Tuition and Fees is January 11, 2023.

Processing of spring financial aid disbursements will start on January 9th.
Please pay attention to emails and announcements from the Student Financial Center to stay informed about how to use my.SDSU to pay student charges.
Undergraduate Students and Students Pursuing a Teaching Credential
The Middle Class Scholarship program has been redesigned for the 2022-23 school year. The changes will allow many new students to qualify who did not receive awards in the past. San Diego State has received preliminary information regarding student's eligibility for the Middle Class Scholarship. However, implementation of these changes will cause a delay in awarding and students can expect to see their awards in my.SDSU in early spring (fall and spring portion). Also, please note that the scholarship amounts will be subject to change throughout the year since the Middle Class Scholarship awards are adjusted based on other aid that a student receives.
https://www.csac.ca.gov/middle-class-scholarship
Parent Access:
Due to SDSU's implementation of my.SDSU, the CSU-standard system, parent access is impacted. The system as implemented does not support parent access to student information, but in the future providing this functionality will be a priority. Read more in the my.SDSU Parents & Families Support page.
Helpful Tutorials
How To View Payment Details In my.SDSU and Make A Payment In Transact
How To Create An Alternate Payer Account
How To Pay From An Alternate Payer Account
How to Enroll in Direct Deposit
When using my.SDSU it is recommended that you use Google Chrome. Other browsers may not give you the ability to set up an alternate payer and to set up direct deposit. Make sure your pop-up blockers are turned off.
Student Financial Center:

Open Monday – Friday 9am-4pm (PST)
We will be closed on the holidays listed on the SDSU Academic Calendar.
The Student Financial Center physical lobby (Student Services West 3615) is open 9am - 3:30pm - the Student Financial Center physical lobby has several private meeting rooms for students to connect to the virtual center. The Student Financial Center is accessible through the zoom link on days the campus is open.
We can help you with questions related to financial aid, scholarships and student accounts.
Students: please have your Red ID ready.
Parents: make sure your student is with you or has authorized you to speak with us. FERPA regulations prevent us from speaking with you about personal financial aid information unless your student is with you, or has released authorization to you. Release of authorization is done in the "Privacy Settings" in a student's WebPortal account. This could take 24 hours to reflect on our end, so please be aware.
Prior to meeting with one of our counselors, please log into my.SDSU for financial aid, scholarships, billing, payments and refund information.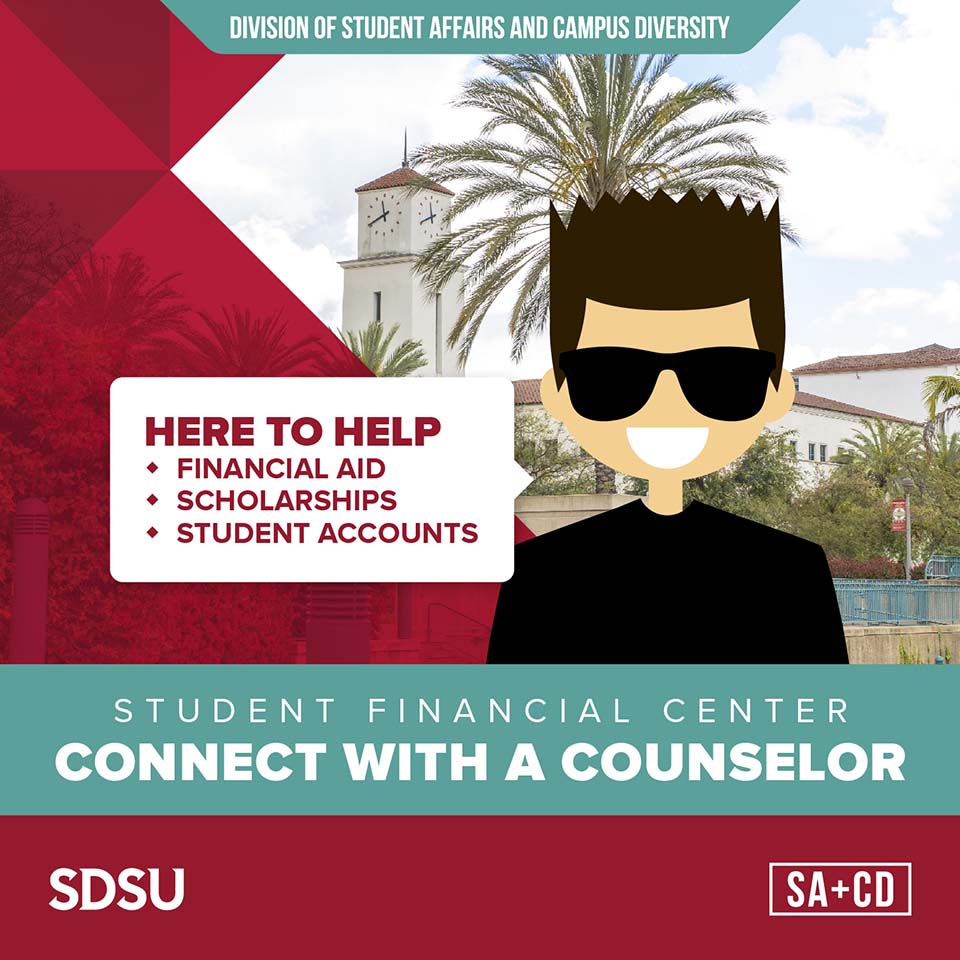 If you prefer to access the help desk via phone, please dial: +1 (669) 900-6833. When prompted, enter the following meeting ID:
872 9357 5613
Financial Education Peer Program:
This program seeks to empower the SDSU community to make sound and responsible decisions with the goal of achieving financial well-being. This is achieved by providing education to build the necessary skills to maintain a sustainable lifestyle. This program aims to create the confidence students need to achieve financial freedom and independence. Free events as well as one-on-one educational sessions on budgeting, credit, and more are offered.
Visit the Well-Being & Health Promotion website for more information.