Tribal Liaison
Vision Statement
The Tribal Liaison envisions compassionate, thriving and resilient sovereign nations and communities, preserving Indigenous languages and cultural knowledge programs, advancing Indigenous educational pathways, and enhancing relations between university, tribal, and non-tribal communities.
Mission Statement
The Tribal Liaison is dedicated to foster collaborative partnerships, provide Kumeyaay education and recognition, and promote the well-being and success of Indigenous students, faculty, and alumni by nurturing a diverse and inclusive culturally-responsive and belonging environment.
Kumeyaay Tribes and Lands
San Diego County Tribes
There are 109 federally recognized tribes in California, and two of the nation

'

s largest American Indian populations reside in Los Angeles and San Diego.

San Diego State University is on Kumeyaay land.
San Diego County is the heart of 13 federally recognized Kumeyaay tribes and five that reside in Northern Baja California, Mexico. Also, there are six federally recognized Luiseño tribes and one unrecognized tribe located in San Diego and Riverside counties. These numbers do not reflect the state

-

recognized and non

-

recognized tribal groups who also live in the area today.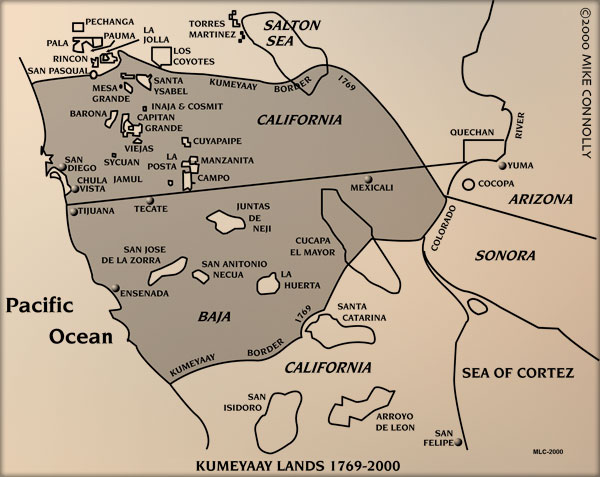 In 2019, the University Senate adopted an official Kumeyaay Land Acknowledgement, "a formal statement that recognizes and respects Indigenous peoples as traditional stewards of a given geographic area and the enduring relationship that exists between Indigenous Peoples and their ancestral territories." In this session, Mike Connolly Miskwish, the author of the Land Acknowledgement, and Jacob Alvarado Waipuk, SDSU's Tribal Liaison, discuss this important statement, and provide an overview of the history of the Kumeyaay people.
San Diego County has the largest number of tribal governments and reservations in the United States with 18 tribal reservations and four tribal nations - the Kumeyaay, Luiseno, Cupeno, and Cahuilla - represented across the County. SDSU has a long tradition of programs, initiatives and collaborations

[BROKEN LINK]

with tribes and these tribal partnerships continue to provide a foundation for the relationship between SDSU and tribal communities to develop and flourish.