Native Resource Center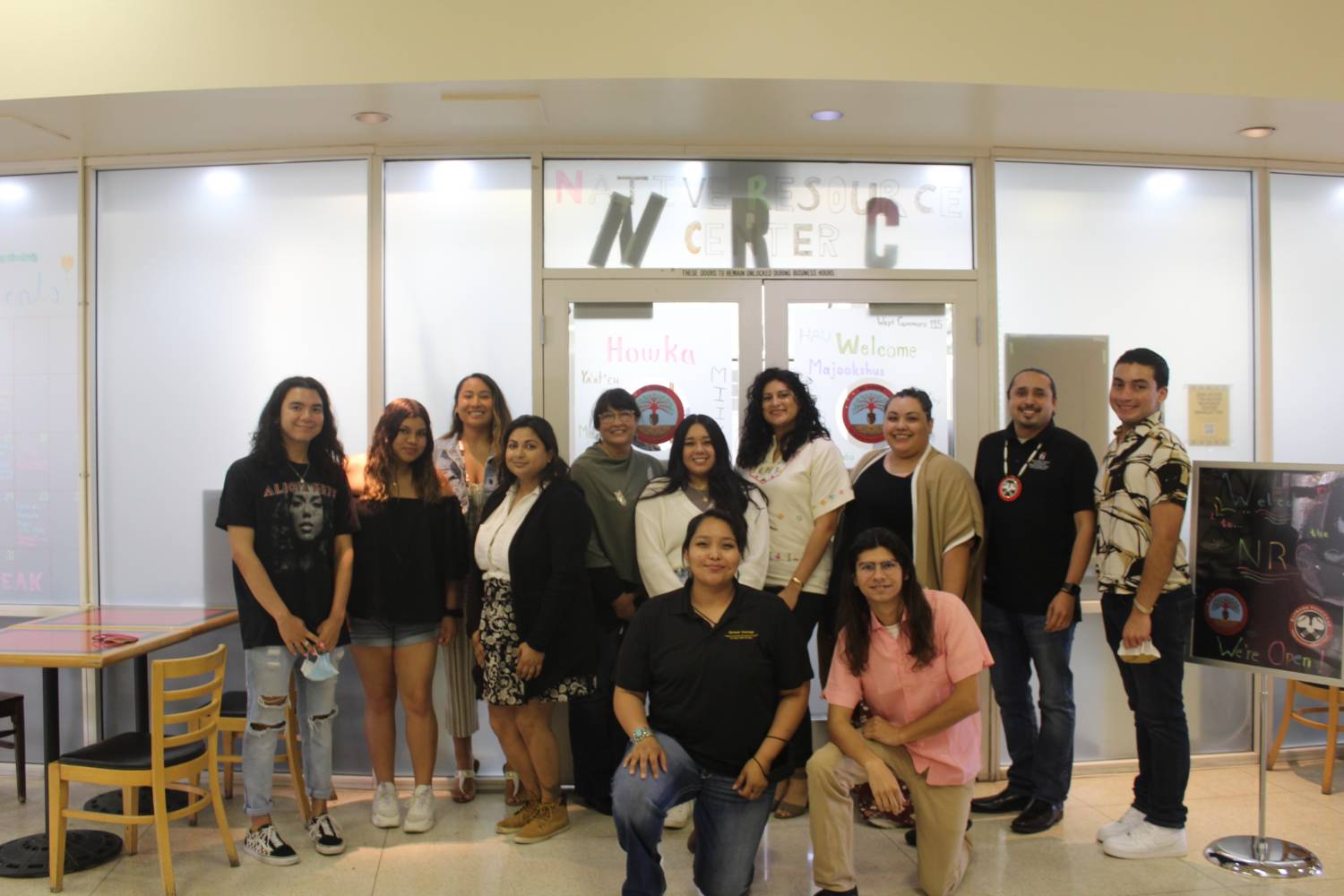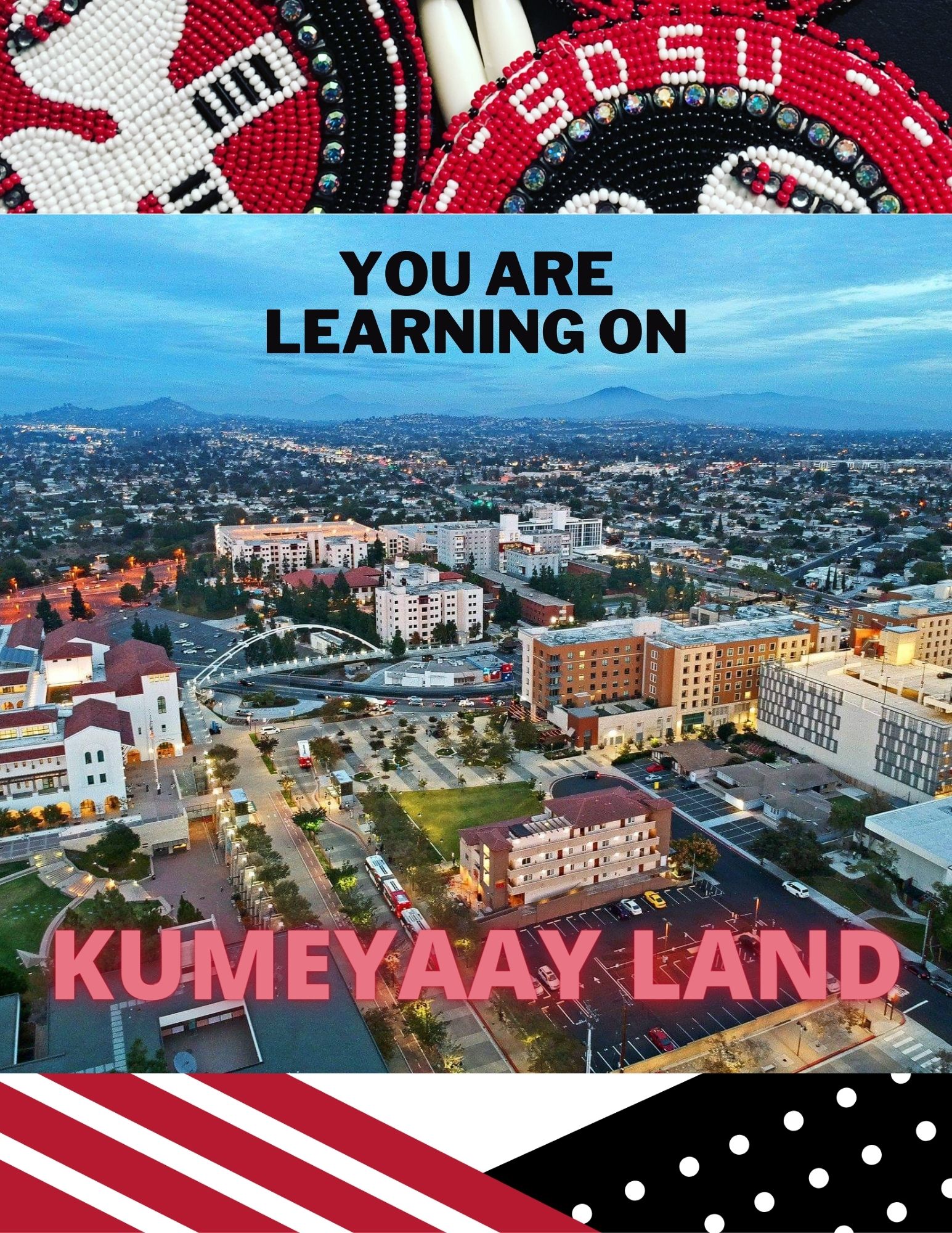 Welcome to the Native Resource Center (NRC)!
Howka (Kumeyaay greeting),
Founded in 1897 on Kumeyaay land, San Diego State University is gaining more recognition as a leader in higher education. At SDSU, we are committed to creating educational opportunities that contribute to intellectual development and equip you to succeed in a global society. We are proud to be one of the most diverse campuses in the country.
Through the Native Resource Center we can connect you to building community through student organizations like the Native American Student Alliance, Indigenous Social Work Association, campus initiatives through the Elymash Yuuchaap: Indigenous Scholars and Leaders Program and so much more!
The Native Resource Center is here to support you! We have an extensive network across campus to provide every student the unique support that they may need. We provide transformational experiences that include:
Academic support and research opportunities

Engaged faculty and administrative mentors

Internships and career assistance

Seminars, workshops, field trips and study abroad experiences

Culturally responsive leadership development

Peer to peer mentoring

Traditional tribal gatherings

Scholarship opportunities

Community graduation ceremony
Welcome home!
Sincerely,
Chris Medellin
NRC Director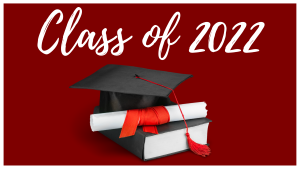 MESSAGES FROM OUR CLASS OF 2022
Jonathan Hall
Degree: Bachelor of Arts in Anthropology and American Indian Studies
Message from Jonathan: I'd like to thank my parents, my brothers, and especially my close friends from all over the country who supported me in so many ways when everything felt difficult. People like to brag about being self-made, helped by no one but that wasn't me-- and I wouldn't have it any other way. Mom, Dad, David, Benjamin, Garrett, Phillip, Adam, Jacob, Cody, and Tiff, you've all helped me more than you know.
"Education is the Vaccine for Violence"- Edward J. Olmos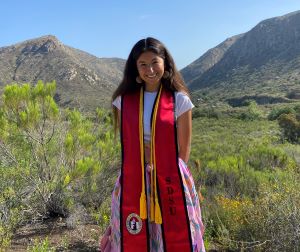 Skylar Beasley
Degree: Bachelor of Arts in American Indian Studies with a Minor in Anthropology
Tribe: Kumeyaay from the Sycuan Band of the Kumeyaay Nation, Dakota Sioux from Fort Totten, North Dakota, and Blackfoot from Browning, Montana
Message from Skylar: I want to thank my family and friends who have come here today to support me. I am so proud to be surrounded by you all today and in the future. I also want to thank everyone who has helped me along my way and given me opportunities. I want to deeply thank all the friends I have made at San Diego State University, especially within the American Indian Studies Department and the Native Resource Center. I have felt supported in so many ways because of some of the wonderful staff/faculty, students, and other leaders on campus. In the last four years, some of my favorite memories have been with my peers and advisors in Elymash Yuuchaap and the Native American Student Alliance.
Thank you all for helping me grow.
'eyay ahan, my heart is good.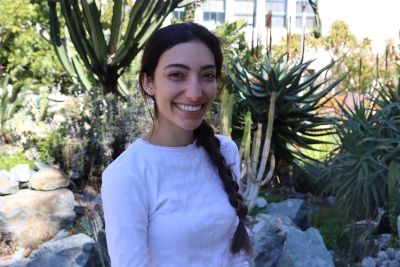 Ciara Garrison
Degree: Bachelor of Science in Mechanical Engineering with a Minor in American Indian Studies
Message From Ciara: I want to acknowledge my Mom and Dad for always nudging me in the right direction and being there for me when it got tough. I wouldn't be where I am today without both of their advice, encouragement, support, and unconditional love. Thank you Momma and Daddio! Your guidance and love are priceless. I am so grateful that God gave me you! My parents rock! And they're my rock!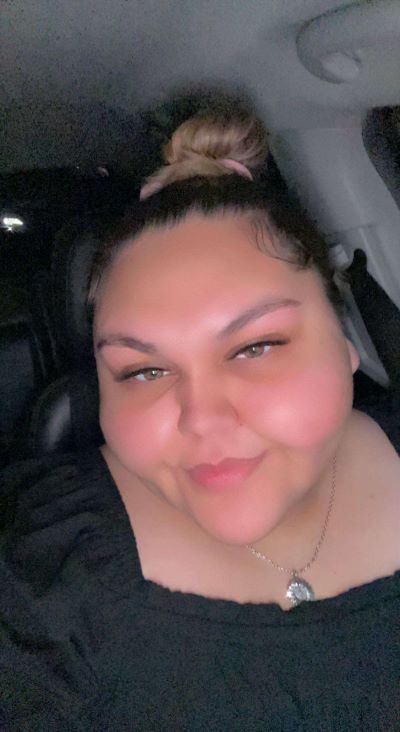 Olivia Thomas
Tribe: Lummi Nation
Degree: Bachelor of Arts in American Indian Studies
Message From Olivia: I would like to thank all of my family, my boyfriend, and my friends for helping me navigate through college with a positive and bright attitude. Without the help and support from you all, I wouldn't have made it this far. I love you all and I'm so excited to come back in the Fall to start on my Masters Degree.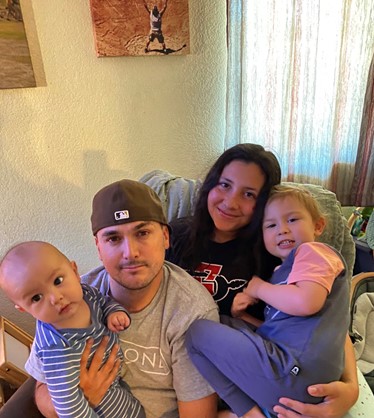 Vanessa Martinez
Tribe: Kumeyaay, San Pasqual Band of Indians
Degree: Bachelor of Arts in Sustainability and American Indian Studies
Message From Vanessa: I would like to thank my family for being encouraging and always supporting my college journey. To my kids, Iris and Hendrix, I love you both so much. Thank you for teaching me patience and to value both the good and bad. You both are my motivation and pushed me through the hard times. To Jakee, thank you for always being flexible, supportive and my rock throughout this whole process. As a first generation college student it was a lot to take on and I couldn't have done it without you all. This chapter has helped me push myself out of my comfort zone to grow into who I am today. It has been a long time coming and I am excited for what the future holds!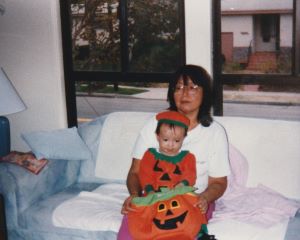 John Mollet
Tribe: Assiniboine-Nakota Sioux
Degree: Masters of Arts in History with a Certificate in Public History
Message From John: "For my grandmother Carol Ann Reddog"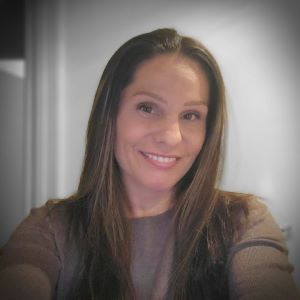 Chamese Dempsey
Tribe: Paiute, Yaqui, &Chippewa/Ojibwe
Degree: Bachelor of Arts in Social Work
Message From Chamese: I want to thank the creator for strength and quidance while on this beautiful yet challenging academic journey. I want to thank my late grandparents Arlene and Philip (Bobo) Galvan who raised me and for instilling beautiful teachings and insight that have shaped who I am today and have provided me with the tools that have helped me remain successful thus far. I want to thank my children Emerson Jr. and Oceana who have been compromised so much, so mommy can attain her degrees. Lastly, I want to thank my oldest daughter Coral and her boyfriend Dominic for always being available for me when I needed it the most. Thank you to Tamara Strohauer for your love, support and advocacy. I couldn't have done this without any of you. My love for all of you is unconditional and pure. E'yaay E'hun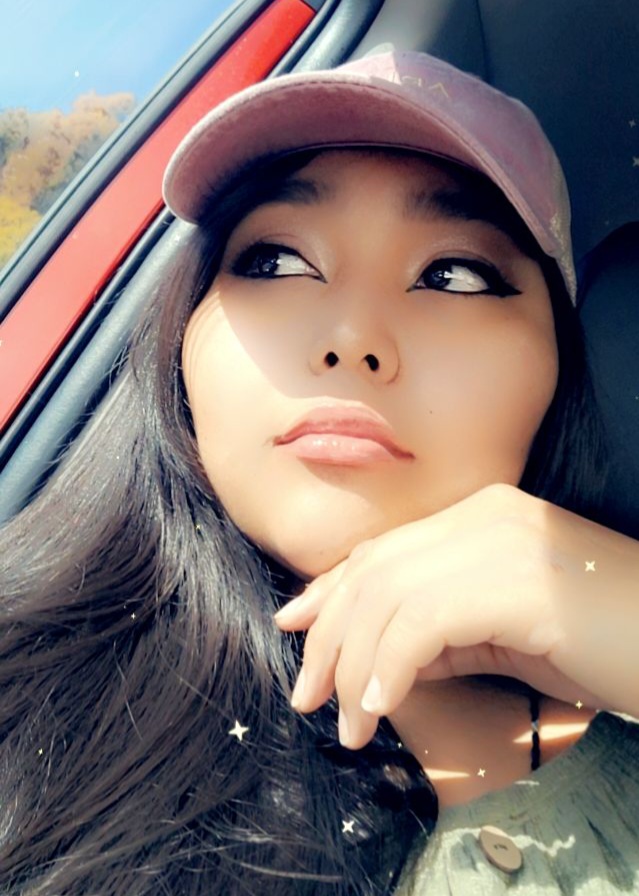 Jessica Becenti
Tribe: Dine (Navajo)
Degree: Bachelor of Arts in Liberal Arts & Sciences, Interdisciplinary Studies
Message From Jessica: "The game has its ups and downs, but you can never lose focus of your individual goals and you can't let yourself be beat because of lack of effort." - Michael Jordan
Thank you to those who never let me accept defeat and always encouraged me and pushed me to keep going when I didn't have the energy or the courage to do so. I love each and every one of you in some way or another. Thank you for all your words of wisdom and experiences and for following me to the first of many goals.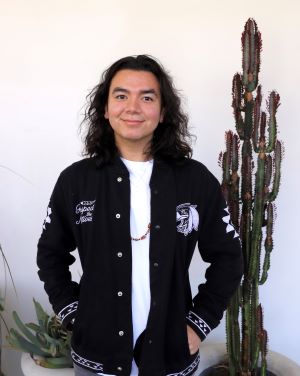 Mateo Gin Tarango
Tribe: Wilton Rancheria Miwok
Degree: Bachelor of Science in Recreation Administration, with an emphasis in Sustainable Tourism Management
Message From Mateo: I want to thank all of my loved ones-- family, friends, peers, teachers, leaders-- that have all planted the seeds to help me grow into the person that I am today. The seeds of unconditional love, unwavering generosity, and uplifting energy have all contributed to my growth and success, I can't thank you enough.
To my family- it means more than the world to me that you all made the journey down here to see me complete this mileston. When I think of what love and safety feels like, I think of each and every one of you. Thank you for always being there for me, since before I can even remember. I love you all with my whole heart.
To my Native Resource Center family - thank you for welcoming with open hearts and for making our space feel like a home away-from-home. I loved going from wearing silly filters in the Zoom Room together to fiercely playing Uno against each other like the dysfunctional Native Family that we are. I love and am so proud of you all.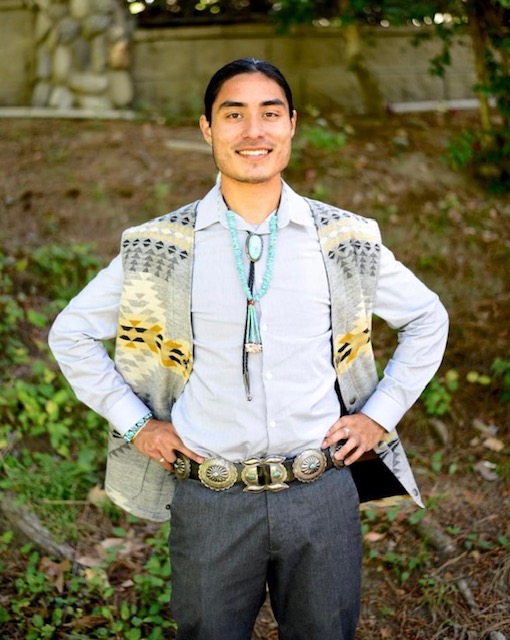 Jerimy Billy
Tribe: Navajo
Degree: Bachelor of Arts in American Indian Studies & Bachelor of Arts in Sociology
Message From Jerimy: I would like to first thank my mom, dad, and my family as well as my girlfriend for the everlasting support away from school and pushing me to be the best student I can. And I would also like to specifically thank Dr. Kamper and Chris Medellin for supporting me while at school and I definitely owe many of my accomplishments to them along with all the other American Indian and Native Resource Center staff members because all of it was possible because of their continued support and the community we formed together.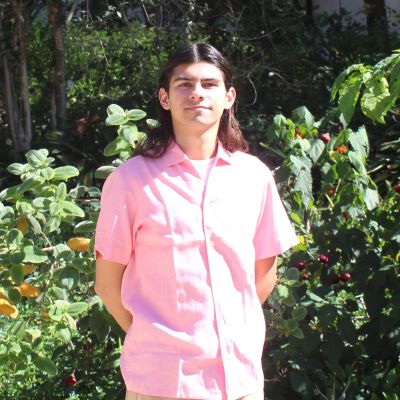 Santino Arellano
Tribe: Lipan Apache
Degree: Bachelor of Arts in Comparative Literature
Message From Santino: I'd like to thank my family and friends, especially my grandparents and elders who have guided me through college and life in general.
We stand upon a land that carries the footsteps of millennia of Kumeyaay people. They are a people whose traditional lifeways intertwine with a worldview of earth and sky in a community of living beings. This land is part of a relationship that has nourished, healed, protected and embraced the Kumeyaay people to the present day. It is part of a world view founded in the harmony of the cycles of the sky and balance in the forces of life. For the Kumeyaay, red and black represent the balance of those forces that provide for harmony within our bodies as well as the world around us.
As students, faculty, staff and alumni of San Diego State University we acknowledge this legacy from the Kumeyaay. We promote this balance in life as we pursue our goals of knowledge and understanding. We find inspiration in the Kumeyaay spirit to open our minds and hearts. It is the legacy of the red and black. It is the land of the Kumeyaay.
Eyay e'Hunn My heart is good.
Support Native Education:
Donations collected with the link above go directly to supporting scholarships for Native students at SDSU!