Office of the Vice President
Community & Belonging
Advance SDSU's commitment to student diversity by enriching academic perspectives and advocating for inclusion and belonging for all.
Jessica Nare
Associate Vice President for Community & Belonging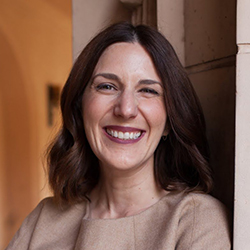 Jessica Nare (she/her/hers) is the Assistant Vice President for Community and Belonging at San Diego State University. She promotes diversity and equity efforts by providing strategic leadership to the campus's Cultural Centers, EOP & Ethnic Affairs, and the SDSU Connects program.
Jessica's career has been dedicated to advancing gender justice through education and advocacy. A proud San Diego State University alumna, she has served on the faculty in the Department of Women's Studies since 2009. In 2015, she was responsible for opening and managing SDSU's new Women's Resource Center. She has also held roles as the Associate Director of the Center for Intercultural Relations and the Associate Chief Diversity Officer for Student Engagement. Prior to SDSU, Jessica worked at Jewish Family Service as the Director of Leadership Programs, where she developed nationally-recognized youth leadership and service learning initiatives.
In 2014, the Mayor of San Diego appointed Jessica to the city's Human Relations Commission where she was elected to the role of Vice-Chair and served two terms as the lead on gender-based issues. In 2015, she was honored with the Berenice Tannenbaum Prize for her innovative work to advance the status of women and girls in the United States. Jessica currently serves on the board of the Bread and Roses Center for Feminist Research and Activism.