Christian Community ERG (CCERG)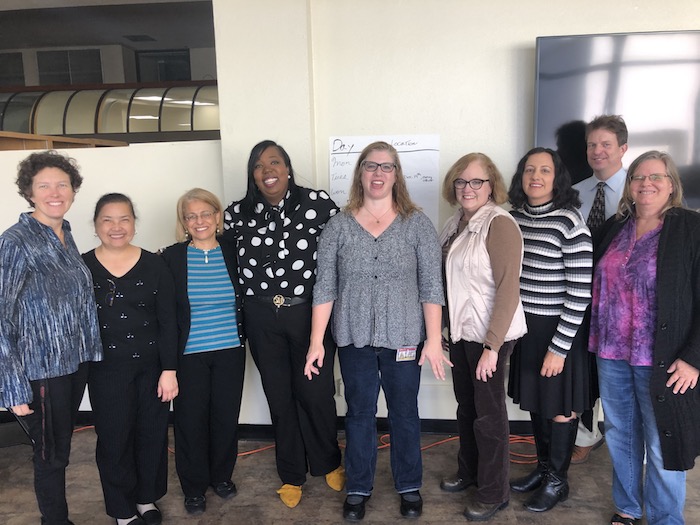 Mission: The CCERG hopes to foster a welcoming and inclusive envrionment at SDSU for individuals interested in issues facing the Christian community. To support this mission, our ERG follows these three steps: Encourage, Reach Out, Support.
Regular Meetings: We meet over zoom on the first Tuesday of each month from 12:00 pm - 1:00 pm. Contact Karen Whitley, [email protected] for more information.
Book Club
The CCERG Book Club is an opportunity to have a structured, regular meeting (perhaps every 6 weeks or so) to discuss books, build friendships, study the Bible, and grow spiritually. The club selects a common work, and then we join together to participate in a virtual discussion. Our discussions will be geared toward implications to our own personal and professional lives in order to help us grow as believers and followers of God.
We are currently reading Confronting Christianity by Rebecca McLaughlin. It examines 12 hard questions for the world's largest religion. We will start a new book in June 2021. Contact Karen Whitley,[email protected] for more information.
Please contact us if you have any questions about our recommended reading list which includes library links as available.
The Cost of Discipleship by Dietrich Bonhoeffer
Living by the Book by Howard G. and William D. Hendricks

Confronting Christianity by Rebecca McLaughlin
Mere Christanity by C.S. Lewis

Every Good Endeavor: Connecting Your Work to God's Work - Tim Keller
The Reason for God: Belief in an Age of Skepticism - Tim Keller
Uncommon Ground: Living Faithfully in a World of Difference - John Inazu & Tim Keller
The Crucifixion - Fleming Rutledge
The Fabric of Faithfulness: Weaving Together Belief & Behavior - Steven Garber
You Are What You Love: The Spiritual Power of Habit - James KA Smith
Culture Making: Recovering Our Creative Calling - Andy Crouch
Gospel: Recovering the Power that Made Christianity Revolutionary - JD Greear
The Call: Finding and Fulfilling God's Purpose for Your Life - Os Guiness
Teach us to Want: Longing, Ambition and the Life of Faith - Jen Pollock Michel
Renovation of the Heart - Dallas Willard
The Divine Conspiracy - Dallas Willard
Spiritual Leadership: Principles of Excellence for Every Believer - J. Oswald Sanders
The Normal Christian Life - Watchman Nee
Can You Drink the Cup - Henri Nouwen
Strengthening the Soul of Your Leadership - Ruth Haley Barton
The Storm Tossed Family - Russell Moore