Christian Community ERG (CCERG)
Dear SDSU Community,


In light of the recent painful events happening in our country and in our communities, we, the collective SDSU Employee Resource Group Program are in solidarity in expressing our condemnation of all acts of racism and reaffirming our support for all of our colleagues and students, especially our Black faculty, staff, and students. We are with you all. We are committed to listening, to learning, to getting to know you, to being active allies at SDSU and in our lives by addressing individual and systemic racism, as well as anti-Blackness as we see or hear of it. As President Adela De La Torre expressed, "Our hearts ache with sorrow and outrage."
We acknowledge that this time has been painful and difficult for so many of us. It is understandable that we might struggle in the context of this anguish. Please take your time. We are committed to being here for one another. The SDSU ERG program is poised to do what we aspired to in its inception: to build inclusive communities in support of one another to strive for equity and justice at SDSU, and to foster the collective safety and well-being of all our communities.
We understand that sustained commitments to fight racism, anti-blackness, and injustice are needed and dynamic. As such we are committed to action now, and into the long-term. We are encouraging our own members to examine suggestions for concrete actions and to discuss implicit bias and intersectionality at work, in our communities, and in our daily lives. We invite all members of the SDSU community to join us in these vital conversations.
-CCERG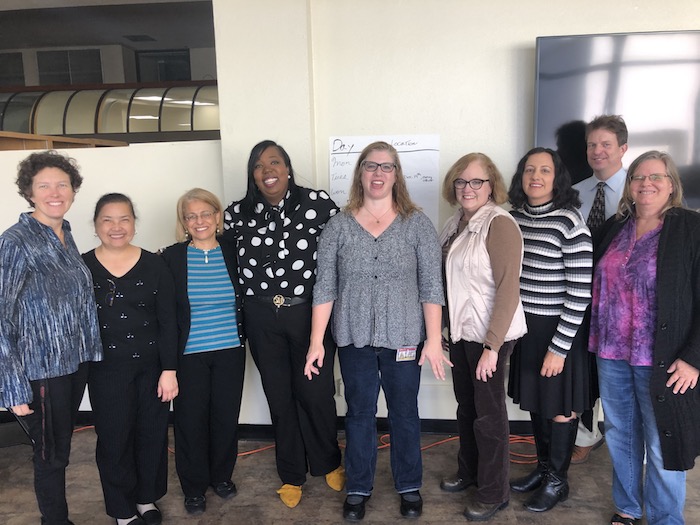 Mission: The CCERG hopes to foster a welcoming and inclusive envrionment at SDSU for individuals interested in issues facing the Christian community. To support this mission, our ERG follows these three steps: Encourage, Reach Out, Support.
Regular Meetings: We meet over zoom on the first Wednesday of each month from 12:00 pm - 1:00 pm. Contact Karen Whitley, [email protected] for more information.
Book Club
The CCERG Book Club is an opportunity to have a structured, regular meeting (perhaps every 6 weeks or so) to discuss books, build friendships, study the Bible, and grow spiritually. The club selects a common work, and then we join together to participate in a virtual discussion. Our discussions will be geared toward implications to our own personal and professional lives in order to help us grow as believers and followers of God.
The first book we would like to propose is Confronting Christianity by Rebecca McLaughlin. It examines 12 hard questions for the world's largest religion. I would like to make this book club digestible, in that, I suggest maybe starting with the first 3 chapters, meeting as a group, then discussing the next three and so on. If you are interested, please email Annie, at [email protected] with your availability (day/time) in a given week.
Please contact us if you have any questions about our recommended reading list.
The Cost of Discipleship by Dietrich Bonhoeffer
Living by the Book by Howard G. and William D. Hendricks
Confronting Christianity by Rebecca McLaughlin
Mere Christanity by C.S. Lewis
Every Good Endeavor: Connecting Your Work to God's Work - Tim Keller
The Reason for God: Belief in an Age of Skepticism - Tim Keller
Uncommon Ground: Living Faithfully in a World of Difference - John Inazu & Tim Keller
The Crucifixion - Fleming Rutledge
The Fabric of Faithfulness: Weaving Together Belief & Behavior - Steven Garber
You Are What You Love: The Spiritual Power of Habit - James KA Smith
Culture Making: Recovering Our Creative Calling - Andy Crouch
Gospel: Recovering the Power that Made Christianity Revolutionary - JD Greear
The Call: Finding and Fulfilling God's Purpose for Your Life - Os Guiness
Teach us to Want: Longing, Ambition and the Life of Faith - Jen Pollock Michel
Renovation of the Heart - Dallas Willard
The Divine Conspiracy - Dallas Willard
Spiritual Leadership: Principles of Excellence for Every Believer - J. Oswald Sanders
The Normal Christian Life - Watchman Nee
Can You Drink the Cup - Henri Nouwen
Strengthening the Soul of Your Leadership - Ruth Haley Barton
The Storm Tossed Family - Russell Moore