The Pride Center
Welcome
As a sexual identity and gender advocacy center at San Diego State University, The Pride Center creates, sustains, and strengthens an open, inclusive, safe, and affirming gathering space and campus environment for individuals of all sexual orientations, romantic orientations, gender identities, and gender expressions as well as their allies. With a focus on community building and advocacy, we offer educational and 2SLGBTQIA+-centered social justice programming (called SafeZones) for students, staff, faculty, community members, and allies of the 2SLGBTQIA+ community.
As a result of ongoing efforts to serve the campus and local San Diego 2SLGBTQIA+ community, SDSU is ranked as one of the "Best of the Best" for queer students, scoring a 5 out of 5 on the Campus Pride Index. We also recognize how inclusivity is not static and identities are dynamic and fluid. As such, the Pride Center continues to strive to provide and promote a space where all 2SLGBTQIA+ people are seen, accepted, and valued.
2SLGBTQIA+: Explaining the Acronym
The Pride Center, in partnership with the Native Resource Center is initiating a change from the "LGBTQIA+" acronym used across SDSU to "2SLGBTQIA+" with the intention of affirming and empowering Two-Spirit (2S) people. The hope is to create a more welcoming and safe campus community. Click here or read below for a breakdown for what the entire acronym stands for, why the acronym is updating, and the significance of the Division of Student Affairs and Campus Diversity (SA+CD) acknowledging and sharing this change moving forward.
Click each identity term below to learn more.
SDSU is an institution that profits and operates on Kumeyaay land and it is crucial to acknowledge and understand the space(s) one occupies, including the identities within Native communities that have been erased due to colonization, racism, and violence.
The Pride Center aspires to provide and promote a space where 2SLGBTQIA+ and ally community members can explore, expand, evolve, and embrace their understanding of sexual orientation, romantic orientation, gender identity, and gender expression through engaging the campus and community in critical learning and action towards welcoming fluidity and escaping Western definitions of identity and relationship with self and others. The change in acronym aligns with the mission of the Pride Center and greater Division of Student Affairs and Campus Diversity (SA+CD).
The term Two-Spirit was created by Two-Spirit people after pressure from non-Native people to have a term that could be used broadly by the Western world. This reality is summarized as "The Problem of Naming," forcing Native people to put their understandings of gender and sexuality into language that non-Native people are able to understand. Although the term Two-Spirit is newer, it represents identities that have always existed and will continue to exist. While Two-Spirit is an umbrella term that connects the ideas of gender and sexuality while resisting the division between sexuality and spirituality as a result of colonization, it is important to recognize that Two-Spirit is a moniker, not a monolith. The label Two-Spirit does not look the same or mean the same thing to every tribe or Native community. In some tribes and Native communities, the term Two-Spirit is not used as many tribes have their own terms. Additionally, the Two-Spirit identity is only for Native people and is not intended for non-Native people to co-opt.
Furthermore, Two-Spirit is placed at the beginning of the 2SLGBTQIA+ acronym to acknowledge that Native people and Native identities came before any concept of the Western identities represented in the rest of the acronym. Moreover, it brings awareness to the racism and violence Native people have faced and continue to face.
While a name change may appear only symbolic, the Pride Center hopes it will stimulate conversation regarding colonialism, erasure, privilege, and how SDSU can collectively continue to create inclusive communities. As an institution, SDSU inherently causes harm by upholding traditional structures of power. By recognizing this truth, it allows for the opportunity to intentionally work towards forming an environment inclusive and supportive for all.
The process of learning and using inclusive language requires the process of unlearning. Unlearning can be seen in many different ways, such as recognizing how previous language used was not inclusive of all people or how past language perpetuated misinformation. While the change may appear daunting at first, The Pride Center is here for support – whether through leading a training, answering any questions, or providing educational resources. The Pride Center values the effort that SA+CD is putting in to further the commitment to SDSU students, staff, faculty, and community members.
Promoting inclusivity and diversity is an ongoing process of learning, unlearning, understanding, and educating. The Pride Center's goal is to implement these values and create spaces for groups that have been historically marginalized. In this process of change, The Pride Center acknowledges that mistakes will be made. Mistakes indicate learning and the Pride Center appreciates the continued effort and work by Student Affairs and Campus Diversity in creating spaces that were not previously there. Thank you for taking the time to actively take steps towards our commitment to equity and inclusion.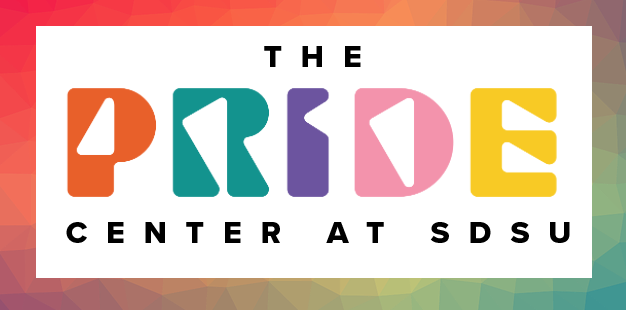 Sign up for our Monthly Newsletter
Upcoming Events: Welcome Back Mixer