SDSU BAYANIHAN, Filipino American Faculty and Staff Association
Mission Statement:
With the aim of fostering an inclusive environment, the Bayanihan Filipino American Faculty and Staff Association is committed to increasing awareness, education, and promotion of Filipino American culture at SDSU.
Bayanihan Fil-Am Faculty and Staff Association
SDSU Bayanihan Filpino American Faculty and Staff Association continues to stand with our APIDA community against racism. The recent increase in violence towards Asian, Pacific Islander, and Desi Americans is unacceptable. While discrimination towards our community is not new, overt violence against APIDA people continues to rise to concerning levels. We condemn acts of racism and all forms of discrimination. We mourn the loss of those lost in the racially charged shootings in Atlanta, GA and stand in solidarity for all who fear for their safety due to Anti-Asian sentiment.
ERG Statement of Black Lives
Dear SDSU Community,
In light of the recent painful events happening in our country and in our communities, we, the collective SDSU Employee Resource Group Program are in solidarity in expressing our condemnation of all acts of racism and reaffirming our support for all of our colleagues and students, especially our Black faculty, staff, and students. We are with you all. We are committed to listening, to learning, to getting to know you, to being active allies at SDSU and in our lives by addressing individual and systemic racism, as well as anti-Blackness as we see or hear of it. As President Adela De La Torre expressed, "Our hearts ache with sorrow and outrage."
We acknowledge that this time has been painful and difficult for so many of us. It is understandable that we might struggle in the context of this anguish. Please take your time. We are committed to being here for one another. The SDSU ERG program is poised to do what we aspired to in its inception: to build inclusive communities in support of one another to strive for equity and justice at SDSU, and to foster the collective safety and well-being of all our communities.
We understand that sustained commitments to fight racism, anti-blackness, and injustice are needed and dynamic. As such we are committed to action now, and into the long-term. We are encouraging our own members to examine suggestions for concrete actions and to discuss implicit bias and intersectionality at work, in our communities, and in our daily lives. We invite all members of the SDSU community to join us in these vital conversations.
Bayanihan's Statement Regarding Recent AB Samahan Zoom Incident
"SDSU Bayanihan Filipino American Faculty and Staff Association stands in solidarity with Andres Bonifacio Samahan to denounce all acts of intolerance and discrimination. We are disgusted and upset by the recent "Zoom bombing" of the student organization meeting that was clearly racist and anti-Asian. The Fil-Am community at SDSU commit to supporting all students and individuals negatively impacted by the incident. Our members are informed and we will continue to share with other communities to increase awareness of the incident. We hope to increase awareness that these abhorrent incidents continue to happen close to home, promote vigilance, and encourage prevention and security."
-Isang Bagsak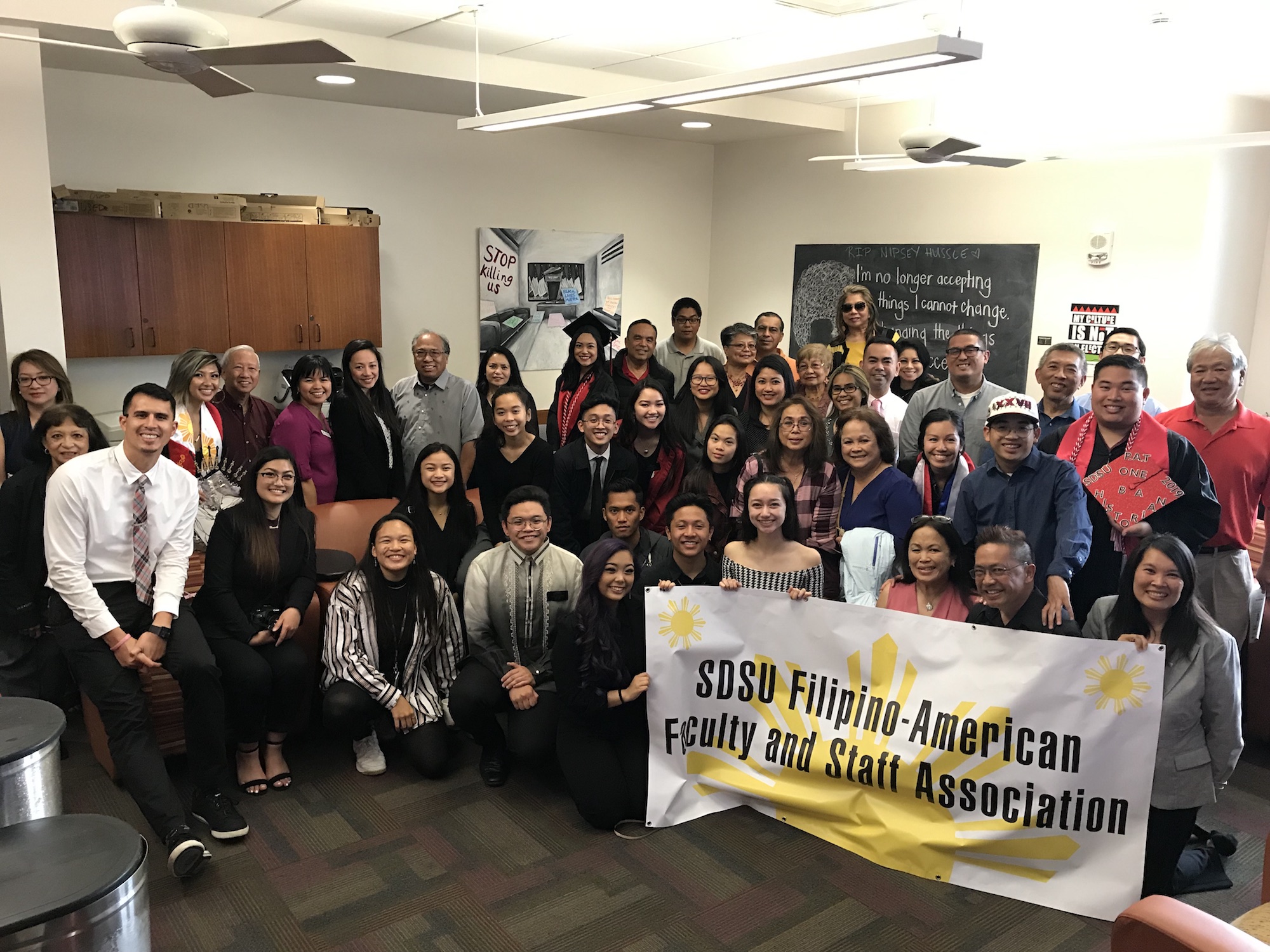 There are five primary objectives of the San Diego State University Filipino American Faculty and Staff Association. These include:
Contributing to the recruitment of Fil-Am faculty/staff while enhancing career pathways for current Fil-Am faculty/staff.

Fostering an environment of inclusion for faculty and staff from underrepresented groups.

Cultivating relationships with the local community that advance the well-being of diverse individuals and communities.

Celebrating the diversity of the SDSU community through activities that increase awareness, education, and promotion of Filipino American culture.

Bolstering the Fil-Am pipeline of students to SDSU by strengthening our relationships with A.B. Samahan, SDSU Samahan Filipino American Alumni, and other community and educational partners.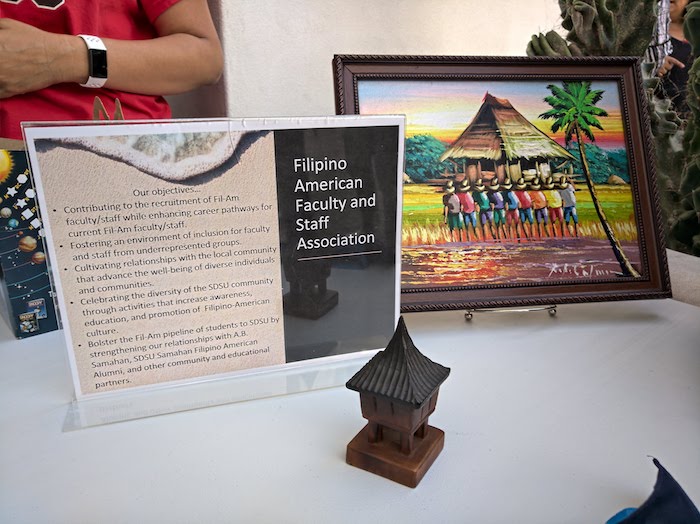 Our current leadership includes:
Chair – Iris Isla
Vice Chair – Bryan Spencer, M.A.
Secretary – Michael Juan, Ph.D.
ERG Council Representative – Natalie Bagaporo
ERG Calendar Manager – Willaine Cabal Carr, M.Ed.