ISLAMOPHOBIA AND SWANA/MENA TASK FORCE
Mission
Part of our ongoing efforts to embed equity and inclusion in everything we do includes working in solidarity with our Muslim, Southwest Asian and North African (SWANA), Middle Eastern and North African (MENA) populations.
We are committed to improving our campus culture to ensure that all Muslim and SWANA/MENA students, faculty, and staff feel welcomed, supported and heard. You have been identified as a key participant to help the University proactively and immediately address this issue. We invite you to participate on this task force to think strategically, expansively, and creatively about how we develop an institutional strategy to better support our Muslim and SWANA/MENA community members.
Priorities for this task force include:
Create recommendations for collecting and disaggregating data for Muslim and SWANA/MENA students, faculty and staff
Identify opportunities to improve campus climate by observing key Muslim and SWANA/MENA events throughout the calendar year
Provide recommendations on how SDSU can develop community and a sense of belonging for the Muslim and SWANA/MENA community
Biographies of Task Force Members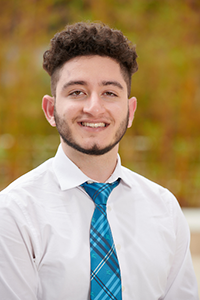 Matyas Hanna
Matyas Hanna is a first-generation college student. He is originally from Iraq and from a small minority Chaldean community. Matyas is currently studying microbiology. As a freshman at SDSU, he wanted to increase the resources available to the MENA/SWANAN community so he started advocating for this population of students. From being the president of the Middle Eastern and North African Student Association(MENA) to now being on the Task Force, he is happy to continue advocating for our students and creating a welcoming environment.

Farid Abdel-Nour, Ph.D.
Farid Abdel-Nour is Professor of Political Science at SDSU, and currently serves as Department Chair. He received his Ph.D. in Political Science in 1999 from Rutgers University, New Brunswick, and joined SDSU in 2000. He is also a core faculty member of the Center for Islamic and Arabic Studies of which he is a founding member and that he has directed for multiple terms. From Fall 2016- Spring 2018 Abdel-Nour served as the Bruce E. Porteous endowed professor in Political Science and directed the Charles Hostler Institute on World Affairs in an honorary capacity.
His research and teaching interests are in Political Theory and Middle East Politics. His scholarly work focuses on the responsibility that ordinary citizens bear for outcomes brought about by their states. He has a special interest in the politics of Israel/ Palestine.
The task force is also made up of a committee of dedicated and passionate faculty, staff, students, and community members who may not be listed on the website.
University and Campus Resources