Employee Resource Groups (ERG's) are designed to build an inclusive environment for SDSU employees from various employment groups, with particular attention to employees from historically underrepresented and underserved backgrounds. ERG's are established and operated by employees with modest support from the Division of Diversity and Innovation.
**Please complete the application by May 21 (applications open on April 1) to begin the process of establishing or reaffirming an ERG.**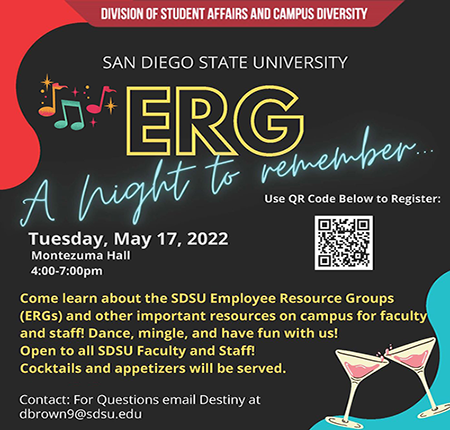 ERG Night - A night to remember...
Tuesday, May 17, 2022
Montezuma Hall from 4-7 p.m.
Come learn about the SDSU Employee Resource Groups and other important resources on campus for faculty and staff! Dance, mingle and have fun with us! Open to all SDSU faculty and staff. Cocktails and appetizers witll be served.
Contact Destiny at [email protected]