Pride ERG
Mission:
The SDSU Pride Employee Resource Group is an alliance of nearly 200 faculty, staff, and student employees committed to an inclusive, open campus community, advancing equality for LGBTQIA+ people. We come together to build personal connections, celebrate, learn, and foster social justice and equity within the larger SDSU and LGBTQIA+ community. Through advocating for rights, encouraging discussions, and seeking solutions, we act as agents of positive change for employees as well as students.
Provide a network of support to navigate the ever-changing higher education environment.

Advocate for the most vulnerable and underserved populations on campus.

Build career-long connections that improve the workplace experience and facilitate access to campus resources.

Show support for LGBTQIA+ students and programming.

Create community opportunities for laughter, play, and sharing stories.
Purpose:
In the spirit of equality, social justice, and inclusivity, we strive to increase awareness of LGBTQIA+ experiences and contributions at SDSU.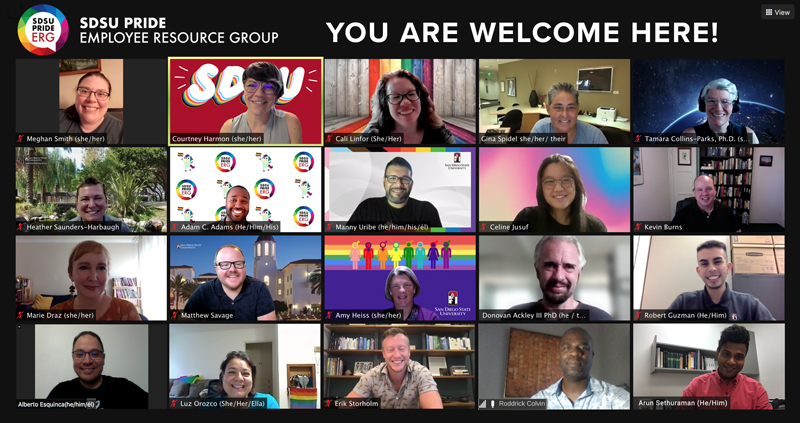 Statement of Solidarity:
The Pride ERG stands in solidarity with all underserved communities. We acknowledge intersectionality LGBTQIA+ experiences across many identities. Pride was a riot against police brutality, "legal" surveillance of queer and trans folkx by the state, discrimination, and systemic oppression. It was started by two Black trans womxn, a Black gender nonconforming lesbian, a Latinx trans womxn, and an Afro-Boricua and Indigenous trans womxn. The LGBTQIA+ community includes all identities, but there is racism, classism, ableism, sexism, and other forms of discrimination within the LGBTQIA+ community that we must address. We cannot forget the words of Masha P. Johnson "no Pride for some of us without liberation for all of us."
Calendar of Events