Hispanic-Serving Institution (HSI) Affairs
Dr. Emilio Ulloa is the Chair of Hispanic-Serving Institution (HSI) Affairs.
Meet the SDSU Latinx/Hispanic/Chicanx community!
Do you identify as Latinx, Hispanic, Chicanx?
We are interested in finding creative ways to introduce our Latinx, Hispanic, Chicanx, (or other members of the community) Faculty, Staff and Graduate students to our students and to each other in service to our status as an Hispanic-Serving Institution throughout Hispanic Heritage Month (September 15-October 15).
We are reaching out now to ask you to introduce yourself to the SDSU community in a novel way, by recording a very short introduction video. You can find the simple guidelines/template here. Please save the file in your google drive, or upload to your youtube space, and share the link with [email protected].
We will be sharing the videos on our HSI webpage and highlighting the project in upcoming emails/announcements. Please submit your video ASAP but before Sept 25th in order to be highlighted this month.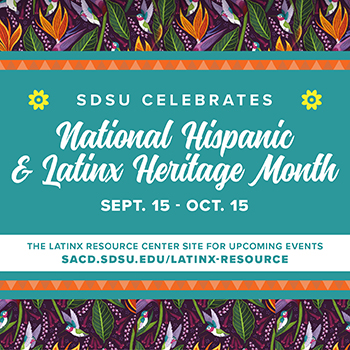 Hispanic Heritage Month Kick-Off Event
Honoring Our Culture, Embracing the Future Celebration is the month-long series of campus events taking place during the weeks between Sept. 15 and Oct. 15.
More about the Hispanic Heritage Month Kick-off
To submit an event for Hispanic Heritage Month, click the accordion link below.