Generation Reparations?
The recordings from this webinar series is available through the Center for Inclusive Excellence's Youtube channel title: Reparations Webinar Series.

Week 1:
Wednesday, April 7
2:00 PM - 4:30 PM
The impact of anti-Black racism includes slavery but also extends to the continued trials and tribulations experienced by Black people up to the present day. The United States must confront this reality if it is to finally uphold its stated creed of equality and justice for all.
A Conversation with Author and Authority Ta-Nehisi Coates
This conversation with award-winning author Ta-Nehisi Coates is moderated by Dr. Nola Butler Byrd.
A Moment with California Secretary of State Shirley Weber


Perspectives from Across the Field
Recently, state and federal legislators have been confronting the issue of reparations by supporting bills that require the development of task forces to study and provide recommendations for providing reparations to African Americans.
Panelists: Dr. Ray Winbush; Evanston (Ill.) Alderwoman Robin Rue Simmons; Starla Lewis; and allies in the movement, Rabbi Benj Fried; Kumeyaay Cultural Repatriation Committee spokesman Steve Banegas; and Dr. Jennifer Imazeki.

Week 2:
Wednesday, April 14
2:00 PM - 4:30 PM
Economic, political and social repair may prove impossible in a society predicated upon the continued production of anti-Black violence for its ontological and psychic existence. Reparations force such a society to acknowledge the human status of Black people.
The Social, Emotional and Psychic Cost of Reparations with Dr. Frank B. Wilderson III
True Reparations in the 21st Century
A presentation with "From Here to Equality: Reparations for Black Americans in the Twenty-First Century" co-authors, Dr. William "Sandy" Darity Jr. & Ms. A. Kirsten Mullen

Week 3:
Wednesday, April 21
2:00 PM - 4:30 PM
The trauma of anti-Black violence reverberates across society and throughout generations. Mental and emotional healing and repair must be included in any conversation about economic and political redress.
Moving Forward: Reparations and the Intersection of Action and Healing with Dr. Cheryl Grills

Student Panel
James Bolden, Jhamir Ransom, Kayla Daniels, and Tamiel McKee Bey


This reparations series was developed by doctoral student, Terry Sivers. Terry, in partnership with Dr. Nicole Belisle, Associate Chief Diversity Officer for Strategic Initiatives, co-host the event. If you have any questions regarding the Generation Reparations? event, please email [email protected].
Speaker Biographies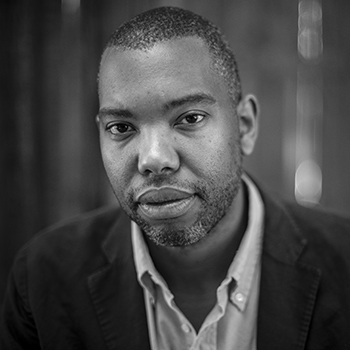 Ta-Nehisi Coates
Ta-Nehisi Coates is an author, journalist, screenwriter, executive producer and professor. He is the author of the best-selling books "The Beautiful Struggle," "We Were Eight Years in Power," "The Water Dancer" and "Between the World and Me" -- which won the National Book Award in 2015. In April 2018, "Between The World and Me" was adapted for the stage and premiered at the iconic Apollo Theater. In November 2020, it was adapted for film and aired on HBO with Coates as an executive producer. His novel "The Water Dancer" will be turned into a film adaptation – with Coates writing the screenplay – produced by Plan B Entertainment, Harpo Productions and MGM Studios. Coates also is the current author of the Marvel comic "Captain America." He was the recipient of a 2015 MacArthur Fellowship and currently is in his fourth year as a distinguished writer in residence at NYU's Arthur L. Carter Journalism Institute.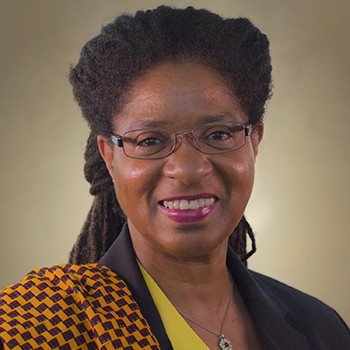 Nola Butler Byrd
Nola M. Butler-Byrd, Ph.D., is an associate professor and director of the Community-Based Block Multicultural Counseling and Social Justice Education Program at San Diego State University. The nontraditional program uses critical theory, affective experiential multicultural education and deliberate democratic practices to prepare counselor/change agents from diverse, marginalized communities to serve disenfranchised communities. Butler-Byrd's community-based projects include: colorism, anti-Blackness and attachment relationships in in everyday hair-combing interactions between caregivers and their children; African-centered anti-recidivism mental health for formerly incarcerated community college students and their families; transborder immigration community counseling for human rights defenders working with asylum seekers at the Mexico/U.S. border and telemental health counseling for LGBTIA+ asylum seekers in Tijuana, Mexico.
Since 2012 Dr. Butler-Byrd has also served as a doctoral faculty member in the SDSU College of Education, where she advises and chairs the dissertations of African American and other ethnically diverse students. Butler-Byrd is a licensed professional clinical counselor with a private psychotherapy practice specializing in antiracism, body-centered psychotherapy and healing. In 2008, she began serving on the SDSU University Senate as a College of Education senator and chair of the Diversity Equity and Inclusion Committee. Since 2019, she has served as vice chair of the Senate. Butler-Byrd also serves as a senator on the Academic Senate of the California State University system, where she currently serves on the Executive Committee as a member-at-large. In these capacities, her work has focused on social justice, equity, inclusion and mental health in higher education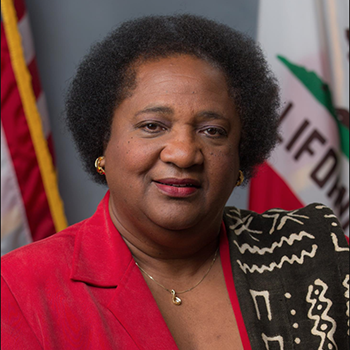 Shirley Weber
California Secretary of State Shirley Weber is an American academic and politician, who previously served in the state Assembly from the 79th Assembly District, which includes portions of San Diego, Chula Vista, and National City and all of Lemon Grove and La Mesa. Prior to being elected to the Assembly in 2012, Weber served on the San Diego Board of Education and as a professor of African-American Studies at San Diego State University. A member of the California Legislative Black Caucus, she was the first African American to be elected to the state Legislature from south of Los Angeles. In December 2020, Gov. Gavin Newsom appointed Weber to succeed Alex Padilla – his nominee to succeed Vice President Kamala Harris as California's junior senator – as Secretary of State of California. Weber is the first Black person to serve as California's secretary of state and the fifth to serve in a statewide position.
Ray Winbush
Dr. Ray Winbush, aka Tikari Bioko, is a Black scholar and activist known for his systems-thinking approaches to understanding the impact of racism/white supremacy on the global African community. His writings, consultations and research have been instrumental in understanding developmental stages in Black males, public policy and its connection to compensatory justice, relationships between Black males and females, infusion of African studies into school curricula, and the impact of hip hop culture on the contemporary American landscape. He is currently research professor and director of the Institute for Urban Research at Morgan State University in Baltimore.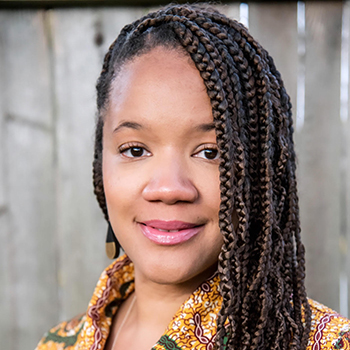 Robin Rue Simmons
Robin Rue Simmons is a strategist, civic entrepreneur and alderman of Evanston's 5th Ward. She began her career 22 years ago, when she launched her first business as a real estate broker. Troubled by the wealth disparities and concentrated poverty in urban communities, Rue Simmons wanted to help young adults build wealth early through homeownership. Over the course of her entrepreneurial career, she has launched and operated multiple businesses, including a bookstore that offered free afterschool programming and a construction firm that employed dozens of minority skilled tradespeople, and she has developed dozens of affordable homes funded by the Neighborhood Stabilization Program.
Rue Simmons was elected alderman for the City of Evanston in 2017. Since taking office, she has prioritized improving the lived experience and expanding opportunities for Black residents. Most notably, she led the passing of the nation's first reparations program, which will be funded by the first $10 million of Adult Use Cannabis sales tax revenue. Rue Simmons is the chairman of the Reparations Committee and a strong advocate for social equity applicants in the cannabis business.
Starla Lewis
Starla Lewis is a global educator of self love. She teaches people how to see themselves, love themselves and use love to address life issues. As a professor emerita, transformational speaker and the founder of C.E.L.L. (Celebration of Everlasting Life & Love) consulting, she lectures and facilitates trainings on life mastery, diversity, racism, sexism and women's empowerment. Her 40-plus years of research and experience in African American Studies, oral communication and women's studies have enhanced her ability to engage diverse communities and inspire people to transform their lives. She is the author and illustrator of "Sunkisses," a multicultural/ multilingual coloring book for children and adults, and the co-author of "I Am: My Own Self-Validation." Lewis is a seven-time recipient of the Mesa College Teacher of the Year Award, a 2015 Women's Hall of Fame honoree, and she was recognized by KPBS as a local hero. In 2019, the San Diego City Council proclaimed Dec. 20 as "Professor Starla Lewis Day." She has dedicated her life to teaching people love and life skills. Through her work she affirms that all people are: "Brilliant, Powerful, Limitless, Love!"
Benj Fried
Rabbi Benj Fried was raised in the San Francisco Bay Area. During his undergraduate years at Stanford University, he did research in organic chemistry and neurobiology and received his bachelor's degree in biology. He was involved with Hillel on campus and discovered his interest in working in the Jewish community. Following his years at Stanford, Fried attended Harvard Divinity School, receiving his master's degree in theological studies and was ordained as a rabbi in 2017 by the Hebrew Union College. He has served as associate rabbi at Temple Emanu-El of San Diego since 2017.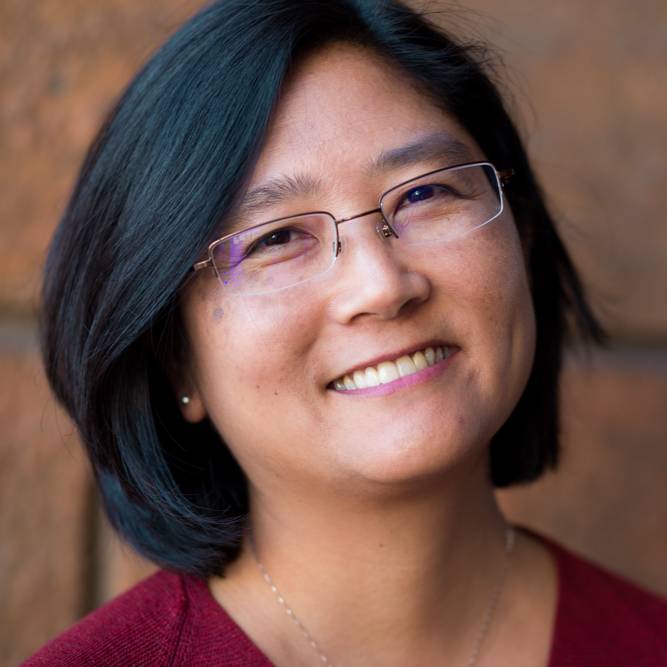 Jennifer Imazeki
Dr. Jennifer Imazeki is a Senate Distinguished Professor and professor of economics at San Diego State University, currently serving as the associate vice president for Faculty and Staff Diversity. Her research focuses on the economics of K-12 education, including work on school finance reform, adequacy and teacher labor markets. In addition to academic publications, her work on education policy has included analysis for multiple court cases related to educational equity and adequacy and, most recently, she contributed to the Getting Down to Facts II project, an in-depth look at California's Pre- K-12 education landscape.
Since joining the SDSU faculty in 2000, Imazeki has taught a range of economics courses, from a 500-seat section of principles of microeconomics to a writing-intensive course for economics majors and an economics for teachers course for students working toward their single-subject teaching credential in social science. In her previous role as CTL director, she initiated multiple programs to promote inclusive teaching practices and to engage faculty in scholarly evaluation of teaching. She is past president of the Faculty Development Council for the California State University system and has been a keynote speaker at multiple faculty development events. Imazeki has also served as a University Senator for the College of Arts and Letters and a member and chair of the Senate Faculty Affairs Committee. She received her bachelor's degree in economics at Pomona College and her master's and doctoral degrees, also in economics, at the University of Wisconsin, Madison.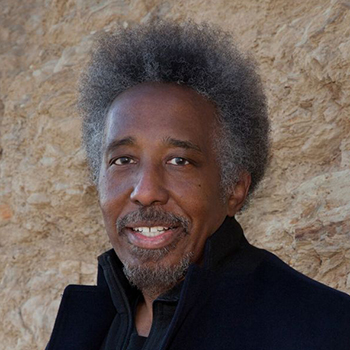 Frank B. Wilderson III
Dr. Frank B. Wilderson III is Chancellor's Professor at UC Irvine, where he teaches in the African American Studies and the Culture & Theory Doctoral Program. During the apartheid era, he spent more than five years in South Africa, where he was one of two Americans to hold elected office in the African National Congress and was a cadre in the underground. His books include "Incognegro: A Memoir of Exile and Apartheid," winner of the American Book Award, the Zora Neale Hurston/Richard Wright Legacy Award and a National Endowment for the Arts Literature Fellowship; "Red, White, & Black: Cinema and the Structure of U.S. Antagonisms;" and "Afropessimism," which was long-listed for the National Book Award. Wilderson was educated at Dartmouth College (A.B/government and philosophy), Columbia University (MFA/fiction writing), and UC Berkeley (Ph.D./rhetoric and film studies).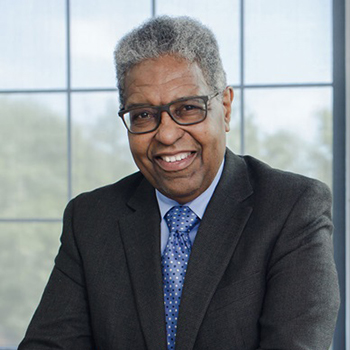 William A. "Sandy" Darity Jr.
William A. "Sandy" Darity Jr. is the Samuel DuBois Cook Professor of Public Policy, professor of African and African American Studies, professor of economics and the director of the Samuel DuBois Cook Center on Social Equity at Duke University. He has served as chair of the Department of African and African American Studies and was the founding director of the Research Network on Racial and Ethnic Inequality at Duke. Darity's research focuses on inequality by race, class and ethnicity; stratification economics; schooling and the racial achievement gap; North-South theories of trade and development; skin shade and labor market outcomes; the economics of reparations; the Atlantic slave trade and the Industrial Revolution; the history of economics; and the social psychological effects of exposure to unemployment. His most recent book, co-authored with A. Kirsten Mullen, is "From Here to Equality: Reparations for Black Americans in the Twenty-First Century" (2020).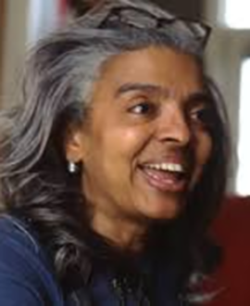 A. Kirsten Mullen
A. Kirsten Mullen is a folklorist and the founder of Artefactual, an arts-consulting practice, and Carolina Circuit Writers, a literary consortium that brings expressive writers of color to the Carolinas. She was a member of the Freelon Adjaye Bond concept development team that was awarded the Smithsonian Institution's commission to design the National Museum of African American History and Culture. Under the auspices of the North Carolina Arts Council, she worked to expand the Coastal Folklife Survey. As a faculty member with the Community Folklife Documentation Institute, she trained students to research and document the state's African American music heritage. She was a consultant on the North Carolina Museum of History's "North Carolina Legends" and "Civil Rights" exhibition projects. Her writing in museum catalogs, journals and in commercial media includes "Black Culture and History Matter" (The American Prospect), which examines the politics of funding black cultural institutions. She and William A. Darity Jr. are the authors of "From Here to Equality: Reparations for Black Americans in the Twenty-First Century" (University of North Carolina Press, 2020).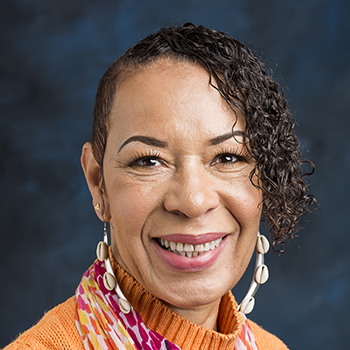 Cheryl Grills
Dr. Cheryl Grills is a clinical psychologist with a current emphasis in community psychology. A national past president of the Association of Black Psychologists, she is a tenured professor of psychology at Loyola Marymount University and director of its Psychology Applied Research Center. She also is the founder and executive director of Imoyase Community Support Services, a 30-year nonprofit organization providing action research, program evaluation and strategic technical assistance to social justice and social service community-based organizations.
In addition to leading large interdisciplinary research studies, Grills also has experience working within systems and public policy. She currently serves as a commissioner and chair of the Los Angeles County Sybil Brand Commission, which addresses conditions and practices within the county's adult jails, juvenile lock-up facilities and group homes for children in the foster care system. She was co-executive director of the county's Blue-Ribbon Commission on Child Protection, which led to important changes in the Los Angeles County child welfare system. In her leadership in the Association of Black Psychologists, Grills was a founding member of the Alliance of National Psychological Associations for Racial and Ethnic Equity and she co-designed the Emotional Emancipation Circles community self-help model established by the Community Healing Network and serves as the lead of the EE Circles training team, which is international in scope. Grills trains people of African ancestry around the world to facilitate healing circles that address the stress and trauma associated with anti-Black racism. At the request of an L.A. city councilman, she created and led a community-based effort to disrupt violence in South Los Angeles through community-led healing circles designed to reduce the effects of stress and trauma and interrupt cycles of violence in the community.