Overview
The Latinx Resource Center at SDSU supports Latinx students throughout their journey at SDSU to thrive academically, socially and mentally, with a commitment to intersectionality, equity as well as social and racial justice.
For more information or questions, you can contact Yesenia Sánchez (She/Her/Hers/Ella), LRC Director, at [email protected]sdsu.edu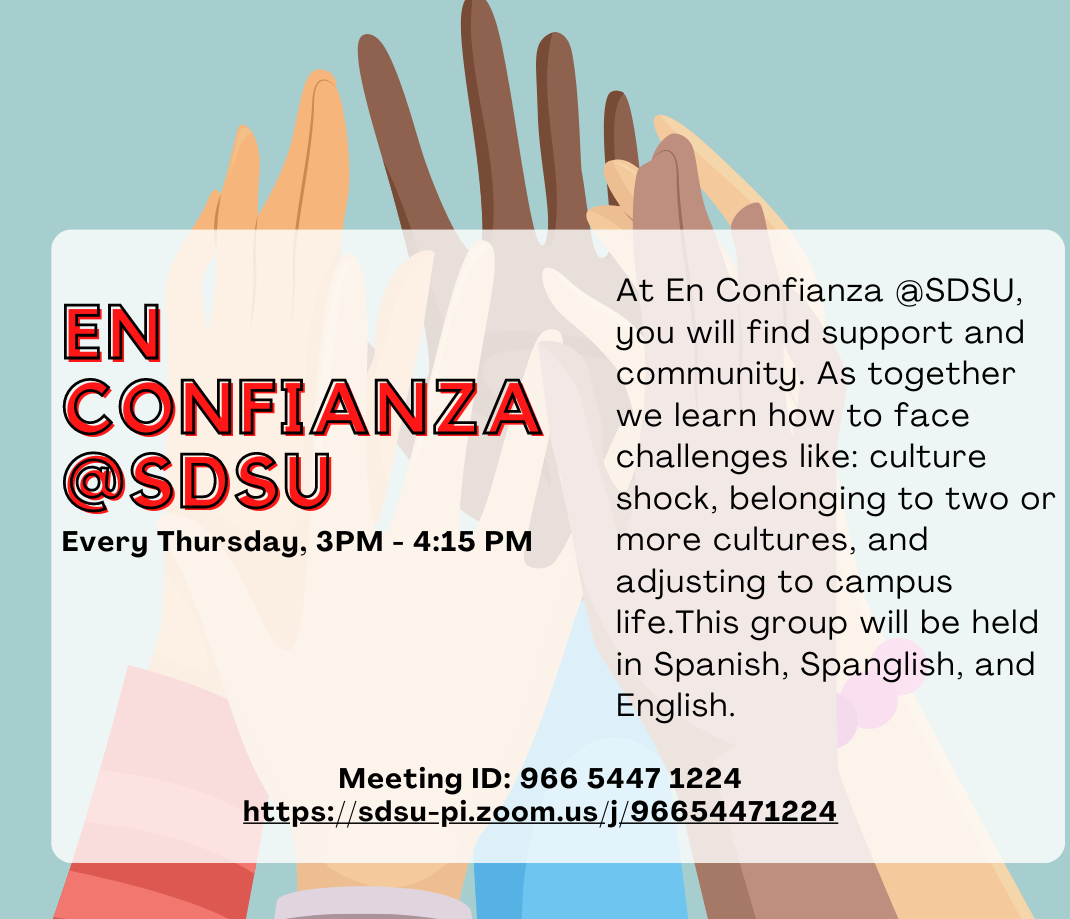 We are honored to announce that Dr. Michael Domínguez has joined the Latinx Resource Center team, as the inaugural Augustine "Gus" Chavez Scholar.
The faculty scholar position is named in honor of Augustine "Gus" Chavez, who was the architect and previous director of the Office of Educational Opportunity Programs and Ethnic Affairs (EOP) , co-founder of the Chicana & Chicano Studies Department, and helped establish an extensive collection of Chicana and Chicano historical materials, which became the Chicana/o Collection in the Love Library. In addition to being a beloved SDSU leader who mentored and inspired countless students and staff, Gus was also a community advocate and served in several community organizations, including M.E.Ch.A. Central de San Diego County, the Brown Berets of San Diego and the American G.I. Forum.
Enriqueta "Queta" Chavez, community leader and Chicana activist: "Gus dedicated his life to lead the fight for educational equality and access for all, especially first-generation, low income, and historically marginalized students. 'Ojos Verdes, Mirada Serena".
Today on the anniversary of his passing, we especially want to recognize Gus' work and ensure his legacy continues through the COMUNIDAD Program. COMUNIDAD will support first-year students to thrive academically and navigate barriers that impede their success as well as provide them with history of their culture and heritage through a community cultural wealth focus as well as social and racial justice commitment.
Dr. Michael Domínguez will direct this program as the first inaugural Augustine "Gus" Chavez faculty scholar. "It is my absolute honor to serve SDSU's Latinx student body in this role, in honor of Gus Chavez, whose inspiring legacy has so profoundly and positively shaped this university, and community. The LRC, and the COMUNIDAD program, are poised to help ensure that our Chicanx and Latinx students have access not just to an incredible education, but to a culturally sustaining, personally enriching, and emotionally supportive. I am beyond excited to be working with Yesenia and our LRC student staff in support of our amazing student body, and to continue advancing the mission of equity, justice, and inclusion that Gus Chavez and so many others began."
Dr. Domínguez brings a wealth of knowledge in teaching, research and program building, a deep commitment to the advancement of equity, diversity, racial justice and decolonization as well as a proven record of serving and supporting SDSU's Latinx and Chicanx student body in culturally sustaining and revitalizing ways. In addition to his commitment at SDSU as assistant professor in the Chicana & Chicano Studies Department, he serves in a leadership capacity with the National Council of Teachers of English (NCTE), is an organizer for the Enero Zapatista Youth Social Justice Conference, and collaborates with several local schools in support of youth learning, racial equity, and pedagogical development.
Dr. Maria Ibarra, Chair, Chicana & Chicano Studies Department: "Gus Chavez is a towering figure in the struggle for Chicana/o/x educational equity and social justice, and we especially remember him this month, one year after his passing. The Department of Chicana and Chicano Studies congratulates our colleague Dr. Michael Domínguez who will serve as the inaugural Augustine "Gus" Chavez Faculty Scholar at the Latinx Resource Center! The Department, which Gus Chavez helped build over 50 years ago, strongly supports the vision and work of the Center and we are proud to align ourselves as a partner."
Yesenia Sanchez Garcia, Director, Latinx Resource Center: "We are honored to recognize the legacy of Augustine "Gus" Chavez as well as the work and contributions of Enrique "Queta" Chavez, Gracia Molina de Pick, Rene Nuñez and many elders and alumni whose resiliency and deep love for community paved the way for the Latinx Resource Center. It has been a joy working with Profe. Domínguez these past five months, through the organizational development of the Latinx Resource Center. His insights stemming from his deep passion and commitment to education have been invaluable, and I look forward to seeing the impact he will have in the students though the COMUNIDAD program, the Latinx Resource Center and the broader Latinx and Chicanx community."
We invite you to get involved with the Latinx Resource Center by joining the LRC Newsletter at bit.ly/LRCNEWSLETTER
For more information on Dr. Michael Domínguez, please visit: https://aztlan.sdsu.edu/faculty/dominguez
For more information on the Chicana & Chicano Studies Department, please visit: https://aztlan.sdsu.edu/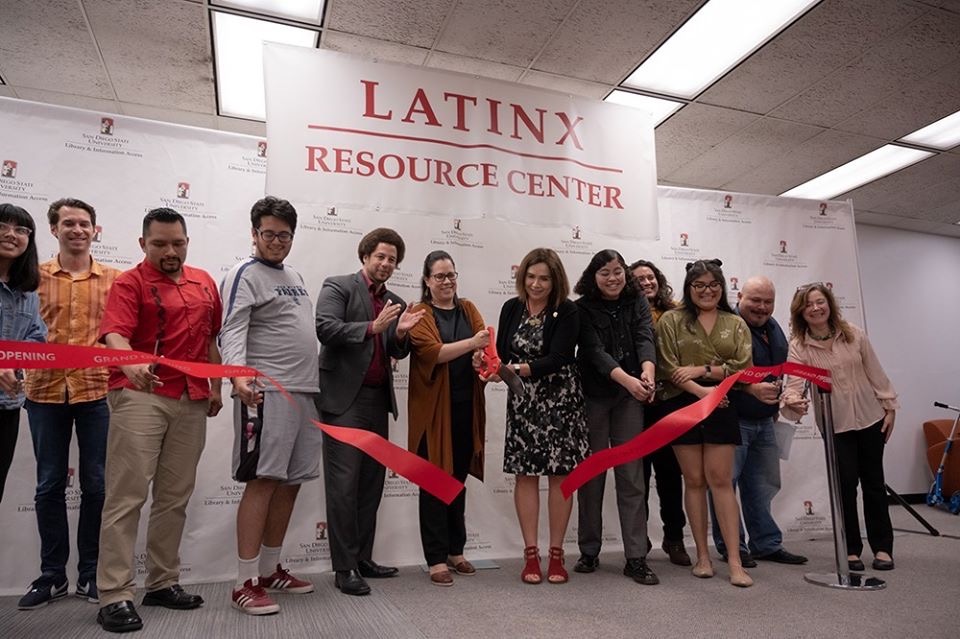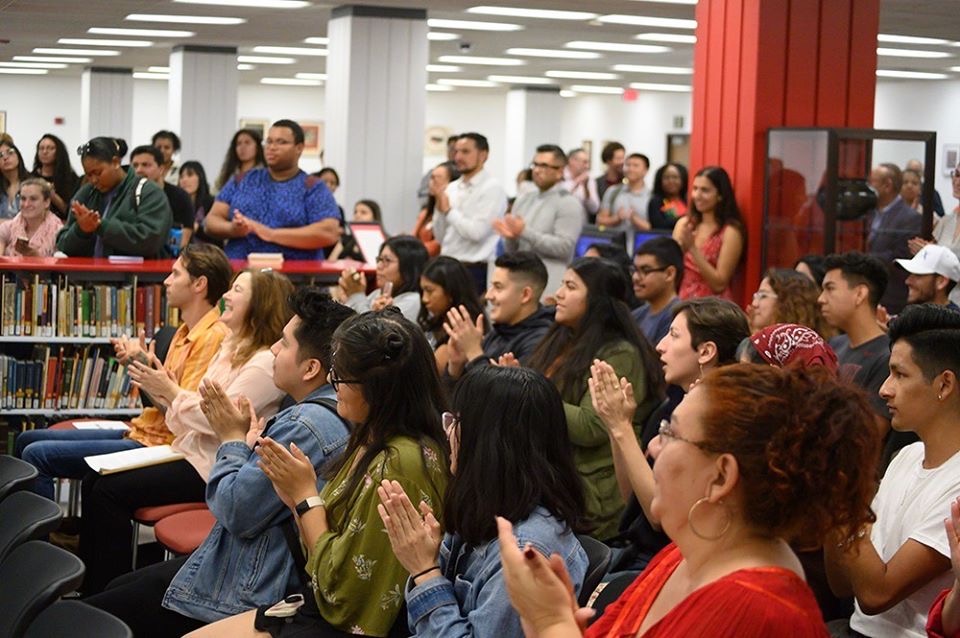 Latinx Resource Center Opens at SDSU
by Lainie Fraser
SDSU NewsCenter
Tuesday, February 18, 2020
A new center is opening this month at San Diego State University to provide a welcoming and collaborative environment supportive and inclusive of Latinx community members and allies. A grand opening ceremony for the Latinx Resource Center is set for Thursday, Feb. 20...
VIRTUAL FRONT DESK
Our Virtual Welcome Desk is open and prepared to support you in any way that we can! The hours for our virtual desk can be found below:
Monday - Thursday:
11:00am-2:00pm
Please visit for general resource exploration, programming and events info, study groups, and much more!